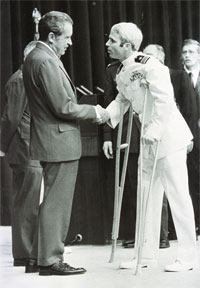 President Nixon greets returning POW John McCain in 1973
FOUR YEARS AGO, Democrats couldn't laud military service -- especially that of their presidential standard-bearer -- highly enough.
John Kerry's short stint in Vietnam was repeatedly invoked as evidence of his character and fitness for leadership. "If you have any question about what John Kerry's made of," his running mate John Edwards would say, "just spend three minutes with the men who served with him 30 years ago."
At the Democratic National Convention in Boston, photographs of Kerry's Navy days abounded -- Kerry posing with his officer class, Kerry on the Mekong Delta, Kerry receiving a medal. One of the convention's speakers was a former chairman of the Joint Chiefs of Staff, who praised Kerry's "bravery and great distinction" as a naval officer, describing him as someone who "knows from experience a commander's responsibility to his troops."
Another speaker, former senator Max Cleland, a disabled Vietnam veteran, reminded the delegates that Kerry had volunteered for combat duty. "There were a lot of other things he could have done with his life," Cleland said. But Kerry went to war "because he had been raised to believe that service to one's country is honorable, noble, and good."
Former President Bill Clinton said it even more bluntly:
"During the Vietnam War, many young men -- including the current president, the vice-president, and me -- could have gone to Vietnam and didn't. John Kerry came from a privileged background. He could have avoided going too, but instead, he said: Send me."
And who can forget Kerry himself, saluting and "reporting for duty" on the night he accepted his party's nomination?
Given that effusive show of respect for military experience in 2004, you would think no Democrat this year could even contemplate disparaging John McCain's far more extensive military career. The presumptive Republican nominee, after all, spent 22 years as a naval aviator; flew 23 combat missions over North Vietnam; earned numerous combat decorations, including the Silver Star and Legion of Merit; and demonstrated courage and self-sacrifice during 5½ years as a prisoner of war in Hanoi.
And yet in recent months, one Democrat after another has gone out of his way to diminish or criticize McCain's war record. A partial list:
In April, Senator Jay Rockefeller of West Virginia denounced McCain as insensitive -- pointing, as evidence, to his military service. "McCain was a fighter pilot who dropped laser-guided missiles from 35,000 feet," Rockefeller told the Charleston Gazette. "He was long gone when they hit. What happened when they get to the ground? He doesn't know. You have to care about the lives of people. McCain never gets into those issues."
Rockefeller later apologized, but a few days later, it was George McGovern's turn. The former Democratic presidential nominee told an audience that he would like to say to McCain: "Neither of us is an expert on national defense. It's true that you went to one of the service academies, but you were in the bottom of the class." He added, tauntingly: "You were shot down early in the war and spent most of the time in prison. I flew 35 combat missions with a 10-man crew and brought them home safely every time."
Next came Barack Obama supporter Bill Gillespie, an Army veteran and Georgia congressional candidate who scorned McCain as a product of "Navy royalty," who was "given a silver spoon" but "needed to draw attention" to himself. Having been a POW made McCain "somewhat of a celebrity and it went to his head," Gillespie sniped. "I think he was a self-promoter."
Senator Tom Harkin of Iowa told reporters in May that growing up in a family with a history of Navy service made McCain too military-oriented, "and he has a hard time thinking beyond that." He looks at everything "from his life experiences from always having been in the military," Harkin complained. "I think that can be pretty dangerous."
Much attention was focused on retired General Wesley Clark's comments that McCain "hasn't held executive responsibility" and that "riding in a fighter plane and getting shot down" is no qualification for the Oval Office. Far more obnoxious was the claim by an informal Obama adviser, Rand Beers, that McCain's national security experience is "sadly limited" because he was a POW. "He was in isolation essentially for many of those years and did not experience the turmoil" of the antiwar movement," said Beers, "or the challenges" faced by those who went ashore in Vietnam.
Do Democrats only honor a military record when their nominee happens to be a veteran? In a recent speech, Obama mentioned McCain's wartime service, pointedly adding that "no one should ever devalue that service, especially for the sake of a political campaign." Now if only the rest of his party would listen.
(Jeff Jacoby is a columnist for The Boston Globe.)