HIS NAME WAS KENNEDY. He was the preeminent figure in the Democratic Party. And he was a resolute supply-side tax-cutter.
"It is a paradoxical truth," he once told the Economic Club of New York, "that tax rates are too high today and tax revenues are too low and the soundest way to raise the revenues in the long run is to cut the rates now." What he had in mind, he said, was not "a 'quickie' or a temporary tax cut." He wanted nothing less than "an across-the-board, top-to-bottom cut in personal and corporate income taxes."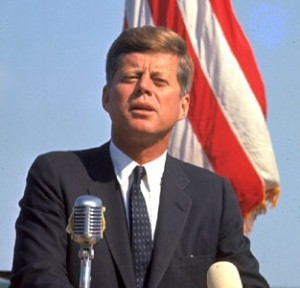 Would he be a Democrat today?
Those were not the words of Senator Edward Kennedy. The speaker – in December 1962 -- was President John F. Kennedy, and his ringing call for tax cuts was no anomaly.
In a televised address from the Oval Office four months earlier, JFK had called high tax rates a danger to "the very essence of the progress of a free society: the incentive of additional return for additional effort." In his 1963 State of the Union message, he said his first priority was "the enactment this year of a substantial reduction and revision in federal income taxes." In the speech he was scheduled to deliver to the Texas Democratic State Committee on Nov. 22, 1963, Kennedy planned to report proudly: "We have proposed a massive tax reduction, with particular benefits for small business."
In recent days, Ted Kennedy has been justly acclaimed as a lion of the Democratic Party. But how different the party mourning Kennedy today is from the one that first nominated him in 1962!
The reversal on taxes is one vivid example. When Ted Kennedy entered the Senate in 1963, JFK was leading a campaign for sweeping tax relief that would eventually slash the top marginal rate by a huge 21 percentage points, from 91 to 70. But Democrats have long since become the party that resists lower taxes. In our era, it has been Republicans like Ronald Reagan and George W. Bush who have championed JFK-style rate cuts -- cuts that Democrats now condemn as "tax breaks for the wealthy."
On civil rights, too, there has been a sea change.
Liberal Democrats in the 1960s upheld the colorblind ideal -- the conviction that Americans should be judged not by the color of their skin, but by the content of their character. Far from supporting racial quotas and preferences, civil-rights Democrats of that generation flatly rejected them. Senator Hubert Humphrey famously vowed that if anyone could find anything in the 1964 Civil Rights Bill that would compel employers to hire on the basis of race or national origin, "I will start eating the pages one after another, because it is not in there." In a 1963 press conference, President Kennedy explicitly opposed racial preferences: "We are too mixed, this society of ours, to begin to divide ourselves on the basis of race or color."
But in the years that followed, as such preferences became entrenched in hiring and education, liberal Democrats became their doughtiest supporters. Senator Kennedy was "a leader in congressional efforts to preserve federal affirmative action," his Senate website notes. When the Supreme Court ruled against the racial classification of schoolchildren in a 2007 case -- "The way to stop discrimination on the basis of race is to stop discriminating on the basis of race," the court frankly advised -- Kennedy blasted the decision as one that "turns back the clock on equality."
Especially dramatic has been the Democratic Party's metamorphosis on foreign affairs.
"There are some who say that communism is the wave of the future: Let them come to Berlin," declared President Kennedy, a staunch Cold Warrior, in his great Berlin Wall speech in 1963. "There are some who say, in Europe and elsewhere, we can work with the Communists: Let them come to Berlin." But by 1987, when another American president journeyed to Berlin to challenge Moscow to "tear down this wall," such muscular anti-Communism had all but vanished from Democratic Party thinking.
JFK likewise spoke for mainstream Democrats when he asserted that America would "pay any price, bear any burden" to spread freedom and democracy in the world. He was a hawk who pressed for higher defense spending and American military superiority. The Democratic Party of more recent years -- the party of "come home, America" and a nuclear freeze -- was one he wouldn't have recognized.
All political parties alter over time, of course. Today's Republican Party is not a carbon-copy of Eisenhower's: It is more internationalist, more religious, more Southern. But a resurrected Eisenhower would still recognize the GOP, and still command its esteem.
The Democrats' transformation has been much more profound. Over the course of Ted Kennedy's long Senate career, his party's ideological center shifted hard to the left. It goes without saying that a JFK today could never be the Democrats' candidate for president. The question is, would he still be a Democrat?
(Jeff Jacoby is a columnist for The Boston Globe. To follow him on Twitter, click here.)