NOT TO PUT too fine a point on it, but Massachusetts is represented in the U.S. Senate by the most notorious womanizer in modern American politics. Edward Kennedy's lifelong attitudes and behavior toward women represent just about everything a real feminist — or a real gentleman — finds revolting.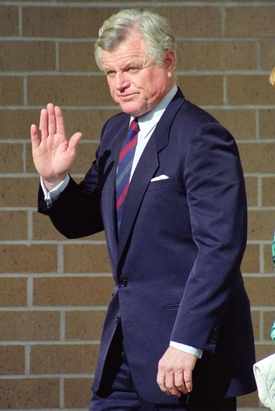 When it comes to women, Ted Kennedy embodies a "male chauvinist, exploitative view of women as primarily objects of pleasure."
So why on earth would the five Democratic women in the U.S. Senate fly into Boston, as they did Monday, to lead a fundraising rally for Ted Kennedy? Why would they hail him as a champion of — no, not Democrats, or liberals, or Irishmen — but women?
Explain it, please, Senator Patty Murray of Washington. You ran for Congress because, you said, you were outraged at the grilling Anita Hill endured when she accused Judge Clarence Thomas of sexual harassment. You had authored your state senate's sexual-harassment code. Your predecessor, Brock Adams, was forced out of the Senate after several charged that he had sexually assaulted them. "And it's not just Brock," you insisted during your campaign. "It's the whole U.S. Senate."
Actually, Sen. Murray, it's not the whole U.S. Senate. Some senators behave with full respect toward women. For example, John Glenn (D-Ohio), Orrin Hatch (R-Utah), or Richard Lugar (R-Ind.) — such men are about as likely to get embroiled in sex scandals, or to turn into loud, horny drunks, as they are to bungee-jump off the Capitol dome.
But the same certainly can't be said of Ted Kennedy.
"A former mid-level Kennedy staffer, bitterly disillusioned" — this is from political writer Michael Kelly's long February 1990 article on Kennedy's boorish lifestyle — "recalls with disgust one (now ex-) high-ranking aide as 'a pimp . . . whose real position was to procure women for Kennedy.' The fellow did have a legitimate job, she says, but also openly bragged of his prowess at getting attractive and beddable dates for his boss."
Patty Murray wasn't the only one infuriated by the Hill-Thomas affair. Senator Barbara Boxer of California, then a representative, led six other congresswomen on an electrifying protest march from the House to the Senate side of the Capitol. She made senatorial disrespect for women a key issue, repeating: "If there had been only one woman on the Judiciary Committee, things would have been different." It was time, she said, to "shake up" the Senate.
By re-electing Ted Kennedy?
"In [Ted Kennedy's] world" — so wrote Anne Taylor Fleming for the New York Times Magazine in 1979, voicing an insight that still rings true — "there is not much room for women. He hires them but rarely for key positions; some of them leave quite embittered. Kennedy does support women's issues . . . but staff women, professional women who work for him, make him nervous, make him look away."
Carol Moseley Braun of Illinois was the very symbol of aroused political feminism in 1992. Her campaign for the Senate surged on waves of men-just-don't-get-it passion. It galvanized Democratic women nationwide. Who among her supporters didn't snort with derision as Kennedy -- paralyzed by his history of mauling waitresses, propositioning blonde teenagers, rutting on restaurant floors — sat virtually mute during the Thomas/Hill hearings?
Yet there she was, telling 1,200 women at the Park Plaza on Monday that Kennedy has been "a beacon of light and hope for all of us all these years."
"[Kennedy's] behavior" — so Suzannah Lessard wrote in her famous essay, "Kennedy's Woman Problem, Women's Kennedy Problem" — "suggests a severe case of arrested development, a kind of narcissistic intemperance. . . . Certainly it suggests an old-fashioned, male chauvinist, exploitative view of women as primarily objects of pleasure."
Party loyalty I understand. Politics making strange bedfellows I understand. Barbara Mikulski of Maryland calling Ted Kennedy "one of the Galahads of the U.S. Senate" I am incapable of understanding. (What a metaphor! Galahad was the chaste knight at the Round Table.)
I'm not a woman. Nor am I a Democrat. But if I were, I think I'd be a little ashamed of Senators Murray, Boxer & Co. I think I'd feel betrayed to find that women senators aren't a different kind of senator after all. And I think I'd be disgusted by their willingness to compromise their principles and look the other way, exactly like the men they railed against with such righteousness just one election ago.
(Jeff Jacoby is the Boston Herald's chief editorial writer.)
-- ## --
Follow Jeff Jacoby on Twitter.

"Like" Jeff Jacoby's columns on Facebook.
Want to read more Jeff Jacoby? Sign up for "Arguable," his free weekly email newsletter