MONDAY NIGHT, in a special Memorial Day broadcast of "Nightline," Ted Koppel will call the roll of the more than 900 US troops who have died in Iraq and Afghanistan during the past 12 months. As each name is read, viewers will see a photograph of the fallen soldier. Executive producer Tom Bettag says the program is meant to remind Americans, "regardless of their feelings about the war, that the men and women who have given their lives in our behalf are individuals with names and faces." When ABC aired a similar "Nightline" in April 2004, it was accused in some quarters of trying to inflame antiwar sentiment for political purposes. In the event, it proved a solemn and respectful tribute, and there has been no controversy this year.
Long lists of soldiers killed in wartime can have great emotional power, as anyone who has been to the Vietnam Veterans Memorial in Washington can attest. However dignified and moving, though, in the end such a listing can really describe them only as a group: They wore the uniform and died in the service of their country. But who they were individually, how they served, what they left behind -- that is more than a catalogue of names can convey.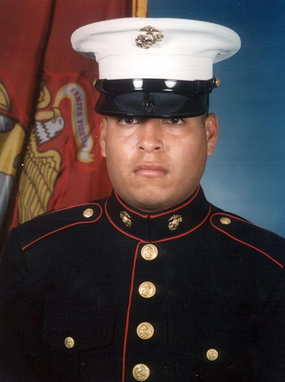 Sergeant Rafael Peralta, U.S. Marine Corps — Killed in action, Fallujah, Iraq, Nov. 5, 2004
So here is the story behind just one of the names "Nightline" will enumerate on Memorial Day: Sergeant Rafael Peralta of Alpha Company, 1st Battalion, 3d Marines. He was killed in action on Nov. 15 during Operation Dawn, the epic battle to retake the Sunni stronghold of Fallujah.
What follows is chiefly based on an account by Marine Lance Corporal T.J. Kaemmerer, a combat correspondent who took part in the operation that cost Peralta his life. Reports also appeared in the Los Angeles Times, The Marine Corps Times, The San Diego Union Tribune, and on ABC News.
On the day he died, Rafael Peralta was 25 years old, a Mexican immigrant from San Diego who had enlisted in the Marines as soon as he became a legal resident. He earned his citizenship while on active duty and re-upped in 2004. He was a Marine to the core, so meticulous that when Alpha Company was training in Kuwait, he would send his camouflage uniform out to be pressed.
He was no less passionate about his adopted country: His bedroom wall was adorned with a picture of his boot camp graduation and replicas of the Declaration of Independence and the Bill of Rights. "Be proud of being an American," he wrote to his kid brother Ricardo, 14. "Our father came to this country and became a citizen because it was the right place for our family to be." It was the first letter he ever wrote to Ricardo -- and the last. It arrived in San Diego the day after he died.
The Marines of the 1/3 were on the front lines in Fallujah, purging the city of terrorists in house-to-house combat. As a platoon scout, Peralta could have stayed back in relative safety. Instead, as was often the case, he volunteered to join the assault team.
On the morning of Nov. 15, one week into the battle for Fallujah, his squad had cleared three houses without incident. They approached a fourth, kicking in two locked doors simultaneously and entering both front rooms. They found them empty. Another closed door led to an adjoining room. As the other Marines spread out, wrote Kaemmerer, "Peralta, rifle in hand, tested the handle." It wasn't locked. He threw open the door, preparing to rush in -- and three terrorists with AK-47s opened fire. He was shot multiple times in the chest and face. As he fell, severely wounded, he managed to wrench himself out of the doorway to give his fellow Marines a clear line of fire.
The gunfire was deafening. To the sound of the terrorists' AK-47s was added the din of the Marines' M16 rifles and Squad Automatic Weapon, a machine gun. The battle was raging, with Peralta down and bleeding heavily and the other Marines firing at the enemy in the back room, when, in Kaemmerer's words, "a yellow, foreign-made, oval-shaped grenade bounced into the room, rolling to a stop close to Peralta's nearly lifeless body."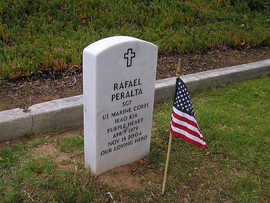 As the other Marines tried to flee, Peralta reached for the grenade and tucked it into his gut. Seconds later, it exploded with such force that when his remains were returned to his family for burial, they were able to identify him only by the tattoo on his shoulder. His five comrades-in-arms, shielded from the worst of the blast by Peralta's last act as a Marine, survived.
** ** ** **
"Right now, people are really nice and everything," Peralta's 12-year-old sister Karen told a reporter 10 days after her brother's death. "But I know that when it comes to later on, they are going to forget him. They're going to forget about him."
No, Karen. The Marines, always faithful, do not forget their heroes. And neither does the grateful nation that pauses to honor them this week -- the nation Rafael Peralta loved so deeply, and for which he gave his last full measure of devotion.
---------------------------------------------------------------------------------------------------
February 15, 2012 update: The secretary of the Navy, Ray Mabus, announced that one of several new Arleigh Burke-class guided missile destroyers will be christened the USS Rafael Peralta, to honor the Marine sergeant for his heroism and sacrifice in the service of his country.
(Jeff Jacoby is a columnist for The Boston Globe. His website is www.JeffJacoby.com).
-- ## --
Follow Jeff Jacoby on Twitter.