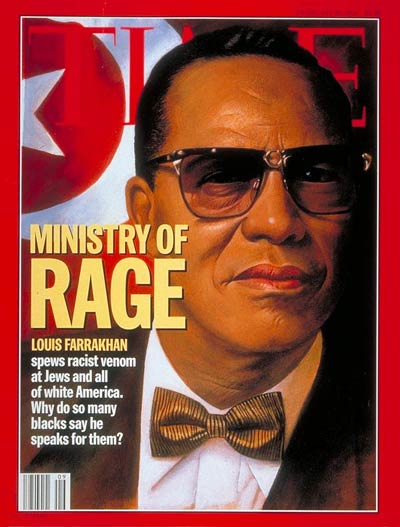 AMHERST, MASS. -- Louis Farrakhan is doing a gig in this college town, playing the Fine Arts Center at the University of Massachusetts. From the balcony, it's hard to make out whether he is wearing white socks or not. But given the rest of his geeky outfit, I wouldn't be surprised. I study Farrakhan's foppish bow tie, his tinted glasses, the notched lapels that reach halfway to his shoulders, and I think: This guy dresses like a 42nd Street hipster.
Minister Louie's costume -- like the dandies who surround him, in a bad imitation of Smokey Robinson and the Miracles -- is part and parcel of his act, no less than his inflammatory rhetoric and the roiling controversy that invariably accompanies his speaking engagements. It's natural for reporters assigned to cover a Farrakhan appearance to focus on his words, not his fruity trappings. But to do so misses the essence of the man: He's an entertainer; always has been. Calypso music in the '50s. Hatemongering today.
There's no mystery about what Farrakhan will say. Most of the 2,000 ticket-holders are here because they know exactly what the evening's entertainment has in store.
Like the audience at a Rolling Stones concert or a Three Stooges film festival, they've come to see a show whose contents they're already familiar with. The point isn't to hear something new, it's to hear something old. And to cheer and yell and whoop it up at the most familiar bits: "Jumpin' Jack Flash." "Nyuk, nyuk, nyuk." "Hitler was a very great man."
"Minister" Farrakhan? Please. This huckster, with his Fruit of Islam backup group and the mood-setting security checks, is no more a genuine religious leader than Hulk Hogan is a genuine athlete. The "teachings" of the Nation of Islam -- for example, that white people were invented on an island 6,600 years ago by a troublemaking scientist named Mr. Yacub -- are about as meaningful and illuminating as Sunday-afternoon pro wrestling.
Farrakhan has been in the media spotlight for 10 years now; his routine never changes. He spouts a feisty rhetoric of black self-reliance and traditional morality, blended with venomous antiwhite racism and Jew-baiting. Demagoguery and a dapper wardrobe -- Farrakhan has the formula down pat.
There is a touch of cowardice in those who affect not to know what a Farrakhan performance consists of, or to pretend it will in some way enhance the public discourse.
"When Farrakhan comes to a campus -- when he causes anguish, when he causes pain -- Farrakhan isn't the primary cause of the pain," says UMass/ Amherst Chancellor David Scott. "Farrakhan is the catalyst, bringing legitimate issues to the surface."
Really, chancellor? Explain the "legitimate issue" in accusing Jews of having incited the American Civil War and procuring Lincoln's assassination.
"In the South," Farrakhan thunders as his act rounds the 2 1/2-hour mark, "75 percent of Jews owned slaves, while 36 percent of the gentiles owned slaves. So when it came time for President Lincoln to have a union . . . since many Jews owned slaves, they didn't want union and they spoke for secession. And it provoked a civil war, where millions were killed. . . . Abraham Lincoln was killed. And there's a cloud over his death. Because anybody that seemed like they would do something in favor of black people was an enemy to those who made merchandise of us."
Is this what Chancellor Scott had in mind when he referred to Farrakhan's tendency to "use distorted metaphors to get attention to issues he thinks are neglected?"
Or was he alluding to the part, earlier in the evening, where Farrakhan reprised his famous routine about Adolf Hitler's greatness? ("He rose Germany up from the ashes. . . . Hitler, with his magnificent oratory, made a people . . . that it took the whole Western world, united, to defeat. A nation of only 17 million had the whole world shook with their genius. Hitler was a genius.")
Sometimes raw hatred is so poisonously self-evident that it takes an academic to see "metaphors" in it.
But the Farrakhan road-show isn't about metaphors. It's about putting on a performance that makes money, gets attention, and attracts a following. Ozzie Osborne bites off the heads of bats; Evel Knievel motorcycles over canyons; Andrew Dice Clay trashes women; Farrakhan and his lieutenants bash Jews. That's showbiz.
This land is blessed with many African-Americans of accomplishment whom the NAACP can invite to its summit and whom the Congressional Black Caucus can form covenants with. But embracing Farrakhan as a leader of blacks is like embracing Jimmy Swaggart as a leader of Christians.
Anyone who really wants to see this bow-tied, big-mouthed bigot need only buy a ticket when his malignant carnival comes to town.
(Jeff Jacoby is a columnist for The Boston Globe. His website is www.JeffJacoby.com).
-- ## --
Follow Jeff Jacoby on Twitter.

"Like" Jeff Jacoby on Facebook.