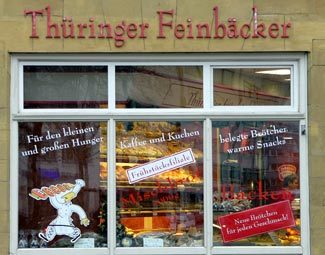 IN GERMANY, this is what passes for radical economic reform: The Bundestag, Parliament's lower house, just voted to let shop owners keep their stores open until 8 p.m. on weeknights and 4 p.m. on Saturday. And if that isn't bold enough, the bill would also allow bakeries to sell fresh rolls on Sunday. Pretty shocking, eh?
A lot of Germans think so. The measure squeaked through the 672-member Bundestag by a margin of just six votes. Its fate in Parliament's upper house is dubious at best. The Social Democrats, Germany's powerful opposition party, are launching a campaign to kill it. And labor unions are bellowing in protest.
So much strife over -- shopping hours?
"If you aren't German, you'll never understand," says Rita Sussmuth, the Bundestag president. "To Americans, it must seem very strange -- Germany has 80 million people, and no fresh rolls on Sunday."
Welcome to Germany's tormented economy, where staggeringly expensive shocks -- like the 1990 unification with East Germany -- are stoically absorbed, while simple and obvious reforms -- like allowing shopkeepers to set their own hours -- trigger furious debate. To an American visitor, it does seem strange. Germany is pouring some $100 billion annually into repairing its ravaged East, where the standard of living when the wall came down was 80 percent below the rest of the country. That burden Germans seem willing to shoulder. But suggest that they give up their state-guaranteed visits to a health spa every few years and brace for an argument.
Subsidized spa "cures" are only one piece of a vast array of entitlements that Germans -- all Germans, not just the poor or unemployed -- take for granted. From free tuition and textbooks for university students, to as many as 14 annual holidays for workers, to child-support payments for every family with children, Germans have gotten used to showering themselves with welfare-state largesse. All of which somebody has to pay for. That somebody, Germans are finally discovering, is themselves.
Germany's problem is that for a long time, nobody wanted to say no. The so-called "German model" of economic management is based on consensus, not conflict. It is normal, for instance, for employees to control half the seats on corporate boards and for the government to be at the table when wages and benefits are negotiated. Instead of confronting each other to thrash out their differences, unions, bosses and bureaucrats traditionally look for a way to make everyone happy. And the easiest way to make everyone happy has usually been to hike wages and benefits, then apply them to an entire industry or region so that no single firm would have an advantage.
For a while, the system worked. Germany's economy surged in the '60s and '70s; everyone grew richer. But a market in which nobody can take no for an answer is a market that eventually chokes up.
"We have the lowest working hours per week," notes Johannes von Thadden of the Association of German Chambers of Industry and Commerce. "We have the longest vacations worldwide; we have a remarkable number of public holidays. Once you have found a job in Germany, life is quite comfortable. But it is no wonder we also have an unemployment rate of 10 percent."
In fact, the unemployment picture is even bleaker. Officially, 4 million Germans are out of work. But that doesn't include those whose (generous) unemployment benefits have expired or who have simply dropped out of the job market. In Western Germany, which has lost 1 million jobs in the past four years alone, true unemployment is around 14 percent. In the East, still scarred from its 4 1/2 decades of communist abuse, it is higher still.
In their quest for consensus and comfort, Germans have made themselves the most unaffordable workers in the world. Perks and benefits add 80 percent to the average employee's pay. According to one recent study, an hour's work by a German industrial worker costs $27.30, compared with $17.10 in the United States, $15.68 in Canada, $13.62 in Great Britain and $5.25 in South Korea. What's more, Germans are accustomed to entering the work force late (it's not unusual to stay in college for seven or eight years) and leaving it early (55 is a common retirement age).
Not surprisingly, foreign investors are in no rush to come here -- and German manufacturers are finding it harder and harder to sell their wares abroad. Germany is still a great trading power, of course. But German exporters have lost market share for nine of the past 10 years.
Germans like to say that they live in a "social market economy," by which they mean a system of free and robust enterprise married to elaborate welfare schemes and government rules designed to restrain free and robust enterprise. Even in theory, it isn't plausible. With dangerously high unemployment, a growth rate of 0.5 percent, and some of the highest tax rates in the industrialized world, Germany has no choice: It has to change. But while many Germans understand that intellectually, it isn't clear that they're ready to do something about it.
When you can browse in a German bookstore at 8 p.m. and buy fresh pumpernickel on Sunday morning -- that's when you'll know that Germany is finally ready to trade in its wheezing economic model.
(Jeff Jacoby is a columnist for The Boston Globe).
-- ## --
Follow Jeff Jacoby on Twitter.

Join the Fans of Jeff Jacoby on Facebook.