THE GOOD NEWS in the Republican presidential race is that the candidate riding the biggest wave into New Hampshire's primary is a man of undeniable conviction, great eloquence, and clearly articulated beliefs. The bad news is that it's Pat Buchanan. Some of what Buchanan says is sensible, but far too much -- too much, at any rate, for this unabashed conservative -- is bitter, bullying, and bigoted.
New Hampshire Republicans -- especially those who, like me, revere Ronald Reagan -- might want to remember that the worst thing Reagan ever said, he said at Buchanan's behest. In 1985, Reagan justified his wreath-laying trip to the Bitburg military cemetery in Germany where 47 SS troops are buried by saying that the Nazi officers "were victims just as surely as the victims in concentration camps." It was a horrid remark, utterly at odds with Reagan's lifelong views -- but wholly consistent with the beliefs of Pat Buchanan, the White House director of communications, who put those words in the president's mouth.
§ § §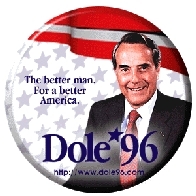 Not in '96 or any other year if he can't explain why he wants the job.
IT'S HARD TO BELIEVE, but Bob Dole -- campaigning for the White House for the third time now -- still cannot answer the question, "Why do you want to be president?" As the Globe's Jill Zuckman reported on Feb. 9, the reasons Dole gives for voters to support him are embarrassingly lame:
"I think my head's screwed on right."
"I don't go over the edge. You don't want somebody to take you over the edge."
"Because of Elizabeth" (his wife).
"It's better than being in the Senate with a hundred prima donnas."
Then there was the answer Dole gave to political writer Richard Ben Cramer, who asked what his first actions as president would be:
"Haven't thought," Dole replied. "If I get elected, at my age, you know, I'm not going anywhere. It's not an agenda. I'm just going to serve my country." Right about one thing, Senator. You're not going anywhere.
§ § §
FOR SHEER INABILITY to articulate a reason for seeking the presidency, though, the champion remains Edward Moore Kennedy. Every few election cycles, it's good to dust off his classic interview with CBS newsman Roger Mudd in 1979.
MUDD: Why do you want to be president?

KENNEDY: Well, I'm -- were I to -- to make the -- the announcement and -- to run, the reasons that I would run is because I have a great belief in this country . . . .

MUDD: What would you do different from Carter in terms of leadership?

KENNEDY: Well, it's a -- on -- on what -- on -- you know, you have to come to grips with the -- the different issues that we're -- we're facing. I mean, we can -- we have to deal with each of the various questions that we're- - we're talking about, whether it's in the questions of the economy, whether it's in -- in the areas of energy.
Aimless rhetoric and confused answers bespeak an aimless philosophy and confused thinking. From Kennedy to Dukakis to Bush to Dole, presidential contenders who cannot make a cogent case for their candidacy usually lose.
§ § §
THE FOLLOWING is from a fund-raising letter from a Washington organization. Guess which one.
Look closely at what is happening in Washington today, and you will see . . . extreme proposals . . ..

A great number of our legislators are backing initiatives that . . . would wipe out the federal government's role in nearly everything that touches the lives of most people. These initiatives would sacrifice government for a form of economic efficiency that will benefit the well-connected and the well-protected . . .

They would give more power to those who are already powerful . . . do away with the very principles of our democracy . . . dismantle the government's ability to serve its citizens.
The letter blasts everything from regulatory reform ("Do you think we'd enjoy clean air and safe drinking water . . .?") to block grants ("another extreme proposal to eliminate help for those who may need it").
So who wrote it -- the Democratic National Committee? The Democratic Senatorial Campaign Committee? People for the American Way?
Try the League of Women Voters, an outfit routinely labeled as "nonpartisan" and "nonideological." Once it was. Today the League is as liberal and Democratic as Bella Abzug. With one difference: Bella doesn't pretend to be something she's not.
§ § §
They deserve better than a homogenized "Presidents Day"
WITH LINCOLN'S BIRTHDAY on the 12
th
and Washington's Birthday on the 22
nd
, February used to be a month rich in civic meaning and historical inspiration. Twice in a fortnight Americans would be reminded, and edified by the reminder, that ordinary Americans can achieve extraordinary greatness.
What a cheap substitute President's Day is. Instead of real commemorations marking the real heroism of real men, we now have a homogenized Generic Monday Holiday, empty and antiseptic. On the American calendar, Washington and Lincoln are no longer the Father of His Country and the Great Emancipator, but mere shills for used-car sales. How shabby.
(Jeff Jacoby is a columnist for The Boston Globe).
-- ## --
Follow Jeff Jacoby on Twitter.

Join the Fans of Jeff Jacoby on Facebook.