PAUL MCLAUGHLIN was fatally shot in the head in the parking lot of a train station on Sept. 25. The next day the story was on Page 1. It was on Page 1 the day after that, too. And the day after that. And after that. In fact, McLaughlin's murder and its sequelae were Page 1 news six days in a row.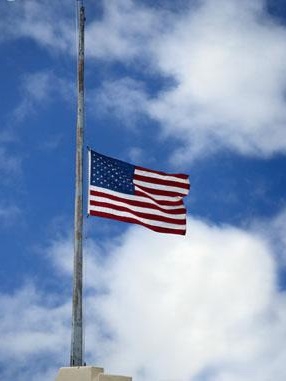 Why isn't every murder?
Hundreds of people walked past McLaughlin's casket in a memorial procession on Sept. 26; hundreds attended a memorial Mass held at St. Joseph's Church. Many hundreds more — including a governor, a cardinal, a mayor, members of Congress — were at his funeral on Saturday at St. Theresa's. A scholarship has been created in his name. The State House flag was lowered to half-staff. President Clinton sent condolences.
What makes McLaughlin's death so special? Why this ocean of public attention?
The answer should be: Because he was a human being, and the murder of a human being is by definition important news. The real answer is: Because he was a prosecutor.
As I write, police still haven't found McLaughlin's killer. Whoever he is, he deserves to be hunted down and destroyed, roasted in an electric chair until his ears smoke. For one who would wilfully take the life of an innocent man, no punishment suffices save that his own life be taken. This is a moral principle of towering authority, one as old as Genesis: "Whoso sheddeth the blood of man, by man shall his blood be shed, for in His image did God make man."
Murder is the worst of all crimes, but that isn't how we treat it. What drives the obsessive coverage of the McLaughlin case, what brought all those hundreds of people to his wake and funeral, isn't that blood was shed but that an assistant attorney general's blood was shed. He was Paul McLaughlin, state prosecutor, and so it is Page 1 news six days in a row. And if he were Paul McLaughlin, greengrocer? Paul McLaughlin, taxi driver? Paul McLaughlin, hobo?
Where is the flood of grief and newsprint for Vera Young, the Dorchester girl who was knifed to death on Sept. 19? Where are the scholarship and the half-mast flag for Gary Macarelli, shot dead in Medford on Sept. 17 after watching a football game with his friends? For Diane Harrigan, a mother of two — "She was happy-go-lucky and good-hearted," said a friend; "she would do for anybody before she'd do for herself" — killed in Brockton on Sept. 23? For Winston King of Roxbury, who died, apparently at the hands of his brother Phillip, on Sept. 20?
By some newsroom calculus, those murders merited only a few lines in the vicinity of Page 26. No notes from the president. No governor and senators at the funerals. Young, Macarelli, Harrigan, King — they weren't prosecutors or cops. Their deaths, to judge from the notice we gave them, just didn't matter as much as McLaughlin's.
But you know what? They were somebody's loved ones, too. They were somebody's children, somebody's best friends, somebody's confidants, somebody's reason for getting up in the morning. Their lives added something irreplaceable to this world. Their deaths, no less than McLaughlin's, leave gaping voids.
It should jolt and inflame us when anyone is killed. But increasingly we treat murder as just another bad-news story. Only when some element is particularly egregious do we pay attention. When Los Angeles gang members shoot a 3-year-old girl in the head, when an 85-year-old Abington widow is stabbed more than 20 times, when a police officer is shot dead while working a detail, when a South Carolina mother drowns her little boys in a car, when a 9-year-old Roxbury boy is gunned down during a Halloween party — when some detail is unusually gut-wrenching, then it's a big story.
And not always then.
On Dec. 30, Shannon Lowney and Leanne Nichols, employees of two abortion clinics in Brookline, were shot by John Salvi. The reaction was seismic. Every newsroom in town mobilized, scores of reporters were pressed into service. The news rocked the nation. It generated a volcano of emotion.
Lost amid all the coverage was the even more horrific triple murder committed the very same day in the very same town. The janitor of the Winthrop Road Rest Home allegedly went on a killing spree, slashing David Wallace and Albert Myers to death, then setting fire to a boarding house on Englewood Avenue and killing Cedric Clark.
That massacre never got close to Page 1.
In a famous Talmudic passage, Rava — one of the great rabbinic luminaries of the 3d century — exploded the idea that one innocent life is more precious than another. "For who," Rava taught, "says your blood is redder than his?"
The murder of Paul McLaughlin, a decent human being, was an abomination. So is the murder of every other decent human being cut down by the scum we permit to roam our streets. His blood was no redder than any other victim's. If his killing is Page 1 news, every killing is Page 1 news.
Paul McLaughlin, I daresay, would have been the first to agree.
(Jeff Jacoby is a columnist for The Boston Globe.)
-- ## --
Follow Jeff Jacoby on Twitter.

Join the Fans of Jeff Jacoby on Facebook.