"THERE ARE two races of men in this world," wrote the psychoanalyst Viktor Frankl in Man's Search for Meaning , the profoundly influential book he published about his experiences in the Nazi concentration camps. "Only these two — the 'race' of the decent man and the 'race' of the indecent man. Both are found everywhere; they penetrate into all groups of society. No group consists entirely of decent or indecent people."
Derek Chauvin, the Minneapolis police officer who used his knee to press George Floyd's neck to the ground until he died in agony, belongs to the race of the indecent. So do Gregory McMichael — an ex-cop — and his son Travis McMichael, the two Georgia men who pursued and gunned down an unarmed Ahmaud Arbery after seeing him jog past their home. So does any police officer who deliberately uses deadly violence against someone who has no weapon and poses no threat.
The race of the indecent does not include men and women who are infuriated at the sight of injustice or police brutality. It does not include those who respond with nonviolent protests, demonstrations, marches, or civil disobedience. There is nothing indecent about those who cry out in horror and anger at the death of Floyd and Arbery, or demand political change to prevent such atrocities, or insist that the full weight of the law be brought to bear against those responsible for committing them.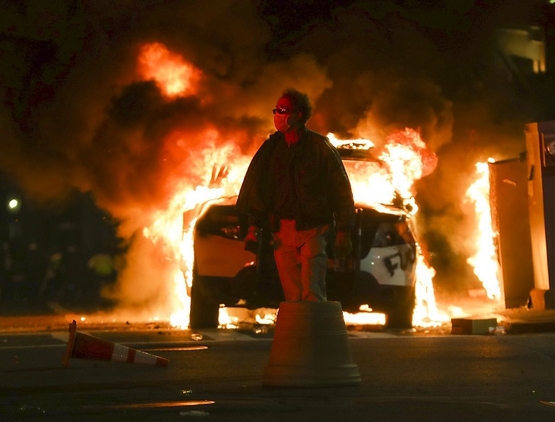 Tremont Street in Boston Sunday evening.
But the legions of the indecent most certainly do include those whose reaction to the terrible violence inflicted against Floyd is to inflict their own violence — smashing, burning, robbing, and even killing— against others. There is nothing decent about the riots that erupted in dozens of cities over the last few days. There was only pointless destruction and inexcusable lawlessness. More lives were lost and countless businesses ruined. If the killing of Floyd was a sickening illustration of what the "race of the indecent" are responsible for, so is the anguish of black business owners, weeping to see their life's savings reduced to rubble and ash.
Sickening, too, are those on the sidelines cheering as neighborhoods go up in flames, such as the filmmaker Michael Moore extolling the "good citizens burning down the evil police precinct," or Essence magazine publishing a column urging rioters to "Burn It All Down."
During the 1992 Los Angeles riots, in which scores of people died and hundreds of millions of dollars in damage was inflicted on mostly Korean-owned businesses, the rap artist Sister Souljah was one of those cheerleaders. In an interview with the Washington Post, she applauded the "rebellion" that was shattering much of the city and endorsed even more bloodshed:
I mean, if black people kill black people every day, why not have a week and kill white people? You understand what I'm saying? In other words, white people, this government and that mayor were well aware of the fact that black people were dying every day in Los Angeles under gang violence. So if you're a gang member and you would normally be killing somebody, why not kill a white person?
The most memorable response to Souljah's incitement came from Bill Clinton, the Arkansas governor who was then running for president. Speaking before Jesse Jackson's Rainbow Coalition in June, Clinton condemned the rapper's words . He quoted her poisonous comments to the Post and an earlier interview in which she said all whites have a "low-down, dirty nature" and that "if there are any good white people, I haven't met them." Clinton told his audience: "If you took the words 'white' and 'black,' and you reversed them, you might think David Duke was giving that speech."
Clinton took some heat for his rebuke — Souljah called him a racist and Jackson defended her. But most Americans appreciated his public stand against extremism. The phrase "Sister Souljah moment" entered the lexicon as a reference to the repudiation of extremists, even when that repudiation might rub one's allies the wrong way.
America today, far more bitterly polarized than it was in 1992, could really use some Sister Souljah moments. But there is little inclination in political circles, and even less among the media, to cool the fevers of racial grievance.
No one thinks that what happened to George Floyd was anything but horrifying and enraging. In a society where almost everything is bitterly disputed, the revulsion over Floyd's death, and the desire to see his killers brought to justice, is practically universal. This is not a country that thinks it's OK for police to kill black men. "I hope these cops are dealt with good and hard," conservative talk host Rush Limbaugh told his huge radio audience . What they did to Floyd, he said, "makes me so mad I can't see straight."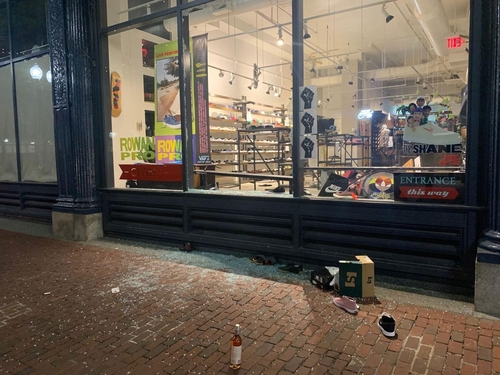 A sneaker store in Providence, R.I., after being smashed and looted on Monday night.
There was a time in this country when black men could indeed be killed by whites with impunity, and when those witnessing their deaths were apt to be celebrating them. Morally, psychologically, and politically, we are light years removed from that era. Yet it has become politically incorrect to say so. Anyone who tries can expect to be shouted down by loud voices insisting that slavery and Jim Crow stamped America forever, leaving it irremediably racist to the core.
Police brutality is too common in this country. Some people have no business being entrusted with a gun, a badge, and the power to arrest. All the same, the Washington Post noted last year, killings by cops are "rare outcomes" in a nation with "millions of encounters between police officers and the public." When those rare outcomes do occur, according to the Post (which has been tracking the data since 2014, when Michael Brown was killed by police in Ferguson, Mo.), the racial breakdown is surprisingly consistent: "45% white men; 23% black men; and 16% Hispanic men. Women have accounted for about 5% of those killed, and people in mental distress about 25% of all shootings." In the overwhelming majority of cases, the person killed was armed; only 4% had no weapon. The killing of George Floyd, in other words, was an exception, not the rule. Saying so doesn't make his fate less appalling, it makes it more so. To see such a thing happen to a fellow citizen is especially harrowing because it is such a desecration of what America stands for.
It was an intolerable killing, and no one is tolerating it. The men responsible were fired within a day. Chauvin has been charged with murder.
But just as intolerable is the stupefying mayhem being unleashed across the country in Floyd's name.
"I am heartbroken. Waking up this morning to see Minneapolis on fire would be something that would devastate Floyd," his fiancée Courteney Ross told the Minnesota Star Tribune. She described him as the most spiritual man she ever knew — "he stood up for people, he was there for people when they were down, he loved people that were thrown away."
His employer, Jovanni Thunstrom, felt the same way: "He didn't discriminate," Jovanni said in an interview. "Whether you were Hispanic, you were black, you were white — he treated everybody with respect and that's what I love about him."
As Viktor Frankl might have said, Floyd was of the race of the decent man. It only compounds the indecency of his death that it is being used as a justification for riots.
* * * * * * * * * * * * * * * * * * * * * * * * * * * * * * * * * * * * * * * * * * * * * * * * * * * * * * * *
The late Milton Friedman is alive and well
Writing in the New York Sun recently, Ira Stoll observed that Joe Biden appears to have something of a fixation with Milton Friedman, the brilliant American economist and champion of capitalism who won the Nobel Prize for economics in 1976.
"Milton Friedman isn't running the show anymore," Biden told Politico's Michael Grunwald , by way of explaining why he wants Congress to pass an enormous new stimulus bill, one "a hell of a lot bigger" than the $2 trillion CARES Act passed in March. Biden wants to pour a trillion dollars into infrastructure spending, lavish several hundred million more on aid to the states, and fund "investments in light rail, clean drinking water, and half a million electric vehicle chargers on the nation's highways." He wants to repeal most of the 2017 tax cuts signed into law by President Trump. And he is rooting for a post-pandemic "backlash against big corporations" and against "anti-government political thinking."
Biden has invoked Friedman as his bête noire on other occasions, too.
During a fundraiser in Wayland, Mass., last fall, CNN's Sarah Mucha reported, Biden expressed his disdain for the Nobel laureate. "When did Milton Friedman die and become king?" he demanded, with a mangled rhetorical question that nonetheless conveyed his disapproval.
For Biden, as Stoll writes, Friedman seems to be the go-to archetype of an influential exponent of free-market ideas. In truth, it would be hard to think of a better one. Of Friedman's intellectual and theoretical chops, there can be no question: His scholarly output was world-class, and he spent 30 years at the University of Chicago, an anchor of the famous Chicago school of economic thought . But Friedman also had an amazing gift for popularizing his economic views. For 18 years he wrote a regular column for Newsweek magazine, and his television series "Free to Choose" extended his reach to a huge broadcast audience as well. A spin-off book based on the series, also called Free To Choose, was (according to Wikipedia) the bestselling nonfiction book of 1980 and has been translated into 14 languages.
Milton Friedman, who died 14 years ago, was arguably the most successful teacher of economics of the last two generations
Certainly little of Biden's program would fit with the worldview of Friedman, who eloquently made the case for lower taxes, smaller government, and more robust market freedoms. Then again, remarks Stoll, who edits the Future Of Capitalism blog, in some ways Friedman "really is running the show, no matter how much Biden insists it is not so." He offers some examples:
Perhaps the most significant way is the use of monetary policy — the Federal Reserve increasing the money supply and cutting interest rates — to fight the economic effects of the novel coronavirus and of the lockdowns used to respond to it. Friedman's 1963 book with Anna Schwartz, A Monetary History of the United States, 1867-1960, argued that Federal Reserve inaction had contributed to the Great Depression. Subsequent Fed chairmen have been determined not to repeat that policy error.

Binyamin Appelbaum's 2019 book The Economist's Hour credits Friedman for helping America move from a military of drafted conscripts to an all-volunteer force. "In Friedman's view, it was the same system of forced labor Egyptian pharaohs had used to build the pyramids," Appelbaum writes. Bringing back the military draft has not been a big campaign agenda item for Biden, who reportedly avoided Vietnam-era enlistment with student deferments and a medical history of asthma.

Even on the policy issues where Friedman's victories were less clear-cut, the debate is still being fought on terms he defined. President Trump [has] described the US Postal Service as a "joke." Friedman in 1986 proposed privatizing the mail-delivery business.

Trump has advocated for tax credits to fund scholarships that would allow some families to choose private schools instead of government-run public schools. Friedman has been described as the grandfather of school vouchers.
Friedman died in 2006, so Biden is free to take jabs at him without fear of being rebutted. But there is little chance that Biden's intellectual output and influence, even if he becomes president, will have anything like the enduring power of Friedman's, whose ideas and teachings to this day continue to open minds to the extraordinary good that can result when government promotes individual liberty and restrains its impulse to control every detail of economic life.
Full disclosure: I am a huge Friedman fan, and my first encounter with his work was one of the most intellectually memorable moments of my youth.
I still remember that encounter vividly. I was a freshman at George Washington University, just beginning my first semester on a college campus. I was enrolled in a course called "Politics and Values," and the assigned reading was heavy on political economy. There were books by John Kenneth Galbraith, Robert Heilbroner, Louis Kelso, and two or three other economists. We were reading them at the rate of about one a week. Whatever impressions most of those books made on me at the time faded away long ago.
But one book was different. Milton Friedman's Capitalism and Freedom electrified me. I was riveted by it. Like someone viewing a fireworks display for the first time, I was dazzled and exhilarated by Friedman's ideas — the genius of markets, the power of prices, the link between prosperity and liberty, the miracles made possible when individuals can choose freely. The sensation was almost physically thrilling. I can still see myself sitting at a study carrel in the GW library, devouring the book's chapters, intoxicated by their insights, awash with the pleasure of learning. I was experiencing something new — the elation of intellectual discovery. Capitalism and Freedom changed my understanding of the world and how it works.
Friedman changed many people's understanding of the world. Capitalism and Freedom — already 15 years old when I started college — is one of the modern classics of economics. Between his books, his TV series, the Newsweek column, and the advice he provided political leaders like Barry Goldwater and Ronald Reagan, Friedman arguably educated more people and shaped more minds than any other economist of the last two generations.
"Milton Friedman isn't running the show anymore," says Biden dismissively. Maybe not, but Biden would do himself a world of good if he were to study Friedman's work instead of waving it off as outdated. Even now, 14 years after Friedman's death, his insights into liberty, markets, and the seeds of prosperity remain keen and humane. Perhaps Biden will win the White House and perhaps he won't, but Milton Friedman's work will go on expanding minds, making the case for freedom, and riveting new readers for years to come.
* * * * * * * * * * * * * * * * * * * * * * * * * * * * * * * * * * * * * * * * * * * * * * * * * * * * * * * *
The last line
"The tide has turned. The free men of the world are marching together to victory. I have full confidence in your courage, devotion to duty, and skill in battle. We will accept nothing less than full victory. Good luck: and let us all beseech the blessing of Almighty God upon this great and noble undertaking." — Gen. Dwight D. Eisenhower, speech broadcast to American troops on the eve of D-Day (June 5, 1944)
* * * * * * * * * * * * * * * * * * * * * * * * * * * * * * * * * * * * * * * * * * * * * * * * * * * * * * * *
(Jeff Jacoby is a columnist for The Boston Globe).
-- ## --
Follow Jeff Jacoby on Twitter.

"Like" Jeff Jacoby's columns on Facebook.
Want to read more Jeff Jacoby? Sign up for "Arguable," his free weekly email newsletter