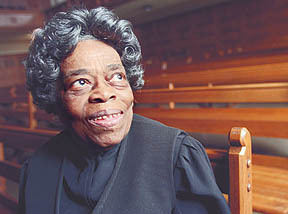 Oseola McCarty, washerwoman and philanthropist
THE SUMMER'S most uplifting story comes from Hattiesburg, Miss., where Oseola McCarty has given the local university $150,000 to finance scholarships for African-American students. Generosity is always inspiring, but what makes McCarty's gift to the University of Southern Mississippi so especially fine is that she accumulated the money the old-fashioned way: working and saving, working and saving, one precious dollar at a time.
McCarty is a washerwoman. For three-quarters of a century, she cleaned and pressed other people's clothes, until arthritis in her "ironing hand" finally forced her to retire in January, at 87. From the day she quit sixth grade to go to work, her years were filled with little but manual labor. She never had any fancy clothes, never had a car, never had a color TV, never had a "career." When her shoes grew tight, she cut out the toes; when her Bible fell apart, she Scotch-taped it together.
A black daughter of the segregated South, McCarty grew up enduring all the stings and slurs of second-class citizenship. Until the mid-1960s, black students were barred from the University of Southern Mississippi. "My race," she told a reporter, "used to not get to go to that college. But now they can."
And now, thanks to the thrift and the unselfishness of this ancient humble laundress, more of them will. Indeed, twice as many as she imagined: Her generosity has so moved the people of Hattiesburg that the town's business leaders have promised to match her $150,000.
"I just wanted to do nice," she said, "something for the children to get an education. Because I didn't get mine, but I want them to have theirs." The money McCarty is giving away represents nearly her entire life's savings. The only repayment she seeks is to attend the graduation of a student whose college education her gift makes possible.
What a shock Oseola McCarty must be to a contemporary liberal. By every measure of the modern welfare state, she's supposed to be a victim, not a philanthropist. Just look at her: old, black, uneducated, unmarried. Her labor, unskilled. Her job, menial. Her standard of living, dismal. She could have been a poster child for the social safety net -- for food stamps and Social Security and disability and college loans and affirmative action and job-training and Medicaid. A thousand and one government programs were created to help people just like her. If anyone was "the needy," she was. A bottom-of-the-ladder washerwoman endowing scholarship funds? Impossible!
But then, McCarty never saw herself through a liberal's eyes. No one ever notified her that she was one of life's losers, unable to survive without help from Big Brother. It never occurred to her that she was fit only to receive, not to give; to be assisted, never to assist. For that matter, it never occurred to her that she had a claim on the taxpayers for money she hadn't earned. Or that washing clothes was a "dead-end" job. Or that society owed her anything except respect, and the freedom to make herself useful.
There is much groaning about budget cuts these days, loud keening about who will fill the gap if government spending is reduced. Politicians and bureaucrats are notoriously arrogant, but nothing reeks of hubris more than their patronizing assumption that if they don't solve a problem, if they don't fund a program, it won't get solved or funded. Tell that to Oseola McCarty, an 87-year-old sixth-grade dropout who didn't have to go to college to learn that work -- any work -- is a blessing, or that she -- not the Welfare Board -- is her brother's keeper.
This land is filled with Oseola McCartys. In 1994, we Americans gave $130 billion to charity. Only 12 percent of that came from corporations and foundations. The rest, more than $113 billion, came from the pockets of individual citizens. Some of those citizens were Rockefellers and Annenbergs; some were tired scrubwomen with holes in their shoes. Half of all households with incomes below $10,000 -- the least affluent households in America -- give part of their earnings to charity.
"The extraordinary generosity of ordinary Americans often goes unnoticed," The Economist once remarked. Yes, and no one is more determined not to notice it than welfare-state whiners and self-righteous liberals who think "generosity" is when Washington takes away people's money and spends it for them.
Add up McCarty's accomplishments. She has kept herself employed, fed, clothed, and sheltered. She has helped sustain her church and her community. She has secured the education of scores of students for years to come. She has enriched the University of Southern Mississippi. She has inspired philanthropy in others. All this she did with no more of a "budget" than the coins and dollar bills a body can earn scrubbing clothes all day. When has the government, with all its agencies and subsidies, its regulations and task forces, ever come close to accomplishing so much with so little?
This marvelous woman puts the lie to every planted axiom of the welfare-industrial complex. There is nothing government can do for us that we cannot do for ourselves, or for each other. Even poor people can live rich lives. Even people who didn't go to college. Even arthritic old washerwomen from Hattiesburg, Mississippi.
(Jeff Jacoby is a columnist for The Boston Globe. His website is www.JeffJacoby.com).
-----------------------------------------------------------------------------------------------------------------------------------
September 23, 1995 update: At a While House ceremony today, President Clinton presented Oseola McCarty with the Presidential Citizens Medal, the nation's second-highest civilian honor. She was later the president's guest at a dinner with the Congressional Black Caucus.
September 26, 1999 update: Miss McCarty died at her home in Hattiesburg, Miss., following a long illness. In her last years, she had been the recipient of dozens of awards and other honors. On its website, the University of Southern Mississippi provides much more information about its most famous benefactor.
-- ## --
Follow Jeff Jacoby on X (aka Twitter).
Discuss his columns on Facebook.
Want to read more? Sign up for "Arguable," Jeff Jacoby's free weekly email newsletter.