YELLOWSTONE NATIONAL PARK, Wyo. -- A bald eagle wheels over Yellowstone Lake, drifting on the wind halfway between heaven and earth. Great shaggy bison graze on tufted hair-grass, their beards sweeping the pre-dawn frost that blankets the ground. Tower Creek, tumbling over a ledge amid soaring rock steeples, falls hundreds of feet to collide with the river below.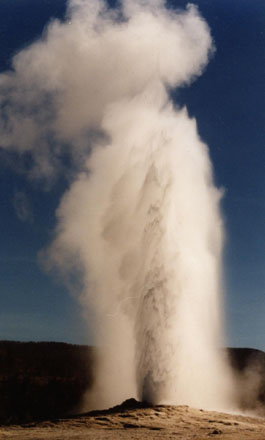 Old Faithful erupts in Yellowstone National Park
Lethargic elk stretch out on a travertine terrace at the Mammoth Hot Springs, vacantly chewing their cud in the noontime sun. As if out of some angry Gehenna, sulfurous fumes hiss and spit, and black mud boils at Sour Lake and Black Dragon's Caldron. And below a hillside covered with lodgepole pines, Old Faithful erupts on schedule, shooting gorgeous gushes of steam and water 180 feet into the air.
Yellowstone is magnificent.
But could it, I wonder, be better?
My visit to the world's oldest national park -- Congress chartered Yellowstone's 2 million acres in 1872 -- comes after a conference on "free-market environmentalism" organized by the Political Economy Research Center, an environmental think tank. Just north of here, in Emigrant, Mont., a couple dozen of us had spent 2-1/2 days dissecting and disputing an unorthodox proposition: that capitalists can do a better job of protecting the environment than bureaucrats.
According to conventional wisdom, that's nonsense. CW says the way to save endangered species (or keep rivers pure, or preserve old-growth forests) is the government way. Traditional environmentalists advocate command-and-control regulation as the only reliable means of defending Nature against the exploitation of industry and the ravages of profit-seekers.
But revolution percolates. Some environmentalists march to the beat of a different drummer. They reject the idea that big government is Mother Nature's best defender. They argue for more liberty, less regulation. Since no one has a greater incentive to be a good steward of the land than the person who owns it, they ask, oughtn't we promote conservation and protect ecosystems is by strengthening property rights, not trampling them? When owners lose the freedom to enjoy their property, don't they also lose their incentive to care for that property?
Conservatism and conservationism are not in disharmony. America's greatest naturalist president, Teddy Roosevelt, was an ardent defender of private property. "In every civilized society, property rights must be carefully safeguarded," he said, for "human rights and property rights are fundamentally . . . identical."
What government touches, the dissenters say, government botches. Look at the Postal Service, the public schools, the welfare system. Can the feds be trusted with the environment?
Consider: The Endangered Species Act, by penalizing people when threatened wildlife is found on their property, creates perverse incentives to destroy habitat that might attract and shelter those species. The Superfund program has spent close to $8 billion since 1980, yet barely a handful of toxic-waste sites have been cleaned up. A power-hungry EPA is using wetlands regulations to prosecute landowners who turn swampy dumps into orchards and nature preserves.
No no no, retorts the Al Gore set. The environment is just too important to be left to the free market. Everyone loves whales, but what entrepreneur is going to save endangered spiders or rodents? Who but the government would have cleaned up Boston Harbor? Whom are you going to get -- this is their clincher -- to run Yellowstone? Donald Trump?
Well, no, not Trump. But why not The Nature Conservancy or the Audubon Society or the National Wildlife Federation?
Yellowstone's wild beauty is bewitching, but there is trouble even in this paradise. The National Park Service, after all, is a bureaucracy like any other. It is not accountable for its decisions, not liable for its mistakes. So mistakes abound:
Entrance fees are so low ($ 10 per week per car) that some 2.5 million visitors - far too many - throng the park each summer, trampling stream banks and distressing animals.
Careless wildlife management has allowed the elk and bison population to grow beyond Yellowstone's capacity, deteriorating the range and threatening the cattle of nearby ranchers.
For years, tourists were allowed to feed the park's bears, a practice that destroyed their ability to forage in the wild. Many were tempted to attack people, and had to be shot.
A bizarre "let it burn" policy of not fighting natural fires ended in the awful devastation of 1988, when more than half of Yellowstone's forests went up in smoke.
Yellowstone is still breathtaking. But - just maybe - if it weren't being run by government bureaucrats, it would be even more wondrous.

Free-market environmentalists haven't worked out every kink in their new paradigm. But theirs is the thinking of the future. Americans love nature, and Americans love liberty. What the free-marketeers have figured out is that the two loves are linked.


(Jeff Jacoby is a columnist for The Boston Globe.)