Maimonides on the Mayflower
Thanksgiving has officially been cancelled at the University of Alaska Southeast. Students, faculty, and staff will have off from Nov. 24 through Nov. 27, but on the university calendar, what used to be identified as "Thanksgiving Closure" is now labeled "Fall Break." UAS adopted the change at the urging of X̱'unei Lance Twitchell, a professor of Native Languages, who called for "decolonizing Thanksgiving," a holiday that he said leads some people to feel excluded.
"We are not a white Christian organization," he said. "We are a university."
The notion that designating a day to give thanks as a society is something only white people do is absurd on its face. Long before the modern era, Thanksgiving was "a church-oriented celebration for the Black community," wrote Jae Jones last year in The Tennessee Tribune. One of the most famous Thanksgiving stories in American letters is Langston Hughes's 1917 jewel, "Those Who Have No Turkey." More recently, the Hispanic journalist Ana Menéndez described the experience of marking Thanksgiving — known among the immigrants she grew up with as "Tansgibin" — with a feast that was "strenuously" Cuban: black beans and rice, fried plantains, yucca, and roasted pork.
The most renowned early American thanksgiving celebration of all, of course, occurred at Plymouth in the fall of 1621, when about 50 Pilgrims joined with nearly a hundred Wampanoag tribal members — among them the tribe's leader, Massasoit — for a three-day festival.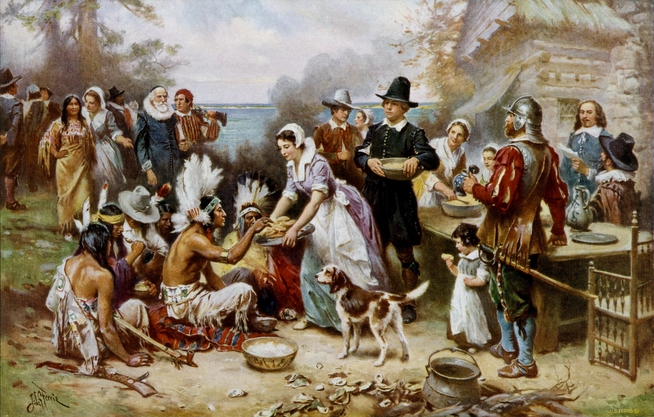 The "first Thanksgiving" was anything but a whites-only affair.
As for the idea that Thanksgiving is exclusively a Christian tradition, the Pilgrims themselves would have been the first to deny it.
Among the passengers who sailed to America aboard the Mayflower and founded Plymouth in 1620, none would prove as influential as William Bradford, who was elected governor of the colony in 1621 and would serve in that position for close to 30 years.
Like many of his fellow Puritan Christians, Bradford had an absorbing interest in the Hebrew Bible and Jewish religious custom. He perceived a deep affinity between the wanderings of the Pilgrims — who had fled England to escape religious persecution — and the ancient Israelites' journey to the Promised Land. Bradford was a disciple of the Puritan scholar Henry Ainsworth, and brought with him on the Mayflower Ainsworth's most important work, "Annotations on the Five Books of Moses," along with his commentary on the Book of Psalms.
As Nick Bunker explains in "Making Haste from Babylon," his acclaimed 2010 history of the Mayflower Pilgrims, Puritans like Ainsworth had a passion "to absorb the wisdom of the Bible from as close to the source as possible." That inspired them to "read with sympathy the rabbis of the Roman Empire, Egypt, and medieval Spain, authors whose books were preserved by the Jews of Germany or Venice." Ainsworth drew on the works of many rabbinic scholars, but he revered above all the towering 12th-century Sephardic Jewish philosopher, Moses Maimonides, whom he dubbed "the wisest of the Hebrew Rabbins."
It was in reading Ainsworth's commentary on the 107th Psalm — the opening words of which are "Give thanks to the Lord, for he is good" — that Bradford encountered the Jewish teaching that would became the basis of the Pilgrims' Thanksgiving.
The 107th Psalm cites four examples of individuals who "owe thanks to the Lord" for saving them from a desperate situation: those who emerge safely from a journey through a desert wilderness, those who were imprisoned and are released, those who recover from a grave disease, and those who sail across a treacherous sea and successfully reach dry land. In his commentary, Ainsworth observed that Psalm 107 became the basis of the Jewish religious obligation to make a public declaration of thanks to God upon being saved from a potentially life-threatening situation — including after a safe passage across the ocean. He cited his source by name: Maimonides, who incorporated the rule into his code of Jewish law.
Bradford and his fellow passengers took Maimonides' admonition to heart. Once the Mayflower anchored at Provincetown, the Pilgrims' first act after wading ashore was to publicly give thanks. Wrote Bradford: "They fell upon their knees and blessed the God of heaven, who had brought them over the vast and furious ocean, and delivered them from all the perils and miseries thereof, again to set their feet on the firm and stable earth."
In American lore, the "first Thanksgiving" was the harvest feast that took place a year later. But Bunker disagrees. "If we could ask William Bradford to define the first Thanksgiving in America," the historian writes, "he would point to something else: He would say that it took place at the instant of arrival, at the moment on Cape Cod when the Pilgrims fell on their knees to say the Jewish prayer."
Reflecting on that moment in his journal, Bradford leaves no doubt that such "Jewish" thoughts were in his mind. Speculating on how the future children and grandchildren of the Pilgrims should recall the journey of the Mayflower, he uses language that unmistakably draws on the 107th Psalm:
Our fathers were Englishmen which came over this great ocean, and were ready to perish in this wilderness. . . . Let them therefore praise the Lord because he is good, and his mercies endure forever. Yea, let them which have been redeemed of the Lord, show how he hath delivered them from the hand of the oppressor. When they wandered in the desert wilderness out of the way, and found no city to dwell in, both hungry, and thirsty, their soul was overwhelmed in them.
Late in life, Bradford embarked on a project to master the original language of the Hebrew Bible, something for which he said he had "a longing desire." He learned the alphabet and wrote out hundreds of Hebrew words on blank pages in the journal where he recorded the history of Plymouth colony. When he died in 1657, he was laid to rest in Plymouth's Burial Hill. On his tomb, chiseled above his English epitaph, are three Hebrew words: "Adonai ezer chayai" — God, the help of my life.
There were no Jewish passengers aboard the Mayflower, but through Ainsworth's commentary the Pilgrims had brought with them the teaching of a great Jewish sage. That teaching became the earliest influence on the American ideal of communal gratitude — an ideal that endures to this day and has never been restricted to those who are white or Christian. Thanksgiving is for Americans of every race and ethnicity, every faith and no faith, US-born natives and just-arrived immigrants. Without each other, all of us would be poorer. Whatever our condition in life, we all have blessings to count. Let us be thankful.
* * * * * * * * * * * * * * * * * * * * * * * * * * * * * * * * * * * * * * * * * * * * * * * * * * * *
Michael Gerson, RIP
I never met Michael Gerson, the speechwriter for President George W. Bush who later became a Washington Post columnist, but from afar I admired his peerless gifts as a writer. More often than not, I agreed with the arguments he made. But even when I didn't, I couldn't help but appreciate the grace and moral thoughtfulness — and eloquence — with which he made them.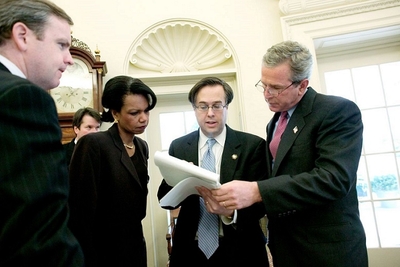 Michael Gerson reviewing the 2004 State of the Union address with President George W. Bush, as National Security Adviser Condoleezza Rice looks on.
Gerson died Thursday of complications from cancer. He was just 58. For years he had also struggled with depression, an affliction about which he spoke candidly. Terrible as that "insidious, chronic disease" was, he said in a remarkable sermon at the National Cathedral in 2019, it had taught him that "even when strength fails, there is perseverance. And even when perseverance fails, there is hope. And even when hope fails, there is love. And love never fails."
As a speechwriter, Gerson is best known for putting into oratory the messages Bush delivered after 9/11. He wrote the stirring words that the president delivered before a joint session of Congress on Sept. 20, 2001. "Our grief has turned to anger, and anger to resolution," Bush said in one passage. "Whether we bring our enemies to justice, or bring justice to our enemies, justice will be done."
Gerson was particularly proud of one passage in Bush's 2003 State of the Union address, in which he announced an emergency plan to combat AIDS in Africa. It was an initiative for which there was no political demand, but to which Bush, encouraged by his speechwriter, was wholly committed. Nearly 20 years later, that program — known as the President's Emergency Plan for AIDS Relief, or PEPFAR — has saved an estimated 20 million lives and prevented innumerable new infections.
To my mind, though, the finest of the Bush speeches that Gerson wrote was the 43rd president's Second Inaugural Address, which put the spread of democratic freedoms at the heart of his international agenda.
In one memorable phrase, Bush pledged to "all who live in tyranny and hopelessness" that "the United States will not ignore your oppression, or excuse your oppressors. When you stand for your liberty, we will stand with you." Like John F. Kennedy's famous inaugural vow that America would "pay any price, bear any burden . . . to assure the survival and the success of liberty," the agenda he outlined was soaring in its ambition — and remains unfulfilled. But it reflected an ideal in which Bush, who frequently met with dissidents from totalitarian dictatorships, believed deeply.
The late William Safire, himself a former White House wordsmith-turned-columnist, rated Bush's speech among the finest second inaugural addresses ever delivered. Safire noted that Bush trusted no one but Gerson to craft it. When Gerson, then 40, had a heart attack between the election and Inauguration Day, he got a call from Bush. The president wasn't phoning to apply deadline pressure. "I'm not calling to see if the inaugural speech is OK," Bush said. "I'm calling to see if the guy writing the inaugural speech is OK."
For too much of his short life, Gerson was not OK. "Very few people knew the full scope of the health challenges Mike faced," his friend Peter Wehner wrote in The Atlantic. Besides the heart attack in 2004 and the ongoing agony of depression, he was stricken with kidney cancer, followed by debilitating leg pain, followed by lung cancer, Parkinson's disease, and adrenal cancer. "And finally, metastatic bone cancer in multiple locations, intensely painful," Wehner recounted. "At one point he told me he was on 20 different medications. Mike and I joked that of all the figures in the Bible he could model himself after, he chose Job."
That such beautiful and uplifting prose could be produced by someone in the grip of such suffering was miraculous. In Wehner's words, "Mike Gerson was a beautiful writer with an even more beautiful soul." I wish I could have known him.
* * * * * * * * * * * * * * * * * * * * * * * * * * * * * * * * * * * * * * * * * * * * * * * * * * * *
What I Wrote Then
25 years ago on the op-ed page
From "The government's air bag failure" Nov. 20, 1997:
At least 87 people have been killed by air bags in the past 10 years. The victims were mostly women and children, and the air bags that caused their deaths were working properly. Those air bags were in the victims' cars by order of the US government. The government never told the victims that air bags could kill. It told them that air bags would make them safe.

Who, I wonder, is going to apologize to the families and friends of all the people killed by the government's air bag mandate?
* * * * * * * * * * * * * * * * * * * * * * * * * * * * * * * * * * * * * * * * * * * * * * * * * * * *
(Jeff Jacoby is a columnist for The Boston Globe).
-- ## --
Follow Jeff Jacoby on Twitter.
Discuss Jeff Jacoby's columns on Facebook.
Want to read more Jeff Jacoby? Sign up for "Arguable," his free weekly email newsletter.