DEATH PENALTY OPPONENTS frequently argue that capital punishment is racist, meted out disproportionately to blacks, especially blacks who kill whites. If there is any city where that argument ought to hold sway, it is Washington, D.C., an overwhelmingly black community that is acutely sensitive to questions of racial justice.
Indeed, until recently Washingtonians were solidly against the death penalty. A 1992 ballot measure to establish capital punishment in the district was crushed by a ratio of 2 to 1. Among the leading opponents was Marion Barry, the once and future mayor, who forested D.C. neighborhoods with signs proclaiming, "Thou Shalt Not Kill."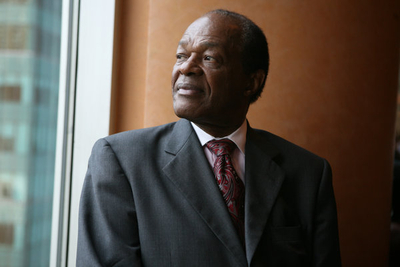 District of Columbia Mayor Marion Barry used to vehemently oppose the death penalty. He has had a change of heart.
But five years later, Washington residents — particularly its black residents, who constitute more than two-thirds of the city's population — are having second thoughts.
In a new Washington Post poll, 52 percent of D.C. voters agreed that murderers should be executed, and 59 percent supported the death penalty for those convicted of killing police officers. Among African-Americans, the change of heart is especially pronounced: 55 percent of black D.C. residents polled favored the death penalty generally, and 64 percent — nearly 2 out of 3 — favored it for those who kill police. Legislation to authorize capital punishment has been proposed anew, and one of its key backers is — Marion Barry.
This turnaround is remarkable. Washington's black citizens have more reason than most to be wary of the criminal justice system. At any given time in the District of Columbia, more than 40 percent of black men aged 18 to 34 are in trouble with the law. An estimated 70 percent of black men in Washington will be arrested before their 35th birthday. Barry himself went to prison on a drug conviction after being entrapped in an FBI sting operation.
Yet if the Post survey is accurate, none of this any longer dissuades black Washingtonians from supporting capital punishment. Like residents of other violence-ridden cities, they are sick of living in a war zone. Behind the white marble temples, the District of Columbia has one of the highest murder rates in the nation, and its residents have finally come to see what most Americans already intuit: When murderers live, innocent people die.
Of all the arguments raised against the death penalty, the racial justice claim is the ugliest. Not because it is false, but because it is designed to fuel mistrust and cynicism between races — then use that ill will as a reason not to execute murderers. Hear Helen Prejean, the author of "Dead Man Walking" and an anti-death penalty crusader: "Middle- and upper-middle-class white people," she told an interviewer, "are so much for the death penalty" because they want to repress African-Americans. Whites may talk about law and justice, she said, but what they're really thinking is: "Keep those dangerous people" — black people — "in their place." That isn't an argument about capital punishment. It's an incitement to race hatred.
The notion that inmates on death row are usually poor African-Americans is sheer propaganda. There are more whites than blacks on death row. Each year more whites than blacks are executed. If there is a shocking racial disparity anywhere, it is not in the punishing but in the committing of murder: Blacks constitute only 12 percent of the population, yet 50 percent of all homicides are committed by blacks.
Death penalty data are not in dispute: In 1995, 33 of the 56 murderers executed in the United States were white. In 1994, 20 out of 31. In the two decades since capital punishment was reauthorized by the Supreme Court, 313 inmates have been executed. Fifty-five percent have been white; 38 percent have been black. White murderers are more likely to be executed than black murderers and have been since at least 1929. If there is racism on death row, it is certainly well disguised.
It is true, as death penalty opponents point out, that a sentence of death is more often handed down in cases where the victim was white. The implication is that in a racially fair justice system, the murderers of blacks would get the death penalty just as frequently as the murderers of whites. But the vast majority of black homicide is intraracial — 93 percent of African-American murder victims are killed by African-Americans. If "racial justice" means executing more of those who murder blacks, then it means sending more black men to the chair. Is that what the critics seek?
Of course it isn't. What the critics seek isn't a "racially just" death penalty, it's no death penalty at all — not for whites, not for blacks, not for cop-killers, not for terrorists, not for mass murderers, not for anybody. And the truth is, they have gotten their way. For all intents and purposes, there is no death penalty in the United States — not when more than 20,000 victims are slaughtered each year, and 99.9 percent of their killers are permitted to live.
The price of letting murderers live is that more innocent people die. And they die most violently and tragically in America's black precincts. Homicide is by far the leading cause of death among young African-Americans. Four hundred human beings were murdered in Washington, D.C., last year. Four hundred human beings, on average, are murdered in Washington every year. So long as killers know that they can take a life and not forfeit their own, the killing will go on.
(Jeff Jacoby is a columnist for The Boston Globe).
-- ## --
Follow Jeff Jacoby on Twitter.

"Like" Jeff Jacoby's columns on Facebook.
Want to read more Jeff Jacoby? Sign up for "Arguable," his free weekly email newsletter