AFTER GEORGE FLOYD was killed in Minneapolis, a vast wave of racial-justice protests swept the nation. The majority of the protests were nonviolent, but in hundreds of cities there were riots: Shops were smashed and looted, cars and buildings were set on fire, and at least 25 people were killed. The violence caused more than $1 billion in damage and hit minority neighborhoods especially hard.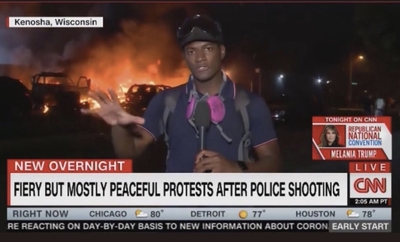 Yet many on the left bent over backward to minimize the violence, insisting again and again that the protests were "mostly peaceful." On CNN, video of a government building going up in flames was captioned: "Fiery But Mostly Peaceful Protests After Police Shooting." Most protests were peaceful. But that was no reason to downplay the destruction and mayhem of those that weren't.
(Jeff Jacoby is a columnist for The Boston Globe).
-- ## --
Follow Jeff Jacoby on Twitter or on Parler.
Discuss Jeff Jacoby's columns on Facebook.
Want to read more Jeff Jacoby? Sign up for "Arguable," his free weekly email newsletter.