IF GEORGE WASHINGTON couldn't tell a lie, it's a good thing he didn't pursue a career in higher education. Nowhere in America outside the Clinton White House is lying practiced as routinely as on campus. And the more steeped a school is in political correctness, the more shameless the liars who run it.
Take, for instance, the University of Massachusetts.
In a state renowned for its institutions of higher learning, the University of Massachusetts does not stand out academically. It is not exactly the choice of students who can't get into Harvard or Michigan — indeed, it is grateful to be anyone's choice. So derisory are its standards that even at the "flagship" campus in Amherst, more than 80 percent of all applicants are admitted. The average combined SAT score of UMass freshmen is in the low 900s. If you can sign your name and write a check, you can get into UMass.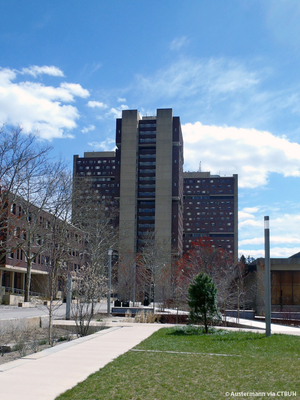 Intricate rules of apartheid govern student housing at UMass Amherst. There is segregated housing for Asians (in Dwight Hall), for blacks (Coolidge Tower, shown above), for homosexuals (Mary Lyon Hall), for Indians (Chadbourne Hall), and for nonwhites generally (Gorman Hall).
But while it may not be a bright light of higher education, UMass is a blazing beacon of political correctness.
This is a university so PC it considered abolishing its logo — a Colonial Minuteman — on the theory that it was racist, sexist, and violent. So PC it offers courses in "Handicapism" and "Heterosexism." So PC it just named a library for W.E.B. Du Bois, a devout segregationist, lifelong Communist, and ardent admirer of Stalin.
UMass is so PC that when a group of brats at Amherst occupied the Goodell Administration Building in March, school authorities all but cheered. "University education is about . . . the balance between civil disobedience and the enforcement of laws," Provost Patricia Crosson told the faculty. Illegal building takeovers may be "unplanned and disruptive," but they "do provide learning opportunities for our students."
At UMass, in short, political correctness has tipped over into dementia. Ditto its obsession with race, to which I made passing reference in a recent column.
I wrote: "When it comes to the jaundiced belief in skin color uber alles, few campuses are as advanced as UMass-Amherst. Its admission requirements differ by color, many hires are based on color, and dormitories are segregated by color."
The university promptly issued a categorical denial.
"Contrary to Jeff Jacoby's opinion, UMass-Amherst does not have race-based admissions or hiring policies or segregated dormitories. . . . Our students may select a variety of living arrangements, including corridors or residence halls based on special interests such as foreign language study or health and fitness."
It takes talent to pack so much falsehood into so short a space. The secret of good lying is to do it baldly and blithely. UMass lies marvelously. The truth, however, is unchanged: At the University of Massachusetts, everything is organized by race.
Three days before denying that they have "race-based admissions or hiring policies," UMass administrators signed a 12-page agreement with the student demonstrators I had written about in that column. Its very first sentence is a promise to "achieve and maintain an overall goal of 20 percent ALANA undergraduate students through recruitment and retention." ALANA is shorthand for African, Latino, Asian, and Native American. In Massachusetts, about 12 percent of the population is nonwhite. To ensure the rigorous observance of this quota, the university also promises to hire four new nonwhite admissions officers, a "Native American recruiter," and staff liaisons to black, Asian, and Hispanic campus agencies.
"No ALANA student will be denied admission," the agreement stipulates, "without a review of his/her application by an ALANA staff member." That is, white admissions officers are not to be trusted with the applications of nonwhite students. Furthermore, "ALANA transfer applicants will not be denied admission without a final review of their applications by an ALANA admissions staff professional." The university also agreed to award five new graduate positions on the basis of race, to publish recruitment materials focused on race, and to spend $48,000 on "support programs" geared to race.
Meanwhile, much of the faculty continues to be recruited "primarily to redress certain imbalances of race, ethnic origin, and gender." That quotation is from the guidelines of UMass's "Special Opportunity Fund," which was set up "to add minorities and women to our . . . faculty." When jobs are filled through the fund, white males are essentially barred from consideration (a grossly illegal practice that the guidelines advise departments to conceal). Deans wishing to make a Special Opportunity Fund appointment are expected to complete "the standard form, available in the provost's office, which provides the correct format for reporting gender, ethnic, and racial composition."
Intricate rules of apartheid govern student housing and socializing, too. There is segregated housing at UMass for Asians (in Dwight Hall), for blacks (Coolidge Tower), for homosexuals (Mary Lyon Hall), for Indians (Chadbourne Hall), and for nonwhites generally (Gorman Hall). Then there are the various "cultural centers" — White Eagle, United Asia, Latin American, Malcolm X, Anacoana. Pages in The Collegian, a student newspaper, are earmarked by race and ethnicity.
And the results of this monomaniacal fixation on race and skin color? Simmering resentment, frequent violence, widening intolerance, and militant separatism masquerading as "diversity."
Is it any wonder UMass lies?
(Jeff Jacoby is a columnist for The Boston Globe).
-- ## --
Follow Jeff Jacoby on Twitter.

"Like" Jeff Jacoby's columns on Facebook.
Want to read more Jeff Jacoby? Sign up for "Arguable," his free weekly email newsletter