FAR WIDER than the differences between Bob Dole and Bill Clinton is the gulf separating Ross Perot and Harry Browne, the only other presidential candidates who will appear on the November ballot in all 50 states.
The rudder guiding Perot's Reform Party candidacy is simple: Whatever Ross wants, Ross should get. Thus, Perot declined to debate former Colorado Gov. Richard Lamm, who challenged him for the Reform Party's nomination -- but filed a federal lawsuit to force his way into the Clinton-Dole debates. When US District Judge Thomas Hogan ruled last week that the Commission on Presidential Debates was not obliged to include any third-party candidates, Perot's reaction was characteristic: He demanded a speeded-up review in the US Court of Appeals. "If they can do this to Perot, who's a billionaire," huffed his attorney, Jamin Ruskin, "who can't they do it to?"
Perot's candidacy is all about ego. Libertarian candidate Harry Browne's is all about principle.
Browne wanted in on the debates, too. But on principle, he refused to join Perot's lawsuit, and on principle he refused to denounce the verdict. "The court's decision was proper," he said, "because the commission, for all its links to the government-funded Republican and Democratic parties, is still a private, nonprofit organization. It has the right to invite to its debates whomever it wants -- or set whatever biased, unfair, subjective criteria it chooses."
Have you ever before heard a politician declare that although he wanted something, he knew he wasn't entitled to it -- and didn't expect the government to get it for him? If so, you were probably listening to a Libertarian.
Libertarians insist, with Jefferson and Thoreau, that that government is best which governs least. Browne's candidacy is organized around the belief -- the glaring fact, some of us would say -- that the federal government doesn't work. Nearly everything it touches, it botches. It confiscates a fourth of our earnings and uses the money to enrich lobbyists, spew regulations, and trample our freedom. Browne's master plan for the US government? "Reduce it to the absolute minimum possible." He figures that abolishing the income tax and chopping the federal budget by 90 percent ought to do the trick.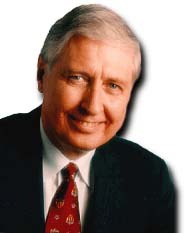 Harry Browne, the Libertarian Party candidate for president
Don't scoff. Until the 16th Amendment was ratified in 1913, federal income taxes were illegal. And slicing 90 percent from the current budget would shrink it to $170 billion -- about the level of 1968, when the Vietnam War was at its peak and the "War on Poverty" was exploding.
Every presidential candidate these days promises to cut the federal government. Browne, unlike the others, actually means it. ("The president wants to increase spending 20 percent over the next six years," noted Dole in Sunday's debate. "I want to increase spending 14 percent. That's how simple it is.") Even more idiosyncratically, Browne practices what he preaches. Believing that the government has no business subsidizing politicians, he has refused the federal matching funds he qualifies for. Billionaire Perot, on the other hand -- supposedly so alarmed about the national debt -- has taken more than $29 million in federal campaign money.
No Libertarian is ever likely to win the White House. The party's principles are incompatible with cant, log-rolling, something-for-everybody, and political largesse -- incompatible, that is, with modern presidential politics. Libertarians expect individuals to take care of themselves and of each other, not to turn to the state for mothering. Their ideas appeal to the mind, not to the appetite. Many smart people are not Libertarians, but most Libertarians are smart. Smart enough to grasp intuitively that government solutions almost always make problems worse -- and to understand that the more we expect government to do for us, the more we authorize it to do to us.
Can a party that won't talk down to you go far in American politics? Nah. But it can run bracingly pander-free campaigns.
Browne on teen-age smoking: "A problem that parents have . . . to solve -- not the federal government." On the new law mandating 48-hour hospital stays for new mothers: "It demonstrates "the utter shamelessness of politicians, while driving up medical costs and increasing government control over health care." On Dole's proposal to use military units for drug interdiction: "Government can't keep drugs out of the country; it can't even keep drugs out of its own prisons." On Social Security: "A fraudulent scheme in which the government collects money from you for your retirement and immediately spends the money on something else." On education: "There is no constitutional authority for the federal government to be involved in education in any way whatsoever."
Crazy, eh? Imagine -- a candidacy based on individual freedom, economic liberty, parental authority, local control of local matters, an end to the national income tax, and a federal government that doesn't meddle in our lives. What American would vote for that? With Bill Clinton, Bob Dole, and Ross Perot on the ballot, the only votes Harry Browne gets will be those cast by mistake.
Or on principle.
(Jeff Jacoby is a columnist for The Boston Globe).
-- ## --
Follow Jeff Jacoby on Twitter.

"Like" Jeff Jacoby's columns on Facebook.