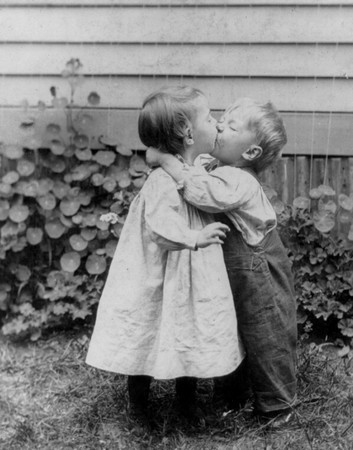 DEAR JOHNATHAN,
I bet you never thought that kissing a little girl could cause such a fuss. So many bad things have happened just because you gave a peck on the cheek to your classmate at Southwest Elementary School in Lexington, N.C. The principal removed you from your first grade class for a whole day. There was an ice-cream party for students with perfect attendance, and you couldn't go. And you were sent home with a "Discipline Referral" and a copy of your school's code of conduct. It had the words "sexual harassment" highlighted in yellow.
"Sexual harassment." Do you understand what those words mean, Johnathan? Of course you don't: You're only 6! But when you and your mom went to see the principal, you were given a stiff warning, weren't you? "She gave me the sexual harassment policy," your mom told The New York Times, "and proceeded to tell Johnathan . . . that if he was caught again kissing, hugging, or hand-holding, he would be suspended." So now you know, little guy. "Sexual harassment" means "kissing, hugging, or hand-holding."
Everywhere, people are amazed that you were disciplined for giving your friend a kiss - and even more amazed that the education bureaucrats in your town are digging in their heels. "The student was disciplined for . . . unwarranted and unwelcome touching of one student by another," the Lexington School Committee said last week. "The disciplinary action taken was justified."
How this must confuse you. "Sexual harassment" is certainly wrong. But if your principal is right, then Prince Charming was sexually harassing Sleeping Beauty when he kissed her. That doesn't make sense, does it, Johnathan? Prince Charming liked Sleeping Beauty. She was glad he kissed her. Only silly people can't distinguish an affectionate kiss between friends from an unwanted act of sexual aggression.
Sadly, there are a lot of silly people out there. And they're getting laws passed in many states -- not only North Carolina -- to punish children like you for "sexual harassment." When California enacted an anti-sexual harassment law allowing principals to expel students in the fourth grade and up, some fanatics complained that it was letting toddlers off the hook. "California is sending a message," fumed Sue Sattel of the Minnesota Department of Education, "that it's OK for very little kids to sexually harass each other." How silly can you get!
As The New Republic has suggested, it is bizarre to apply "adult sexual norms to children barely old enough to control their bladders." But don't try telling that to extremists like Sattel. In her state, Johnathan, the sex discrimination law applies from kindergarten on, and she thinks that's great. "Serial killers," she says, "tell interviewers they started sexually harassing at age 10 and got away with it."
In other words, if you steal a kiss today, you might turn into Richard Speck tomorrow. Speck was an evil man, Johnathan. He killed eight young women in 1966. Do you think it all started with an unpunished smooch when he was small?
You're just discovering this sexual harassment hysteria, kid. Some people have been whipping it up for a long time. Nan Stein, a director at the Wellesley College Center for Research on Women -- a fever swamp of very silly activists -- describes "Friday 'Flip-Up Day' " at some elementary schools in Montana, when boys chase girls and try to flip their skirts up. Stein is upset that school administrators have failed "to punish the perpetrators. Their silence has allowed this gendered terrorism on the playground to continue."
How about that, Johnathan? Little boys who flip girls' skirts are committing "terrorism." When aggrieved feminists set out to find sexual harassment everywhere, their rhetoric sure gets out of control, doesn't it?
Wait till you get to high school. In a lot of schools today, you can be penalized for anything from "inappropriate staring" to "repeatedly asking out a person who has stated that . . . she is not interested." It might not even matter whether a reasonable person would think you had done something wrong. A mere complaint can be enough to get you in trouble.
Oh, Johnathan, you've come along at a very strange time. In some public schools, kids carry guns and knives, and the acrid smell of fear and violence hangs in the corridors. There are kids your age who can't get to class without going through a metal detector. And you got punished for kissing a little girl.
What you have to understand is that there are people -- bitter and indignant people -- who want to criminalize male affection and desire for females. You're only one of their victims, Johnathan, and in their drive to institutionalize their rancor against men, they're not even going to notice that they ran you over. But how can you understand? You're just a 6-year-old boy.
Don't listen to your principal, Johnathan. Don't accept the propaganda that every expression of warmth or playful fondness is harassment. It's no crime to kiss or hug somebody who wants you to kiss or hug her. There's nothing wrong with being affectionate to the girls in your class. Don't start avoiding girls, Johnathan. They make wonderful friends. I think you do, too.
(Jeff Jacoby is a columnist for The Boston Globe).
-- ## --
Follow Jeff Jacoby on Twitter.

"Like" Jeff Jacoby's columns on Facebook.