SO WHAT'S a nice conservative like me doing in a newspaper like this?
Wondering, for a start, why so many liberals think of conservatives not so much as people they disagree with, but as people they despise.
Most mainstream conservatives acknowledge that liberals are essentially well-meaning. Misguided, to be sure. And naive? Certainly. And elitist, self-righteous, collectivist know-it-alls, chronically unwilling to learn from their mistakes, clueless when it comes to the workings of the marketplace, always persuaded that the next government program will fix whatever went wrong with the last government program? Yeah. But well-meaning.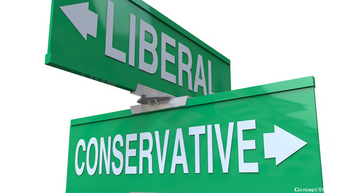 It should go without saying that you can mean well and do ill. Those liberal good intentions have helped pave more than a few of the 20th century's roads to hell, from the Evil Empire to the welfare state to the meltdown of the American criminal justice system. Conservatives condemn the demonic results that liberal good intentions have led to, and with gusto. What they don't do, as a rule, is demonize their opponents.
Liberals do.
Liberals look at conservatives and see moral cripples: Conservatives hate the poor. Conservatives are greedy. Conservatives have no compassion. Conservatives are Neanderthals . . . racists . . . homophobes . . . warmongers.
To be conservative, in the eyes of many fervent liberals, is to be by definition a vile human being -- someone to recoil from, not reason with; someone to damn, not to debate.
Personal vignette: It was a roundtable discussion about poverty and social welfare policies in Massachusetts, and I had made some point or other about welfare and illegitimacy. The representative from the prominent, Boston-based foundation spoke up in disagreement.
"People like Mr. Jacoby can say that because they don't care about the poor," she began. "But the rest of us—"
They don't care about the poor. Period, end of story. No room for differences of philosophy here. You're a conservative? Then you're morally defective, your views are warped, and would you please get out of the marketplace of ideas before you stink up the joint.
Think of Ted Kennedy's slander of Judge Robert Bork in 1987 ("Bork's America is a land in which . . . blacks would sit at segregated lunch counters, police could break down citizens' doors in midnight raids . . ."). Or of Boston City Councilor Charles Yancey's foul comparison of his colleague, conservative James Kelly, to a Nazi ("It would be like electing David Duke . . . he has the same politics and rhetoric as David Duke.")
"Liberals go for the jugular," says David Horowitz, the one-time antiwar activist and editor of the radical magazine Ramparts. "With them, it's always about character assassination. If you're conservative, you're either sick or in some way deeply malevolent."
The most flagrant recent example oozed across The New York Times op-ed page last month, when columnist Frank Rich launched a vitriolic personal assault on conservative journalist David Brock, author of a controversial article on Bill Clinton's extramarital adventures.
Brock's "motives are at least as twisted as his facts," wrote Rich. "It's women, not liberals, who really get him going. The slightest sighting of female sexuality whips him into a frenzy of misogynist zeal. All women are the same to Mr. Brock: terrifying, gutter-tongued, sexual omnivores."
Imagine a conservative trying to discredit a liberal by sledgehammering him as an unhinged woman-hater, or none-too-subtly "outing" him as a homosexual. Actually, that's hard to do: The last well-known conservative with a taste for baseless personal invective was named Joe McCarthy.
At the 1984 Democratic National Convention, Tip O'Neill — the great-hearted, much-mourned late Speaker himself — voiced his opposition to President Reagan's policies thus: "The evil is in the White House."
The evil. Never would Reagan have used such language to describe O'Neill.
But then, Reagan wasn't a man of the left. He wasn't on a utopian crusade. Like most conservatives, he didn't think the blights of the world could be ended by transforming human nature. And he certainly didn't imagine the only thing blocking that transformation was wrong-thinking people who must be gotten out of the way — or excommunicated as "evil."
So what's a nice conservative like me doing in a newspaper like this? Why, conserving. Looking to the past to figure out what has succeeded, and trying to apply its wisdom to the conundrums of the present. Acknowledging that there are no guarantees and that life is unfair, but knowing that the best road for the pursuit of happiness is the one marked with the old signposts: Freedom. Responsibility. Virtue. Work.
(Jeff Jacoby is a columnist for The Boston Globe).
-- ## --
Follow Jeff Jacoby on Twitter.
Discuss his columns on Facebook.
Want to read more? Sign up for "Arguable," Jeff Jacoby's free weekly email newsletter.