ELECTED OFFICIALS don't usually acknowledge wanting to torture people in dark alleys, so it made news recently when Boston Mayor Thomas Menino expressed such a wish during a talk at Emerson College.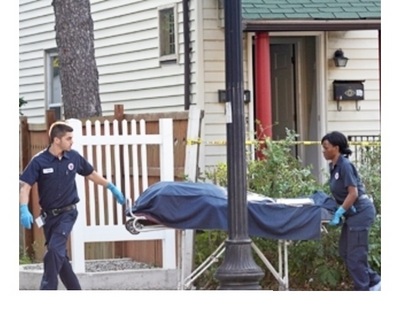 Richel Nova's body is removed from the abandoned house in Boston where he was murdered on Sept. 2. The 58-year-old pizza deliveryman, an immigrant from the Dominican Republic, was stabbed repeatedly and robbed of the $100 he was carrying.
Menino had been speaking about the murder of Richel Nova, a Domino's pizza delivery driver who was brutally stabbed to death after being lured to an abandoned house in Hyde Park on Sept. 2. The suspects charged with Nova's late-night slaughter --
two teens and a 20-year-old
-- are accused of lying in wait with knives, stabbing him repeatedly in the chest and throat, and rifling his pockets for money as he lay dying. Then, prosecutors say, the three drove off in Nova's car and ate most of the pizza from its blood-stained box.
It was a horrific crime. And it hit Menino especially hard since Nova's two daughters, 20-year-old twins Marlene and Michelle, had worked the last two summers in his City Hall office. The killers were "animals," the mayor said, and he couldn't fathom their wanton cruelty. "Maybe you guys can tell me," he said to the Emerson students, "what do they think when they do that? Don't they think life is worth anything?"
A student asked Menino whether the three suspects ought to be tried in a state that, unlike Massachusetts, authorizes the death penalty.
"I'm not in favor of the death penalty," he answered. The death penalty is "a hot-button issue that doesn't solve anything. . . It's unfair. I just don't think the death penalty is the way to go."
Then came the rumination about torture. "If I saw these guys in a dark alley, I'd like to have a fight with them," the mayor said. "I'd do some things that would be worse than the death penalty. . . . I would slowly torture them."
Predictably, Menino's words generated some criticism -- one former prosecutor warned that they would "make it very difficult to select an unbiased jury" -- and in short order he retracted them. "I would not torture anybody," he told WBZ Radio. "I do regret it, yes, I do."
But the mayor took back the wrong words. It is his blanket opposition to the death penalty he ought to rethink, not his healthy and perfectly understandable urge to give Nova's killers a taste of the unspeakable evil they inflicted on their victim. It may not have been very genteel to speculate out loud about making the perpetrators suffer, but Menino was only giving voice to an innate and normal human craving: the desire to see justice done, to see those who prey on the weak or innocent get what they deserve.
Boston Mayor Thomas Menino ought to rethink his blanket opposition to the death penalty.
Of course we don't permit individuals -- not even mayors -- to carry out such urges. An essential function of our criminal-justice system is to prevent self-appointed vigilantes from taking revenge on those who commit savage crimes. A civilized society understands the hatred and revulsion and thirst for vengeance such crimes can inspire. But it insists that punishment be meted out only by the state, not by outraged private parties -- and only after due process of law, complete with a fair trial, an impartial judge, the right of appeal, elaborate protections for the accused.
And punishments that fit the crime.
It is all well and good for Menino to publicize his fury at what was done to Richel Nova; I wish he were as vehement about every murder. But ultimately it is what a society does to murderers, not what its politicians say about them, that lets the world know what it really thinks about their crimes. Our attitude toward acts of evil is revealed in the punishment we mete out to those who commit those acts. Greater crimes call for greater punishments, with the very worst punishment, death, reserved for the very worst crime -- deliberate, cruel murder. Like it or not, a criminal-justice system in which no murderer, however vicious and calculating, can ever forfeit his life conveys the message that murder is not all that terrible.
How, Menino wonders, could the pitiless savages who murdered Marlene and Michelle's father be so callous about human life? No doubt he would ask the same about those who massacred four human beings -- including a 2-year-old -- in Mattapan yesterday. "I would slowly torture them," he fantasized at Emerson. But in real life, the mayor doesn't want even the bloodiest savages to face anything worse than prison. Perhaps, between visiting crime scenes and attending funerals, he should consider what happens to a society in which murderers have a greater right to life than their victims.
(Jeff Jacoby is a columnist for The Boston Globe).
-- ## --
Follow Jeff Jacoby on Twitter.