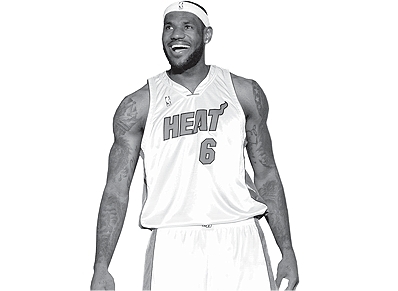 A WEEK before LeBron James's announcement on ESPN that he was leaving the Cleveland Cavaliers to
join the Miami Heat
, the New York Post and Rush Limbaugh saw it coming -- and for reasons having nothing to do with sports.
"If LeBron James goes to the Miami Heat instead of the Knicks," the Post noted gloomily on July 1, "blame our dysfunctional lawmakers in Albany, who have saddled top-earning New Yorkers with the highest state and city income taxes in the nation, soon to be 12.85 percent on top of the IRS bite. There is no state income tax in Florida." Consequently, a five-year, $96 million contract (the estimated deal he could get in either city), would cost James $12.34 million in New York taxes, but nothing in Miami (though he may be taxed when he plays in other cities). "Quite a penalty for the privilege of working in Midtown."
On the radio that day, Limbaugh, an ex-New Yorker, amplified the point: "Here you have these poor schlubs that . . . own the Knicks and they're going to try to persuade LeBron James to move to New York to play for the Knicks and they gotta tell him, 'By the way, you're going to pay about 12 to 15, maybe $20 million more in taxes in New York than you would [in Florida].'" Limbaugh drolly asked his audience whether James should take the Knicks' offer "and pay the additional taxes to show his 'compassion,'" or sign with Miami and "use the additional money for his own economic stimulus."
Other armchair accountants raised the tax issue after James's announcement on July 8. The Miami Herald and CNBC pointed out that because Cleveland has a city income tax and Miami doesn't, even a Heat contract worth $29 million less than what the Cavs offered him would still leave James with $1 million more in take-home pay. The Wall Street Journal remarked that Cleveland should be used to high-income refugees fleeing its excessive tax rates, having seen half of its Fortune 500 companies -- and tens of thousands of taxpayers -- leave in recent years.
In sports as in most other enterprises, the more you tax something, the less of it you generally end up with. World-class athletes are no more immune to financial incentives than world-class doctors, lawyers, or entrepreneurs.
On Monday, Jamaican sprinter Usain Bolt, the world record-holder in both the 100- and 200-meter dash, pulled out of next month's Diamond League track meet at the Crystal Palace in London. The reason: Britain's exorbitant tax laws, which would force Bolt to pay more in taxes than he would earn by winning the race. Lewis Hamilton, a British Formula One racing star, moved to Switzerland after his first season in 2007. He initially said he was seeking "to escape the public eye," commented the Wheels blog at NYTimes.com, "but there's no getting around the fact that Switzerland is also a tax haven."
Thanks to New York's sky-high taxes, Floyd Mayweather Jr. and Manny Pacquiao won't be fighting a title bout in Yankee Stadium any time soon.
The first boxing event at the new Yankee Stadium in June -- a fight between Miguel Cotti and Yuri Forman for the World Boxing Association's junior middleweight title -- attracted well over 20,000 spectators. But Yankees COO Lonn Trost conceded afterward that future fights of that caliber are unlikely, since the tax on a fighter's purse in New York is much higher for non-residents than it is elsewhere. That extinguishes any hope of a Yankee stadium superfight between champions Floyd Mayweather Jr. and Manny Pacquiao. "We'd love to do [Mayweather-Pacquiao], but I believe both of them are non-residents,"
Trost told the New York Post
, "and the tax could be as much as 13 percent on the purse, where the tax out in Vegas is zero. That's a big difference." It sure is.
Avoiding high taxes is not the only reason sports stars -- or anyone else -- move from one jurisdiction to another. Weather, family, education, love -- any of them may play a role. But it is no coincidence that far more people migrate from high-tax states (California, New York, Ohio) to low-tax states (Florida, New Hampshire, Texas) than the other way around. When tax rates bite, taxpayers and businesses are driven to escape -- or are deterred from coming in the first place. There's nothing inexplicable about the fact that people don't like paying high taxes and may change their lives to avoid them. The real mystery is why so many advocates of high taxes never seem to learn that lesson.
(Jeff Jacoby is a columnist for The Boston Globe).
-- ## --
Follow Jeff Jacoby on Twitter.
Discuss his columns on Facebook.
Want to read more? Sign up for "Arguable," Jeff Jacoby's free weekly email newsletter.