DOES THE FIRST AMENDMENT guarantee privacy for citizens' civic involvement?
Sometimes it does. In the 1958 case of NAACP v. Alabama, the Supreme Court ruled unanimously that the civil-rights organization could not be forced to publicly disclose the names of its members, which would expose them to threats, harassment, and violence and infringe their constitutional right to freedom of association. The court held in a 1995 Ohio case that citizens have the right to distribute political literature without identifying themselves. "Under our Constitution," Justice John Paul Stevens wrote for the majority, "anonymous pamphleteering is not a pernicious, fraudulent practice, but an honorable tradition of advocacy and of dissent."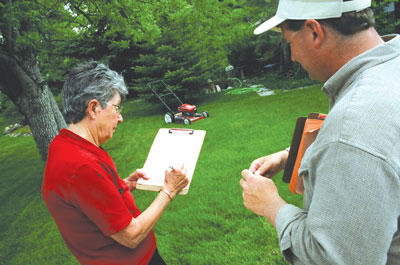 How far should that right to anonymity extend? Last week the high court heard arguments in Doe v. Reed, a case raising the question of privacy for those who sign petitions to put legislative initiatives or referenda on the ballot. Is signing such a petition a private political act like voting? Is it a form of political speech sheltered by the First Amendment? Or is it best understood as public involvement in the legislative process, where no expectation of privacy exists?
The case comes from Washington State, where legislators last year passed a law that essentially enacted same-sex marriage in everything but name. A group opposed to the law, Protect Marriage Washington, launched a referendum campaign, gathering 138,500 signatures on petitions to put the law to a statewide vote. Organizations supporting gay-marriage, including KnowThyNeighbor.org and WhoSigned.org thereupon asked for the petitioners' names and addresses, intending, they said, to post them on the Internet and encourage "uncomfortable" conversations with the signers. Protect Marriage Washington went to court to keep the names from being released.
The case against disclosure is not hard to understand. When gay-marriage activists publicized the names and addresses of Californians who made financial contributions to Proposition 8, the 2008 ballot amendment restoring the traditional definition of marriage to the California constitution, many of the donors were subjected to ugly retaliation. Businesses were picketed and boycotted, there were reports of death threats and vandalism, and several donors were hounded from their jobs. Organizers of the Washington referendum are reasonably concerned about similar reprisals against the voters who signed their petitions.
The intimidation is no laughing matter. At one point during Wednesday's oral argument, Justice Antonin Scalia suggested acerbically that civic activism isn't for wimps. "This is such a touchy-feely, oh-so-sensitive . . . . You know, you can't run a democracy this way, with everybody being afraid of having his political positions known." James Bopp Jr., the attorney for the petition signers, heatedly replied that the campaign manager of the Washington referendum campaign had received threats serious enough to keep his family from sleeping in their bedrooms.
But the proper response to violence and intimidation should be police protection and criminal prosecution, not the nondisclosure of public records. Signing an initiative petition is not like joining the NAACP, which after all is a private organization; nor is it like voting, where privacy is (usually) mandated by law. If anything, it is akin to registering to vote, for which there is no expectation of privacy.
Voters who sign initiative or referendum petitions are involving themselves in lawmaking. As Robert McKenna, the Washington attorney general who defended his state's public-records law, argued, they are "telling the government to do something . . . directing the secretary of state to conduct an election." States are not obliged to make those petitions subject to disclosure, but surely nothing in the First Amendment prevents them from doing so.
Political thugs who exploit disclosure laws in order to menace citizens who don't agree with them should be cracked down on, hard. The fact that laws are abused, however, does not make those laws unconstitutional.
Particularly not when it comes to grassroots democratic engagement. "Running a democracy takes a certain amount of civil courage," Scalia observed. "The First Amendment does not protect you from criticism or even nasty phone calls when you exercise your political rights." No one is forced to sign a ballot initiative, just as no one is forced to vote in a New England town meeting, participate in a presidential party caucus, or send money to a congressional candidate. Those who choose to get involved in civic life should be commended for doing so. They should also remember that their involvement is public.
(Jeff Jacoby is a columnist for The Boston Globe).
-- ## --
Follow Jeff Jacoby on Twitter.