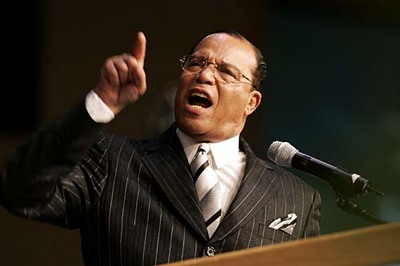 AS HE ROAMS THE MIDDLE EAST, offering aid and comfort to anti-American dictators, Louis Farrakhan is breaking new ground.
Not that he's the first well-known American to admire an enemy of the United States. In 1938, Gertrude Stein proposed Adolf Hitler for the Nobel Peace Prize. Lincoln Steffens was infatuated with Lenin's Bolsheviks. "Hanoi Jane" Fonda made propaganda broadcasts for the North Vietnamese.
But Farrakhan's pilgrimage to the butchers of Tehran, Khartoum, and Tripoli and his open endorsement of their calls for America's downfall are unprecedented. Never before has someone with Farrakhan's fame and media access -- someone who claims to speak for millions of Americans -- so brazenly joined hands with tyrants who hate, and plot against, the United States.
On Sunday Farrakhan was in Iran, celebrating the 17th anniversary of the revolution that brought the Ayatollah Khomeini to power. Since 1979, the fanatic mullahs who rule Iran have made it the world's chief sponsor of state terrorism and assassination. In the name of "jihad" - holy war -- Iran hijacks airliners, kills US Marines, bankrolls kidnapper,s and explodes car bombs. It hunts down dissidents and slits their throats. It amasses stockpiles of biological weapons. It controls terror cells on four continents. It swears undying enmity toward the "Great Satan" America. It executes journalists, flogs women for wearing makeup, and tortures children in front of their parents.
And Farrakhan cheers it on.
"You must not despair because . . . enemies are all around this marvelous revolution," he cried at a rally in Tehran. "You must not get weak or weary in your vanguard position. Imam Khomeini lives!"
He was speaking not just for himself, Farrakhan claimed, but for every Muslim in America.
"We shall utilize American Muslim unity as a lever of pressure against the United States," he vowed. "We live in the center of corruption and struggle in the heart of the Great Satan. Thus," said the Nation of Islam leader to the medieval fundamentalists, who have shed so much innocent blood, "we need your spiritual aid."
Three days earlier, Farrakhan was in Sudan, hailing the "wise Islamic leadership" of dictator Hassan al-Turabi.
Sudan is dominated by Muslim Arabs from the north who for years have made savage war against the black Christians and animists of the south. According to Freedom House, the respected human rights monitor, "Sudanese live under a repressive military government that has curtailed virtually all meaningful political rights and civil liberties while implementing Islamic law. . . . Illegal detentions, kidnapping, torture, murder, rape, summary executions, and disappearances," it says, are "rampant."
Like Iran, Sudan is on the State Department's short list of nations that sponsor terrorism. This, Farrakhan brushes off as a slander against "the Muslims in Sudan, which the Western enemy" -- i.e., the United States -- "wants to eliminate."
But Sudan boasts a distinction that even brutal Iran cannot match: It is one of the few places on earth where black slaves are still bought and sold. Arab raiders from Khartoum ride into villages in the south, fire the houses, kill the men, and seize the women and children. In the Nuba mountain region, some 30,000 boys and girls have been sold into slavery in recent years; a child can be owned for the price of two chickens.
And what does "Minister" Farrakhan, organizer of the Million Man March, say about black chattel slavery in Sudan? He says American Muslims will stand in solidarity with Sudan's rulers, whom he urges to "hold to this Islamic faith."
Two weeks before his trip to Khartoum, Farrakhan was the honored guest of yet another cruel despot: Moammar Khadafy of Libya.
In Tripoli on Jan. 24, Khadafy offered Farrakhan $1 billion to mobilize a black Muslim lobby in the United States. He has already funneled at least $5 million to the Nation of Islam -- and he clearly shares Farrakhan's passion for racial separatism. Khadafy called for the creation of a separate black American state, defended by "the biggest black army on the planet," recruited from the US armed forces.
Khadafy's hatred of Americans is so vitriolic that he has granted sanctuary to two of the murderers wanted for blowing up Pan Am 103 over Lockerbie, Scotland, in 1988. Most of the 270 people who died that day were American college kids heading home for Christmas. But Farrakhan isn't about to let dead students imperil his friendship with the Libyan.
"Our confrontation with America used to be like confronting a fortress from outside," Khadafy exulted during Farrkahan's visit. "Today we have found a loophole to enter the fortress and confront it from within."
There is a word for people who encourage their nation's enemies. There is a word for people who conspire to mobilize against their country from within. There is a word for those who take millions of dollars from malevolent foreign powers.
The word is traitor. And even if no one wants to say it, it is the word for Louis Farrakhan.
(Jeff Jacoby is a columnist for The Boston Globe).
-- ## --
Follow Jeff Jacoby on Twitter.

Join the Fans of Jeff Jacoby on Facebook.