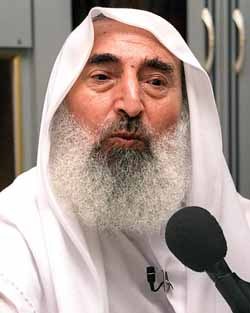 Terrorist chieftain Ahmed Yassin
IN 1983, ISRAELI authorities arrested Ahmed Yassin, a leader of the Muslim Brotherhood in Gaza. He was convicted of unlawfully stockpiling weapons and establishing paramilitary jihadist organizations, and sentenced to 13 years in prison. Just two years later, however, he was set free in the now-infamous "Jibril deal" -- the release of 1,150 security prisoners held by Israel in exchange for three Israeli soldiers held by the Popular Front for the Liberation of Palestine, a terrorist group headed by Ahmed Jibril. Soon after, Yassin launched Hamas, a
murderous organization
committed to Israel's liquidation. Over the years, Hamas terrorists have killed hundreds of Israelis, and maimed or wounded thousands more.
Few Israeli policies have been as counterproductive or morally questionable as the lopsided prisoner exchanges it has entered into with terrorist organizations like Hamas, Hezbollah, and the PLO. Time and again, Israel has paid for the freedom of a few POWs -- sometimes just the remains of a few POWs -- by releasing hundreds of violent detainees, many of them complicit in the deaths of civilians. And time and again, the newly freed terrorists have picked up where they left off.
Yassin is only the most notorious example. According to Israeli journalist Nadav Shragai, "about 50 percent of the terrorists freed for any reason" -- including those set free in one-sided "goodwill gestures" -- "returned to the path of terror, either as a perpetrator, planner, or accomplice." An analysis by the Almagor Terror Victims Association in 2007 found that at least 30 attacks in the preceding five years had been committed by prisoners freed in deals with terrorist groups. More than 175 men, women, and children died in those attacks; many others were severely injured.
Now Israel is poised to repeat this mistake. To win the release of Staff Sergeant Gilad Shalit, who was abducted by Hamas-led gunmen in 2006, the Israeli government is reportedly nearing a deal to free around 1,000 Palestinian prisoners. Hundreds of those to be released are serving long prison terms for their involvement in plotting suicide bombings and other acts of terror; the list may even include Marwan Barghouti, who is serving five life terms for murder.
If this deal goes through, there is little doubt that it will lead to new terrorism, more Israeli deaths, and a bloodier Middle East. Hamas and Hezbollah may be encouraged to capture other Israelis in the hope of exchanging them for still more jihadists. And Israel will have eroded even further its once fearsome reputation for indomitability and never capitulating to terrorists. Many Israelis agree with Rami Igra, a former senior officer in the Mossad, Israel's intelligence agency, who calls the swap "a shameless and bottomless surrender to Hamas's demands."
And yet there is also little doubt that most Israelis support it. The bond between Israel's public and its army runs deep and always has. Most Israelis have served in uniform, and the nation's commitment to the well-being of every soldier is emotional and pervasive. "When we have one prisoner from our military, the country tears its heart over it," Israel's ambassador to the United States, Michael Oren, recently told the Boston Globe. "And even though we may have to release people who may further endanger us, we also have to know that when we send our children out to the battlefield to defend our country, should they fall captive, we're going to do everything possible to secure their release."
But to knowingly risk the lives of civilians in order to protect soldiers is to turn the social contract inside out. The state's first duty to its citizens is to protect their lives and liberties; that is what justifies the creation of a military in the first place. Releasing hundreds of terrorists may mean that Shalit comes home safely, but it almost certainly condemns other Israeli citizens to death. The plight of Shalit and his family is heartbreaking and tragic. Yet it cannot be right to win his freedom by risking the lives of the very civilians he, like every soldier, is sworn to protect.
In 1976, Israeli troops flew 2,000 miles to rescue Jewish hostages being held in Uganda's Entebbe airport, a spectacular feat that electrified the world. Jonathan Netanyahu, the mission commander (and brother of Israel's current prime minister), died in that operation. He made the supreme sacrifice in the service of his nation, as soldiers so often have. Before the Israelis agree to a reckless deal with Hamas, perhaps they should reflect on Entebbe, and pause to ask themselves: What would Jonathan do?
(Jeff Jacoby is a columnist for The Boston Globe.)
-- ## --
Follow Jeff Jacoby on Twitter.