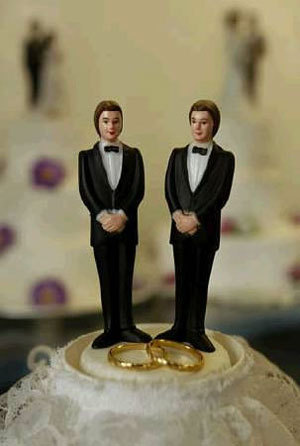 IN ITS LONG OPINION in Baker v. State, the same-sex marriage case, the Vermont Supreme Court tries very hard to stay on legal ground. Writing for the majority, Chief Justice Jeffrey Amestoy begins by insisting that "the issue before the Court ... does not turn on the religious or moral debate over intimate same-sex relationships." And for most of the next 45 pages, he confines his analysis to familiar legal territory: the rules of constitutional interpretation, the intentions of the Legislature, issues of equal protection, rights and remedies.
Yet by Page 44, he has arrived exactly where he said he wasn't going. The "essential aspect" of the plaintiffs' demand for a marriage license, he writes, is "fundamentally for inclusion in the family of state-sanctioned human relations." In the end, he holds that same-sex couples are entitled to the benefits and status of marriage as a matter of basic decency. Or, as a much-quoted line in the opinion puts it: Stretching the Vermont Constitution so it gives gay couples "legal protection and security for their avowed commitment to an intimate and lasting human relationship is simply, when all is said and done, a recognition of our common humanity."
Among those quoting that passage is The New Republic, which in its Jan. 10 edition vigorously endorses the opinion in Baker -- with none of the court's reluctance to cast the issue in explicitly moral terms. "A ban on same-sex marriage ... violates civil equality itself," TNR's full-page editorial asserts. It is "a moral anomaly that dehumanizes and excludes a significant portion of the human race." The "ultimate moral ... answer" is to legalize full marriage for homosexuals, so good people must "keep marshaling the moral, religious, civic, and human reasons why it is an eminently important and noble thing to do."
This is the heart of the campaign for same-sex marriage -- the claim that it is immoral not to permit men to marry men or women to marry women. Marriage statutes must be changed, the same-sex marriage advocates argue, because they are indecent: They violate our ethical code. As slavery was wrong -- the Vermont court actually cites Dred Scott -- so is it wrong to limit marriage to couples of the opposite sex.
Just one question: Says who?
If something is morally wrong, it is morally wrong always. That a society may tolerate -- or embrace -- an indecent practice does not make it less indecent. Chattel slavery was and is an abomination, no matter how many 19th-century Americans (or 20th-century Sudanese) thought otherwise. Suttee -- the Hindu custom of cremating a deceased man together with his living widow -- was evil, no matter how many Hindus believed it honorable. Apartheid was immoral, no matter how many South Africans approved of it.
Similarly, if barring men from marrying men is an affront to "our common humanity," as the Vermont justices write -- if it is an ugly "moral anomaly," as The New Republic says -- than it has always been so.
But where in the long record of human moral instruction do we find anyone saying such a thing?
All through the centuries of American slavery, there were men and women who cried out against it. There were always voices raised against suttee. Apartheid was condemned the world over.
And likewise every other wrongful societal practice. Europeans abused Indians in the New World? Bartolome de Las Casas, who sailed with Columbus, spent his last 50 years denouncing "the robbery, evil, and injustice" done by European colonists. Women were denied political rights? In 1777, Abigail Adams begged, "Do not put such unlimited power into the hands of husbands." From child sacrifice to anti-Semitism, from selling indulgences to selling women, there have always been moral teachers and people of conscience who refused to keep silent.
But where are the humanitarians and the great souls who said that limiting marriage to a man and a woman is wrong? Did Francis of Assisi plead for same-sex unions? Did the Buddha? Did Sojourner Truth? Did the Prophet Micah, who yearned for justice and kindness, yearn also for male-male and female-female weddings? Did Martin Luther King, who devoted his life to "our common humanity?" Did Raoul Wallenberg, who risked all to thwart evil? Is there anyone -- any foe of intolerance, any living saint -- who decried even once the laws that kept homosexuals from marrying each other?
This is not an argument against same-sex marriage. (That is a different column). It is an argument against the pretense that same-sex marriage is required as a matter of decency. There is no valid moral claim absent moral authority, and there is no moral authority for the claim that restricting marriage to opposite-sex couples is unjust.
It is a safe guess that no member of the Vermont Supreme Court grew up believing that the ban on same-sex marriage was a stain on society. None heard it from his pastor in church. None was taught to believe it in school. Until very recently, that idea simply did not exist.
By all means let us debate whether the timeless definition of marriage should be changed. But let us do so without the sham claim that morality demands the change. Our moral tradition, after all, speaks loudly and clearly about what marriage means. And what it says -- what it has always said -- sounds nothing like the ruling in Vermont.
(Jeff Jacoby is a columnist for The Boston Globe.)
-- ## --
Follow Jeff Jacoby on Twitter.

Join the Fans of Jeff Jacoby on Facebook.