Note: Immediately following the debate among the four Democratic candidates running for the US Senate from Massachusetts, the Boston Globe's op-ed columnists were each asked to write a short comment. My contribution appears below. To read those of my colleagues Joan Vennochi and Scot Lehigh, please visit boston.com/opinion.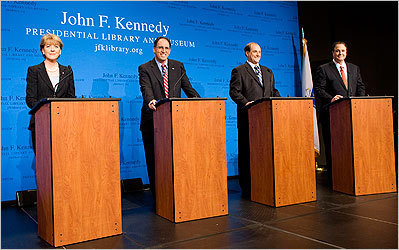 The four Massachusetts candidates for the US Senate. From left, Martha Coakley, Alan Khazei, Michael Capuano and Steve Pagliuca.
IS IT TOO LATE to draft Peter Meade?
Of the five Democrats on the stage at the Kennedy Library last night, the one who struck me as most senatorial was the moderator. Unlike the candidates, only Meade, the longtime civic leader who heads the new Edward M. Kennedy Institute for the US Senate, seemed consistently willing to acknowledge that the job of a senator often involves making difficult trade-offs.
Meade asked, for example, what the candidates would do if a future round of military base closings forced a choice between saving Hanscom Air Force Base or the Army's Natick Labs. Mike Capuano's answer: You don't make that choice. Alan Khazei: We don't have to trade Hanscom for Natick. Steve Pagliuca: Our congressional delegation won't let it happen. Martha Coakley: Massachusetts needs both and so does the country. Four profiles in courage -- not.
On a day when Gallup reported that 40 percent of Americans call themselves conservative and 36 percent moderate, last night's debate featured four candidates so liberal that they were often to the left of President Obama.
The president says that the war in Afghanistan is a "war of necessity ... a war worth fighting," yet all four would-be senators oppose the troop surge that could win that war. The White House says a public option for health insurance is not essential for health-care reform, but the four Democrats in last night's debate insisted that reform is unthinkable without it. Obama's top economic adviser throws cold water on the idea that fiscal "stimulus" spending has much more to contribute to economic growth, but that didn't stop the candidates last night from supporting yet another round of such spending.
For unreconstructed Massachusetts liberals, last night's debate offered an embarrassment of riches. For the rest of us: not so much.
(Jeff Jacoby is a columnist for The Boston Globe.)
Follow Jeff Jacoby on Twitter.