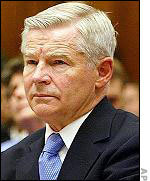 William M. Bulger
IT WAS CLEAR ALL ALONG that when the time came, the trustees of the University of Massachusetts would follow orders and make William Bulger the university's new president. The head of the presidential "search" committee, trustee Peter Lewenberg, protested that the outcome wasn't a foregone conclusion the moment Bulger expressed an appetite for the job. But nobody was fooled by the charade. And so today, marching in lockstep, the trustees will cast their votes, Bulger will be crowned, and the battered reputation of UMass will slip downward another notch.
Much has been made of Bulger's alliance with John Silber, the new chairman of the state Board of Education who has said he will soon retire as president of Boston University. If Bulger is the stuff of which university presidents are made, why didn't Silber select him as his successor at BU? How come Boston College showed no interest when Bulger had his name floated for the presidency there? Why did Suffolk University ignore the hints about making Bulger dean of its law school?
The answer is obvious. Serious institutions of learning choose intellectuals and scholars as their leaders. Those are not categories that fit Bulger.
But at the University of Massachusetts, scholarship and love of learning come second. Politics and fund-raising -- that's what the trustees care about. In the six months since President Michael Hooker left UMass, no one was heard to say: Let's recruit a great educator who can lead the university to renown and excellence.
No. What they said was: Let's find someone "who will be able to acquire the resources" (Lewenberg). And: "Obviously, he would be helpful at the state legislative level in terms of funding" (Gov. William Weld). And: "It's a highly politicized process, and you need to know what buttons to push and who to see" (North Adams State College President Thomas Aceto). And: "We need somebody who can get us the money to do what we need to do" (Frank Hugus, president of the UMass-Amherst Faculty Senate).
Well, it's certainly true that Bulger knows all about siphoning money from the treasury. He is a classic big-government, high-tax, bloated-budget Democrat. The fiscal horrors of the Dukakis years, the repeated billion-dollar tax increases, the explosion in deficit spending -- he had an active hand in all of it. Taxpayers, in Bulger's view, exist to fund the government. He may be prolife, antibusing, and a churchgoer, but when it comes to the power of the state to mulct the people, Bulger is as liberal as they come. He personally has spent 35 years feeding at the public trough; by now the dollars he has extracted to enrich himself and his relatives must run well into seven figures.
But Bulger's power to open the government spigot will dwindle rapidly once he leaves the Senate. There is nothing he can do for UMass on Beacon Hill as the university's president that he couldn't do more easily and effectively as the Senate's president. Except in the very short run, hiring Bulger doesn't enhance UMass's clout in the Legislature. It ends Bulger's.
Anyway, the notion that UMass suffers from a lack of public funding is a myth. Spending at the state university has skyrocketed by nearly 70 percent since 1991 -- even as enrollment has dropped by more than 7 percent. Massachusetts residents attending UMass or a state college are subsidized by the taxpayers to the tune of $4,344 apiece. That is about 16 times the public assistance provided to Massachusetts residents attending independent schools.
Does anyone believe that Bulger's leadership will add luster to the university's name? Wait until word gets out that the most despised man in Massachusetts politics has just muscled his way into the presidency of UMass. A sneering, petty, vindictive bully, a man notorious for his intolerance of dissent, someone whose own brother is a gangster wanted for murder and armed robbery -- oh, yes, this'll do wonders for the image of UMass.
In a statewide Globe poll taken this month, 59 percent of the public opposed making Bulger the university president; only 20 percent favored the idea. Last year, when state Sen. William Keating challenged him for the Senate presidency, 68 percent of voters wanted Bulger ousted. When asked whether they have a generally favorable or unfavorable view of Bulger, state residents overwhelmingly answer: unfavorable. Bulger is neither nice nor admirable, and by a large margin, the citizens of Massachusetts regard him with disdain.
And that, in the end, is why Bulger wants this job. He craves respect and respectability. There is something both comic and pathetic about his panting eagerness to join Brahmin-ruled clubs, about the way supplicants are made to call him "Mr. President," about the $41,000 handmade rug he selected for his office, about his pretensions to reading Demosthenes in the original Greek.
Now he wants to be president of a university. And UMass wants a president before whom people will bow and scrape. Each hungers for public esteem; each sees the other as the means to achieve it. As for the students and the taxpayers -- well, who cares about them?
(Jeff Jacoby is a columnist for The Boston Globe. His website is www.JeffJacoby.com).
-- ## --
Follow Jeff Jacoby on Twitter.

"Like" Jeff Jacoby on Facebook.