When Neil L. Rudenstine, the son of poor Jewish immigrants from Russia, was born in 1935, Jews amounted to just 10 per cent of Harvard University's student body-by administrative fiat. The Jewish quota was a legacy of Abbot Lawrence Lowell, the president of the prestigious university in the 1920s, who had decided that the presence of too many Jews on campus was eroding Harvard's Puritan heritage.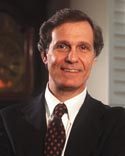 Neil L. Rudenstine
Lowell must be spinning in his grave. On March 24, Harvard's Board of Overseers named Rudenstine, a 56-year-old scholar of Renaissance literature, as the university's 26th president. When he takes office in June, Harvard will for the first time in its 355-year history be led by a non-WASP.
Decades ago, Jews gained access to the highest levels of U.S. university administration. At least four of Harvard's sisters in the Ivy League -- Dartmouth, Princeton, Pennsylvania, and Columbia -- have had Jewish presidents; so have institutions as diverse as Indiana University, Brooklyn College, the University of Chicago, and Bard College in upstate New York.
"As recently as 10 years ago, a Jewish university president was still news," says Stephen Joel Trachtenberg, the president of George Washington University, in Washington, D.C. "If this wasn't happening at Harvard, nobody would pay two minutes' attention. It's not exactly a bold and pioneering event."
For months, the accession of a Jew to the Harvard presidency has seemed almost guaranteed. The secretive search committee's short list had five candidates: four were Jewish.