(Jeff Jacoby writes an annual column in the form of a letter to his son Caleb.)
My beloved Caleb,
Passover, the Jewish festival of freedom, begins tonight at sundown, and together with loved ones we will gather for what has been called the oldest surviving ritual in the Western world: the Passover Seder. Once again we will recall and retell the story of the Exodus, when our ancestors were liberated from enslavement in Egypt and the long journey of Jewish nationhood began.
The Seder is drenched, as you know, in tradition and symbolism. We eat matza, the unleavened "bread of affliction" that the Israelites ate in bondage, and a bitter herb -- horseradish in our family -- to evoke the bitterness of servitude. We drink four cups of wine, corresponding to God's four expressions of redemption in Exodus 6:6-7: "I will bring you out," "I will deliver you," "I will redeem you," and "I will take you." And of course we recite the Haggadah, the narrative that fulfills the Bible's command that Jewish fathers tell their children the story of the Passover deliverance. Since your brother Micah will be the youngest at the table, he'll ask the Haggadah's famous Four Questions, which begin: "Why is this night different from all other nights?"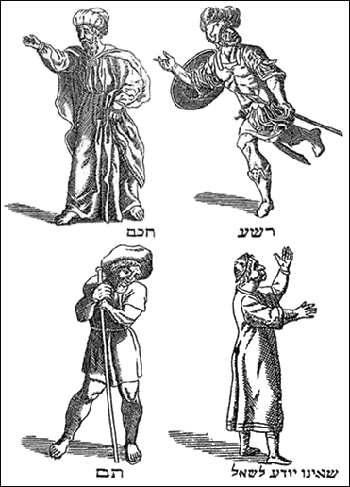 The Four Sons, from the Amsterdam Haggaddah (engravings by Abraham ben Jacob, 1695)
Four cups of wine, four terms of redemption, four questions -- the number four certainly plays a prominent role in the Seder! I've been thinking about yet another quartet. Early on, the Haggadah introduces the Four Sons -- the four types of children a parent must teach. "One is wise," the ancient text reads, "one wicked, one simple, and one does not know how to ask."
Which son are you?
In a way, you have been all of them: You were once a bright and lively toddler, too young for questions, taking everything on faith. With speech came "simple" curiosity, along with an endless train of ingenuous questions about everything. Now, at age 12, you are becoming quite the adolescent, with a streak of "wicked" obstinacy -- quick to challenge your parents' views and to ask why their opinions should carry greater weight than yours. Then again, you have moments of wondrous maturity and good judgment, when your strong intelligence shows hints of the wise adult I hope you will become.
Which is the real you, Caleb? Are you the budding philosopher who has taken to insisting lately that "nothing really matters," since no matter what any of us does or doesn't do, the universe won't notice? Or the perennial naysayer who surprised me by saying yes when I proposed that you sign up for sailing lessons at Community Boating -- and then surprised me even more by thoroughly enjoying the experience? Are you the sarcastic kid who mocks Mama when she loses her patience with you? Or the affectionate big brother who lavishes attention on Micah? Is the authentic Caleb the sometimes sullen pre-teen with the seemingly bottomless reserve of grievance and indignation? Or the industrious helper who for the last few days has rolled up his sleeves and good-naturedly pitched in to get the house ready for Passover?
Last December you came with me to Washington and a reception at the White House. Even now I smile at the recollection of how engaging you were, and how pleasant your company. For 24 delightful hours, nothing provoked an argument or spoiled your amiability -- not even when you hungrily forked a mouthful of what you thought was lox, only to discover, standing there in the State Dining Room buffet line, that you were chewing on a mouthful of excruciatingly sharp ginger.
Life is sometimes like that: It feeds you raw ginger when you think you're getting smoked lox. No one escapes occasional disappointments or unwelcome surprises, and one aspect of maturity is being able to meet them with equanimity. I can't say you always manage it. But just as your 12-year-old body increasingly prefigures the man you're becoming, your behavior and temperament today -- even with the storms and stresses of adolescence -- are gradually resolving themselves into the good and upright character that I am confident will be your hallmark tomorrow.
This night is indeed different from all other nights: It marks your last Passover as a child. By next year's Seder, you will be a bar mitzvah -- an adult, in Jewish law. The years are racing by, and you are coming into your own.
All my love,
Papa
(Jeff Jacoby is a columnist for The Boston Globe).
-- ## --
Follow Jeff Jacoby on Twitter.
Discuss his columns on Facebook.
Want to read more? Sign up for "Arguable," Jeff Jacoby's free weekly email newsletter.