First of two columns
WHAT A SORRY FARCE the state university and colleges of Massachusetts have become. What a mockery of excellence in education. Anywhere else they would be an embarrassment. In Massachusetts, which for 350 years has been the heart of American higher learning, they are a humiliation.
At the four undergraduate campuses of the University of Massachusetts and at most of the nine state colleges, academic standards have been largely abandoned. High school students ranked in the upper tier of their class can be admitted with a combined SAT score of only 500; virtually any student can get in with combined SATs of under 850.
Even these meager requirements are commonly waived. The state colleges currently exempt one-third of entering freshmen from the minimum standards. On some campuses, more than 40 percent of all students were too weak to meet the cutoff but were admitted anyway.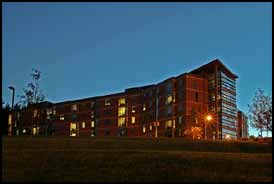 At Worcester State College, the average SAT score of last year's freshman class was a dismal 832
The average SAT score of the freshman class at North Adams State College last year was a dreadful 877 -- not including the substandard students. At Salem State, it was 875. At Worcester State, 832. Even at the University of Massachusetts -- the most elite of the state institutions -- SATs average in the 900s. When it comes to public higher education in Massachusetts, "elite" is now a synonym for "mediocre."
At UMass-Amherst and UMass-Lowell, 1 in 10 students needs remedial help. At UMass-Boston, the ratio is 1 in 5. "In a 'basic writing' course at Lowell this semester," the Globe's Alice Dembner reported in March, "students were learning the rules of conjunctions -- when to use 'and,' 'or,' and 'but.' "
Desperate to attract brighter students, UMass will provide full four-year scholarships to applicants with high grades and test scores. Thirty-one such scholarships were offered this year. Two were accepted.
There are pockets of quality in the state system, but on the whole these schools are the products of political empire-building, not educational necessity. They exist primarily to perpetuate themselves. "We accepted 76.5 percent of our applicants last year," Fitchburg State's director of admissions recently told the Globe. "We had to fill the dorms."
Is this why Massachusetts taxpayers pour $700 million a year into subsidizing public colleges? To fill the dorms? To teach university students when to use "but"?
Institutions of postsecondary education already exist for students with low SATs who require remedial instruction. They are called community colleges, and from Pittsfield to Haverhill to Cape Cod, there are 17 of them across Massachusetts. So what do we need the state colleges for? Why do we need UMass?
Heresy, I know -- especially for the older alumni of these schools, who earned their degrees back when the parchment was still worth something. But sentimental attachments aside, shouldn't the government of Massachusetts be getting out of the business of operating four-year colleges and universities?
Elsewhere, public higher education has a distinguished history. In Michigan, Texas, California, Mississippi, the best students compete to get into colleges and universities run by the state. But that has never been the case in Massachusetts, where superb private higher education is a tradition older than statehood.
In 49 states out of 50, the overwhelming majority of college students attend public institutions. Not in Massachusetts. Here, most students study at independent colleges and universities. Nearly 80 percent of all academic degrees earned in Massachusets -- including 75 percent of those earned by minorities -- are awarded by private schools.
The variety of private-sector choices available to college-bound students in Massachusetts is phenomenal. There's Babson College, Bay Path College, Bay State College, Becker College, Bentley College, Berklee College of Music, Boston Architectural Center, Boston College, the Boston Conservatory, Boston University, Bradford College and Brandeis University -- and that's just the B's. All told, there are some 90 independent colleges of every size and description in this state. So why should taxpayers be footing the bill for middling schools like Fitchburg State or UMass-Dartmouth?
The standard answer is: to make sure poor kids have access to a college education. An admirable goal. But the fortune being spent to achieve it isn't financing education so much as the trappings of education -- buildings, grounds, plumbing, administrators. If instead that money went to vouchers, grants, and loans, this bloated empire of inferior state-run colleges could be sharply downsized -- while guaranteeing every qualified student in the state the chance to get a decent education.
Private colleges already provide financial aid to half the students who walk through their gates. Plenty of kids from poor families attend Harvard, Northeastern, and Tufts. The notion that the state of Massachusetts needs to run a string of third-rate colleges so poor students can get a degree is so ridiculous only a bureaucrat could believe it. At the moment, after all, the one glaring fact about these schools is that the smart kids are staying away in droves.
Next: Politics and higher ed
(Jeff Jacoby is a columnist for The Boston Globe.)