ADD IMMIGRATION to the long list of issues on which President Clinton has done a back flip. In 1992, his campaign manifesto called for opening the Golden Door to "generous" numbers of new Americans. It would be a Clinton administration priority, he promised, to "make family reunification the cornerstone of American immigration policy" and "reduce the unreasonable backlog for extended-family members."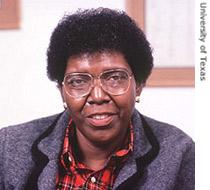 Barbara Jordan
That was then, this is now. Last week, Clinton endorsed the harsh recommendations of the Commission on Immigration Reform, which proposes to slash by one-third the number of legal immigrants allowed into the United States each year, and to no longer admit "extended-family members" -- i.e., brothers, sisters, and adult children -- of US citizens. The commission, which is chaired by former Democratic congresswoman Barbara Jordan, also advises reducing by nearly 30 percent the number of immigrant visas for foreign workers holding job offers from US employers, and halving the number of refugees permitted to enter.
This, said Clinton, is "consistent with my own views." He described the proposals -- which would permanently separate family members, keep employers from hiring workers they want, and exclude would-be US citizens -- as "pro-family, pro-work, pro-naturalization." Pure Newspeak, straight out of Orwell.
Prejudice against immigrants is as old as the Republic. Clinton and Jordan are not the first to succumb to it. But if we're going to slam the gates on some of the most valuable people on earth -- men and women so motivated, so intent on living in freedom, that they are willing to pull themselves up by the roots and start over in a strange land -- let's at least be honest about what we are doing. We're scapegoating people we should be welcoming, and spiting ourselves in the process.
Awful as the Jordan Commission's proposals are, a worse idea is in the works. The Clinton administration, backed by an anti-immigrant bloc in Congress that includes Sen. Dianne Feinstein of California, Sen. Alan Simpson of Wyoming, and Rep. Lamar Smith of Texas, is pushing for a computerized ID card that every American would have to carry. Each time an employer wanted to hire someone, he would have to clear it with the federal government. Supposedly, this would keep illegal immigrants from getting jobs. As Clinton put it during his New Hampshire picnic with Newt Gingrich: "What we need is the capacity to go into more workplaces and find people who are taking jobs away from Americans illegally."
And what would be recorded on this ID card? Feinstein envisions "a magnetic strip on which the bearer's unique voice, retina pattern, or fingerprint is digitally encoded." Others suggest using the card to monitor income and divorced parents' child-support records. It would be only a matter of time before Big Brother's computer was tracking everything Big Brother wanted to know about you.
Happily, not everyone in Congress is caught up in the immigrant-bashing frenzy. House Majority Leader Dick Armey has sworn to fight a national ID card. He called the idea "an abomination and wholly at odds with the American tradition of individual freedom." The crusade to keep immigrants out is madness, Armey said. "I'm hard-pressed to think of a single problem that would be solved by shutting off the supply of willing and eager new Americans. If anything . . . we should be thinking about increasing legal immigration."
Hooray for Armey. It isn't in vogue to defend robust immigration these days, let alone for congressmen from Texas to do so. But Armey is on solid ground. For the stubborn facts about immigrants are these:
Immigrants do not increase unemployment. Immigrants are not slackers. Immigrants are not economic leeches. If anything, they are economic dynamos.
Today's immigrants are no more an "alien nation" swamping American culture than were those of 200 years ago, when the exact same misgiving was expressed. Most immigrants assimilate quickly -- except when fat-headed government schemes like racial preferences, multiculturalism, and "bilingual" education intervene to promote separatism. (Solution: Keep the immigrants, scrap the fat-headed schemes.)
Jordan and Clinton notwithstanding, the real battle over immigration policy is being fought among conservatives. Momentum may lie with the keep-them-out faction, led by Simpson, Pat Buchanan, and William F. Buckley's National Review. But wisdom and history are with those, like Armey, who say: Let them in.
As the debate moves into high gear, it is perhaps worth recalling the view of the greatest American conservative of our time.
"I've always believed that this land was placed here between the two great oceans . . . to be found by a special kind of people. People who had a special love for freedom. People who had the courage to uproot themselves and leave hearth and homeland and come to what in the beginning was the most undeveloped wilderness. We came from a hundred different corners of the earth. We spoke a multitude of tongues."
So spoke Ronald Reagan in 1980, in the speech that came to be known as "A Shining City on a Hill."
(Jeff Jacoby is a columnist for The Boston Globe.)