NO ONE knows just how many Muslim girls and women are murdered each year in the name of family "honor," since their deaths frequently go unreported and unpunished. The cases that do come to light are ghastly. "Women and young girls are set ablaze, strangled, shot at, clubbed, stabbed, tortured, axed, or stoned to death," a United Nations report noted in 2004. "Their bodies are found mutilated with their throat slit, or they are chopped into pieces and thrown in a ditch."
The report singled out as especially horrifying the honor killing in Pakistan of "a 16-year-old girl who was reportedly electrocuted to death after being drugged with sleeping pills and being tied to a wooden bed with iron chains." Her offense: marrying a boy from the wrong community. Countless others have lost their lives for refusing an arranged marriage, wearing Western-style clothing, having a boyfriend, or even being raped.
Recently, the Saudi human rights activist Wajeha al-Huwaidar wrote a scathing essay characterizing honor killings as a scourge peculiar to the "Greater Middle East," with its entrenched culture of misogyny and male supremacy. Her article was prompted by the lynching of 17-year-old Du'a al-Aswad, a Kurdish girl stoned to death by a mob of Iraqi men. (The essay has been translated by the Middle East Media Research Institute, which also provides a link to a gruesome cellphone video of the lynching.) "From Pakistan and Afghanistan through Iran, the Middle East, and all the way to Morocco," Huwaidar wrote, "this entire part of the world [is full of] defeated and dejected men, whose only way to gain some sort of victory is by beating their women to death."
In the last few months, there have been news reports of a Jordanian man murdering his daughter "to cleanse the family's honor" after she kept leaving home without permission; another Jordanian, 22 years old, who gave the same reason -- "family honor" -- for killing his pregnant sister; a Saudi woman beaten and shot by her father after he discovered her having an online correspondence with a man on Facebook; and two Arab brothers in Israel, who strangled their sister after learning that she was involved in a romantic relationship.
But while honor killings may be more prevalent in the Middle East, no longer are they unknown in the West.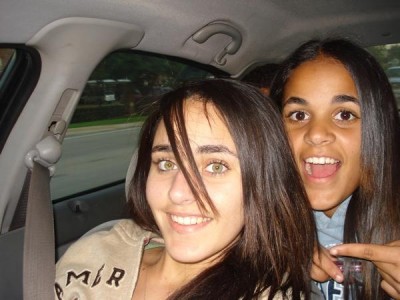 Sarah and Amina Said
In the Atlanta suburb of Jonesboro last month, a Pakistani immigrant allegedly strangled his 25-year-old daughter with a bungee cord because she was determined to end her arranged marriage and had gotten involved with a new man. According to the
Atlanta Journal Constitution
, Sandeela Kanwal's father, Chaudhry Rashid, "told police he is Muslim and that extramarital affairs and divorce are against his religion [and] that's why he killed her." In court last week, a detective quoted Rashid: "God will protect me. God is watching me. I strangled my daughter."
In Upstate New York a few weeks earlier, Waheed Allah Mohammad, an immigrant from Afghanistan, was charged with attempted murder after repeatedly stabbing his 19-year-old sister. The Rochester Democrat and Chronicle reported that Mohammad was "infuriated because his younger sister was going to clubs, wearing immodest clothing, and planning to leave her family for a new life in New York City" - she was a "bad Muslim girl," he told sheriff's investigators.
On New Year's Day in Irving, Texas, the bullet-riddled bodies of the Said sisters -- Sarah, 17, and Amina, 18 -- were found in an abandoned taxi. Police issued an arrest warrant for their father, an Egyptian immigrant named Yaser Abdel Said, who had reportedly threatened to kill them upon learning that they had boyfriends. According to the Dallas Morning News, Yaser Said was given to "gun-waving rants about how Western culture was corrupting the chastity of his daughters."
While many authorities say that Islamic religious tradition does not sanction honor killing, it has long been accepted in many Muslim societies all the same. Perpetrators are typically punished lightly, if at all. In 2003, Jordan's parliament overwhelmingly defeated a proposal to impose harsher penalties for honor killings; Islamists objected on the grounds that more severe punishment would violate religious traditions and damage Jordanian society. It is appalling that such lethally barbaric attitudes persist anywhere -- all the more so now that the shame of honor killing has made its way here.
(Jeff Jacoby is a columnist for The Boston Globe.)