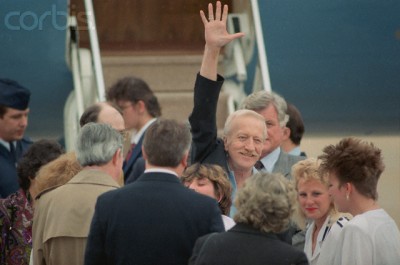 May 4, 1990: Freed American hostage Frank Reed waves on arriving at Andrews Air Force Base
DURING THE 44 MONTHS that Frank Reed was held hostage in Lebanon, he tried several times to escape. Each time, he was caught, and each time punished mercilessly.
On one occasion, the Islamic fundamentalists who had kidnapped him in 1986 pummeled his feet with metal rods, leaving them permanently damaged. Another time he was beaten in the head; Reed counted 200 blows before losing consciousness. When, two days later, he again attempted an escape, the kidnappers battered him with Kalashnikov rifles so brutally that, he reported afterward, "my kidneys bled."
Reed's torment didn't end when he was finally set free -- and it wasn't only his body that was shattered in Beirut. His mind, it seems, was also crushed. Reed returned to his hometown of Malden, Mass., in 1990. Today he is an unhinged shell of the spitfire he once was. He wanders the streets barefoot, drinking bottled ketchup and speaking gibberish. For hurling trash at his ex-wife -- who he claims is really a double planted by foreigners -- he was arrested. At the moment, the former headmaster of the Lebanese International School is locked in the psychiatric ward of a VA hospital.
But then, who cares about Reed? We obviously don't. The man spent 3-1/2 years chained to a radiator in a stinkhole somewhere in Beirut, the victim of terrorists who abducted him and beat him stupid because he was American -- and we did nothing about it. We let him rot until his captors chose to release him. Then we let them go their merry way.
Shame on us. Shame on us for never avenging the crucifixion of Frank Reed. For never avenging William Buckley, the CIA station chief in Beirut who was kidnapped and tortured until he died. For never avenging William Higgins, the US Marine who was lynched by Moslem gangsters in 1988. For never avenging Peter Kilburn, the librarian at the American University in Beirut, seized on his way to work one morning and shot dead a few months later.
All through the 1980s, the Moslem fanatics of Hezbollah and Islamic Jihad -- homicidal thugs with Allah on their lips and blood on their hands -- made victims out of American citizens. Often they made corpses out of American citizens. And the government and people of America did little but wring their hands and tie yellow ribbons around old oak trees. And sell missiles to the ayatollah. It is scandalous that the vermin who perpetrated such atrocities against the United States -- and the Iranian and Syrian regimes that sponsored and trained them -- never paid for their crimes.
"The United States will be firm with terrorists. We will not make concessions. We will . . . identify, track, apprehend, prosecute, and punish terrorists. . . . Terrorists must be treated as criminals."
So vowed a tough-talking Vice President George Bush in November 1988, shortly before entering the White House. Six years later, we have yet to identify, track, apprehend, prosecute, and punish the butchers who blew up 241 Marines in their Beirut barracks in 1983.
Or the ones who car-bombed 49 Americans to kingdom come a few months earlier at the US Embassy in the same city.
Or the ones who blew up Pan Am Flight 103 over Lockerbie, Scotland, exterminating 259 passengers, mostly American kids returning home for Christmas vacation.
Or who kidnapped all the other American hostages -- Jeremy Levin, Rev. Benjamin Weir, Rev. Lawrence Jenco, Terry Anderson, David Jacobsen, Thomas Sutherland, Joseph Cicippio, Edward Tracy, Jesse Turner, Alann Steen, Robert Polhill.
Or who hijacked TWA Flight 847 in 1985, gunned down one of its passengers -- Robbie Stethem, a US Navy diver -- and dumped his body on the tarmac.
What is wrong with us? When did we become a nation that takes slaps in the face from jihad-mongering barbarians without retaliating? Why are we the world's safest target, so effete that even Third World scum assault us with impunity?
To defend Kuwait and Saudi Arabia from Iraq's Republican Guard, the United States sent 400,000 troops across the globe. But to defend the honor of America, to knock out the teeth -- or put a bullet in the brain -- of thugs who harmed our countrymen, we dispatched no one.
Other nations guard their self-respect. In September 1985, four Soviets were kidnapped in Beirut. Moscow advised Syria -- whose troops control Lebanon -- that it would hold responsible "all those who could have stopped the criminal action but did not do everything possible to this effect." Syria's chief of military intelligence instantly ordered a block-by-block manhunt to find the hostages. They were free within weeks.
After Black September terrorists murdered 11 Israeli athletes at the 1972 Olympics, Israel's Prime Minister Golda Meir gave an order: Pay them back. One by one, the most senior Black September leaders in Europe and Lebanon were hunted down and killed. No Israeli athlete was ever menaced again.
It was once axiomatic that anyone foolhardy enough to seize an American hostage or attack an American target could expect to pay a terrible price. Once we spoke softly but carried a mighty stick. Now we prattle endlessly about bringing killers to justice and never negotiating with terrorists -- and it is all wind and hoax.
(Jeff Jacoby is a columnist for The Boston Globe.)