FOR A CHANGE, some good news out of the Middle East. Several Palestinian bomb builders, members of Hamas, managed to blow themselves up in their Gaza hideout when the explosives they were assembling went off prematurely. Excellent. "The apartment used by the militants," reported The New York Times, "was gutted by the blast, the walls and ceiling spattered with blood." Would that every terrorist cell in Jericho and Gaza met a similar fate.
Unfortunately, it is generally the blood of Israeli civilians, not fanatic Arab killers, with which walls and ceilings are spattered when Hamas -- or Islamic Jihad or the PLO's Fatah Hawks -- detonates a bomb.
On Jan. 22, for example, as Israelis marked the 50th anniversary of the liberation of Auschwitz, Palestinians blew up a bus stop and snack bar at the Beit Lid junction near Netanya, a coastal town north of Tel Aviv. The explosion blew 20 Israelis -- most in their late teens -- to pieces; 60 more were wounded.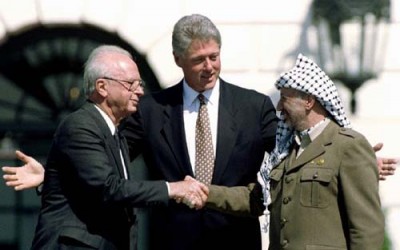 Palestinian terror has skyrocketed since The Handshake
Last Christmas, a Palestinian police officer, Ayman Radi, wrote a note informing his family that he planned to "knock on the gates of Paradise with the skulls of the sons of Zion." Then he strapped 20 pounds of explosives to his body, headed into downtown Jerusalem, and blew himself up. Casualties: 13.
Two months earlier, a Hamas bomb in Tel Aviv tore through the No. 5 commuter bus, killing 22 innocents and maiming or burning dozens more. Before that, it was a suicide bomber in Hadera; five Israelis died. Before that, it was a bus stop in Afula crowded with schoolchildren: seven dead, 45 wounded, "body parts flying through the air," The Boston Globe reported.
Of course, there is more to Israeli-Palestinian relations these days than terrorist bombs. There are also terrorist knifings, terrorist kidnappings, and terrorist shooting sprees.
Since Sept. 13, 1993, when Yasser Arafat and Yitzhak Rabin shook hands and signed the Oslo peace accords on the White House lawn, 571 days have elapsed. In that time, more Israelis have been killed by Arab terrorists than in any comparable period since the country was founded in 1948. The number of post-handshake attacks now surpasses 300. According to the Washington-based Center for Security Policy, these have resulted in 168 people killed and 445 wounded.
There is virtually no provision of the Israel-PLO accords with which the PLO has complied. Arafat pledged not only to halt terrorism but to "discipline violators" of that pledge. Yet his own wing of the PLO, Fatah, has carried out at least a dozen terrorist attacks in recent months. Several PLO factions have explicitly rejected the peace accords and claimed credit for acts of terrorism. None has been disciplined.
Under Article XII of the Gaza-Jericho agreement, the Palestinian Authority must "abstain from incitement, including hostile propaganda, and take legal measures to prevent such incitement by any organizations, groups, or individuals within their jurisdiction."
But the Palestinian territory runneth over with anti-Israeli incitement and propaganda. As Israelis mourned their dead one day after the Jan. 22 massacre, thousands of Palestinians celebrated in Gaza. "The Islamic movement," one speaker declared at the rally, "gives its condolences to the hero of the attack, which led to the killing of 20 pigs and the injuring of more than 60 monkeys." In December, more than 50,000 Hamas supporters gathered to cheer a reenactment of the kidnapping and murder of Nachshon Waxman, a young Israeli corporal. Just this week, 10,000 Gazans demanded "revenge" against Israel for the deaths of the Hamas cadre whose bomb blew up too early.
Incitement? Israel is still described as "the Zionist enemy," by Arafat himself. "We are all suicide bombers," he exhorted his followers on Jan. 1. "We are all seekers of martyrdom."
With a "peace process" like this, who needs war?
But the Rabin government won't acknowledge its blunder. It ought to pronounce the last 19 months a worthy experiment that failed, then abrogate the accords. Instead, it greets each terrorist atrocity with a stoic vow to continue this lethal farce. "We will persevere on the path toward peace," said Rabin on Jan. 22. Over and over he has said it. Can he really not see that the path down which he is pushing his countrymen is not the one leading toward peace, but away from it?
Last month, Israel's deputy foreign minister, Yossi Beilin, lashed out at a delegation of American Jewish leaders who expressed alarm at Arafat's noncompliance with the Israel-PLO accord. "If Arafat complies exactly with the Oslo accords or not, it is none of your business," he told them. "It is not the business of Jewish organizations . . . not the American Congress and not of any other country in the world except the state of Israel."
Considering that the peace accords were signed under the auspices of the US president and that Congress is being asked to supply millions of dollars in aid to the PLO, Beilin's statement is nonsensical on its face. But it is also a sign of how delusional Israel's ruling party has grown. It is obsessed with a peace process that doesn't exist. And the longer that obsession continues, the higher the body count will climb.
(Jeff Jacoby is a columnist for The Boston Globe.)