DO YOU DRIVE the same car you drove in 1962? Wear the same wristwatch? Live in the same house?
Have you kept the same opinions all these years? The same taste in music? The same job? The same aspirations?
Do you still believe today what you believed back then? Live today as you lived back then?
If your world has stood still for 32 years -- if your life and hopes and outlook have remained unaltered -- then by all means, don't change senators now. Vote to re-elect Edward Kennedy. Vote for more of the same until 2001. Mark your ballot for nostalgia. Be, in the truest sense of the word, a reactionary: Turn your back on change.
A vote for Kennedy is a vote for the status quo, but it is also a vote to ratify the grim declines of the past three decades.
For Kennedy has had a hand in bringing all of them about: The rot of the welfare state. The unraveling of public education. The explosion of crime and the breakdown in criminal justice. The disintegration of the inner cities. The collapse of black family life. The furious growth in the size of government -- and in the staggering taxes that pay for most of it -- and in the monstrous national debt that pays for the rest.
You approve? Then vote for more. Vote for Kennedy.
When he was first elected in 1962, opinion polls found that 75 percent of Americans trusted the federal government to do what was right most of the time. Today, as he seeks a seventh term, 75 percent expect government to do the wrong thing most of the time. More and more of us view government not as a protector but as an enemy, no longer a source of aid and goodwill, but of hassles, delay and punishment.
In Kennedy's first years in the Senate, the federal government spent about $115 billion a year. The figure now is more than $1.5 trillion a year. The less we trust or like our government, the bigger and more powerful it gets. Both trends bear Kennedy's mark.
There is no disputing his effectiveness. Even his detractors concede his prowess at getting bills passed, agencies created, regulations written. Over the course of 32 years, Kennedy has eventually won nearly everything he fought for. The results are all around us.
"Kennedy country" isn't just a blighted section of Dorchester, a neighborhood Kennedy never lived in. It's the employer who won't hire an 11th employee, for fear he'll be crushed by the procedures and paperwork of the Occupational Safety and Health Act -- triggered when a firm hires more than 10 workers. It's the Boston schools that were traumatized, and the kids whose education was poisoned, by forced busing in the '70s. It's the 18-year-old girls without jobs or husbands who are lured by welfare into having babies they can't support. It's the 240,000 teen-agers whose jobs were wiped out by the triple increase in the minimum wage between 1981 and 1991.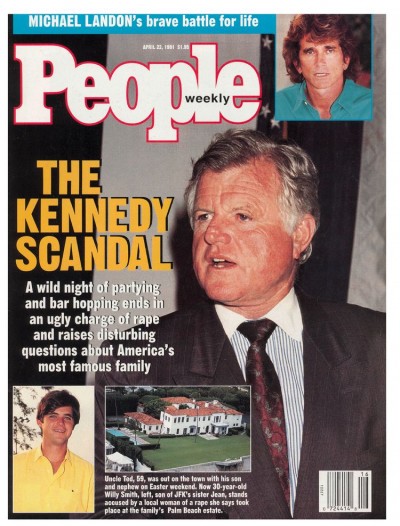 These are the blooms of Kennedyism. They are the fruit of the budgets he voted for, the programs he spawned, the nostrums he peddled, the bureaucrats he empowered, the harmful consequences he never anticipated. We all live in "Kennedy country" now.
"Kennedy country." Even the nuances of that name have changed in 32 years. In Jack's day, the name Kennedy suggested the vigor of youth, learning blended with wit and confidence. When Bobby took center stage, it became a synonym for passion, for zeal in the cause of justice.
But the youngest Kennedy has squandered even his name. He has made it a punch line, the stuff of late-night TV monologues, a code word for boorish behavior and growing old ungracefully.
This Kennedy is the one who woke his son at midnight to go prowling in Palm Beach, who trashed bars and mauled waitresses, who treated his first marriage as a farce, who drove his wife to a breakdown. This is the Kennedy who snorted cocaine with his aides (and denies it). The one who left Mary Jo Kopechne alive beneath the water (and tried to cover it up).
Cultural pollution and perverted values are as much a part of "Kennedy country" as failed Great Society antipoverty schemes. Bad laws have bad effects; so do public crudeness and morally irresponsible leaders. Society has become jaded and gross. It won't be disinfected as long as we keep choosing to be governed by men who cannot even govern themselves.
Kennedy says he has cleaned up his act, made a fresh start. But he didn't say it until he was nearly 60, when his swinish antics were finally hurting him politically. It is hard not to doubt his sincerity. Men of decency don't bash their opponents' religion or run campaigns of character assassination. And if he has repented? Well, personal redemption is a fine thing, but it doesn't entitle anyone to a (seventh) term in the US Senate.
Massachusetts has supported Ted Kennedy, no questions asked, since 1962. A lot of things have gotten a lot worse in all that time -- Kennedy included.
Old habits die hard. But after 32 years, it really is time for a change.
(Jeff Jacoby is a columnist for The Boston Globe.)