THIS MAY SURPRISE those monitoring media coverage of the Ted Kennedy-Mitt Romney race, but US senators do not, in fact, have any authority over labor-management disputes in small Midwestern towns or the orthodoxies of the Mormon Church. They do, however, play a key role in foreign policy. Their "advice and consent" is required before treaties can be ratified or ambassadors confirmed. And like US House members, senators vote on military budgets, foreign aid, trade issues, and declarations of war.

Romney has had little to say on world affairs, perhaps because he doesn't know much about them. Well, no candidate knows everything. One of the built-in gambles of our democracy is that we elect novices, who then have to learn on the job. Romney's career suggests that he is a quick study.

Though Kennedy has commented volubly on foreign affairs during his 3.2 decades in Congress, his campaign has steered clear of the subject. Understandably: His record would tend to repel more votes than it would attract. But while Kennedy may wish to preserve a dignified silence on the topic, voters need not follow suit.

What is most striking about Kennedy's history in this area is how firmly and consistently he supported the wrong side -- the losing side, the anti-freedom side -- in the Cold War.

In 1968, the year Soviet tanks crushed prodemocracy demonstrators in the streets of Prague, Kennedy actually wrote: "Today, with the exception of East Germany, Russia has no more satellites." Blindness to Soviet tyranny is a motif repeated time and again in Kennedy's record.

He was among those who voted to cut off aid to South Vietnam and Cambodia in 1975, as they trembled on the brink of communist takeover. Like other liberals, he rejected fears that US abandonment would lead to a bloodbath. "Congress and the American people," he said, "do not hold the fate of Saigon and Phnom Penh in their hands." But they did. The fall of South Vietnam and Cambodia precipitated one of the grisliest slaughters of the 20th century.

When it was still possible to prevent the Sandinistas from taking over Nicaragua, Kennedy worked to bring them to power. As the Somoza regime struggled for its life in the face of the Marxist assault -- an assault directed in Moscow with an assist from Havana -- Kennedy sponsored legislation to halt all aid to Nicaragua. To those who warned that a Sandinista regime would prove far more cruel and destructive than the status quo, Kennedy sneered: "This is hardly a serious threat."

He later fought President Reagan's policy of backing the freedom fighters trying to overthrow the Sandinistas. With equal force, he opposed efforts to help the democratically elected government of El Salvador when it was under attack by the terror brigades of the Soviet-backed FMLN.

Soviet dictators always found Kennedy easy to seduce. In 1974, he gushed over Leonid Brezhnev -- the most powerful tyrant of his day, a jailer of dissidents, warmonger in Africa, persecutor of Soviet Jews, tormentor of Sakharov, exiler of Solzhenitsyn -- in these terms: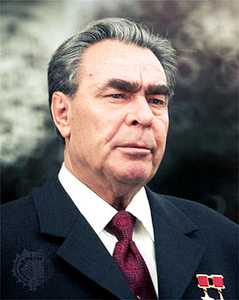 Brezhnev: Completely committed to peace?
"I found Mr. Brezhnev . . . a warm individual, highly intelligent, highly aware, a sense of humor, completely at ease, very informal. I think he'd be at home as easily in a plant, in a factory in Massachusetts talking with workers, as he is in presiding over the second-most-powerful nation in the world. He talks about war with great feeling and with great passion. He reminds one when you talk about strategic weapons that he slogged all the way through the Second World War. . . . He's lost his closest friends. And he is completely committed to peace."

When Brezhnev's troops poured into Afghanistan, the scales fell from Jimmy Carter's eyes. (He said the Soviet assault taught him more about the reality of communism than any other episode of his presidency.) Not so Kennedy. He brushed off the aggression as "not the end of the world," and hoped the United States would "not foreclose every opening to the Soviet Union."

For the Kremlin's victims, Kennedy rarely had much sympathy. When Yuri Orlov, the founder of the Helsinki Monitor Group and one of the most heroic of the human-rights dissidents, was imprisoned, Kennedy assailed those who spoke of rebuking Moscow. We must do nothing, he insisted. Otherwise, "Soviet advocates of confrontation with the US would have one more argument to use against the advocates of cooperation and detente."

Kennedy's hostility to the US military is unremitting. His voting record is steadfastly antidefense; he has opposed nearly every major strategic weapon of the past 25 years and proposed innumerable defense cuts. Any decision to use American military power -- at least any decision by a Republican commander in chief - is sure to call forth a Kennedy denunciation.

He blasted the 1990 campaign in Panama as an invasion that "violated our fundamental commitments under the United Nations Charter." Yet when Gen. Manuel Noriega surrendered, Kennedy jumped on the victory bandwagon. "A triumph for diplomacy and a triumph for justice," he reveled. "A sign of a new day for freedom and democracy."

Then there was the Gulf War.

Kennedy heatedly opposed the US mission to force Saddam Hussein out of Kuwait, voting against it three times. He was a disciple of the "let sanctions work" school and much given to "body-bag" rhetoric.

"When the bullets start flying," Kennedy predicted, "90 percent of the casualties will be American. . . . The 45,000 body bags the Pentagon has sent to the region are all the evidence we need of the high price in lives and blood we will have to pay."

His estimate of 2,000 casualties a week was a bit on the high side. US fatalities in the Gulf War totaled fewer than 300.

Angry condemnations notwithstanding, Kennedy wasn't above using Desert Storm soldiers for publicity. On Jan. 18, 1991, he scurried to Fort Devens to have his picture taken with departing troops. "I just wanted to come by," he oozed, "and wish you the very best, and let you know we're all behind you."


(Jeff Jacoby is a columnist for The Boston Globe.)