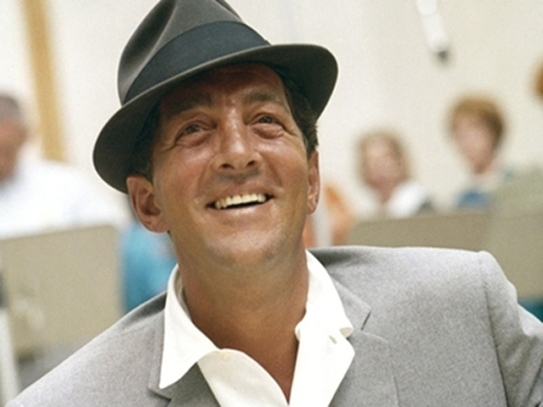 SOME PEOPLE MY AGE fantasize about being Bruce Springsteen. Others yearn to sound like Whitney Houston.
My tastes, I guess, aren't age-appropriate. I would give anything for a voice like Dean Martin's.
By the time he died, at 78, on Christmas Day, Martin's singing career was long over. It was already over when I first discovered it, as a college student in the late 1970s. I never saw him perform live, never watched the nightclub act that once had customers lined up around the block, never tuned in to "The Dean Martin Show" on NBC. His legendary partnership with Jerry Lewis, the movies he made with Marlon Brando and John Wayne and Judy Holliday, his antics as a member of Frank Sinatra's "Rat Pack," even the Dean Martin celebrity roasts -- all ancient history to me.
All I've ever known of Martin is the sound of his voice on vinyl and tape. But, Lord, what a voice.
Down each avenue and via,
Street or strada
You can see 'em disappearin' two by two,
On an evening in Roma.

Do they take 'em for espresso?
Yeah, I guess so.
On each lover's arm a girl I wish I knew.
On an evening in Roma
It is a little jarring to be reminded just how phenomenally popular Dean Martin's songs once were. "Everybody Loves Somebody" was such a smash hit in 1964 that it knocked the Beatles, no less, out of Billboard's No. 1 spot. Between 1964 and 1969, Martin released 11 albums that went gold, seven of them in one incredible 18-month period. His buoyant "That's Amore" was not only a million-seller that rocketed to No. 2, it was nominated for a 1953 Academy Award as best song from a motion picture. Thirty-four years later, Martin's first gold record reached the charts all over again -- as the theme from "Moonstruck."
What he was famous for -- what I wish I could duplicate -- was the lazy nonchalance of his delivery. He had the slouchiest baritone ever, a singing style that sounded as effortless as a shrug. Like all great talents, he made it seem so easy. "He could look relaxed astride an H-bomb," wrote Derek Martin in the Guardian.
Of course, there was nothing easy about it. The lyrical voice was a gift from God. But that irresistibly careless manner? Pure professionalism.
When marimba rhythms start to play,
Dance with me,
Make me sway.
Like a lazy ocean hugs the shore,
Hold me close,
Sway me more.
Martin often claimed, self-deprecatingly, that he had simply "copied Bing Crosby 100 percent." Maybe he even believed it. Crosby, the original "crooner," had a gorgeous voice, no question; his reputation as one of the 20th century's four or five most influential and beloved popular singers is beyond challenge.
But where Crosby's recordings sound flawlessly serene, Martin's sound warm and human and unfeigning. Crosby's music is a perfectly balanced chablis; Martin's is Southern Comfort. Crosby sang brilliantly for his audiences. Martin, no less brilliantly, sang to them.
You're nobody 'til somebody loves you
You're nobody 'til somebody cares.
You may be king,
You may possess the world and its gold.
But gold won't buy you happiness
When you're growing old.
His life was a classic story of American show business. Not rags to riches, exactly -- more like scruff to stardom. He was born Dino Crocetti, the son of an immigrant Italian barber, in the rough factory town of Steubenville, Ohio. He dropped out of high school in the 10th grade (only to spend his life embarrassed by a poor command of English grammar) and took any job he could find. He bootlegged whiskey, pumped gas, worked in a steel mill handling hot wire, stole hubcaps. He clerked in a cigar shop. He even boxed as a welterweight until his hands became too mangled.
He started out pumping gas and working in a Steubenville steel mill. He ended up the very embodiment of cool and effortless elegance.
It was while he was working as a croupier in a gambling joint that some friends coaxed him into singing in public. His musical career began in 1940 at Walker's Cafe, a roadside club in Steubenville. He called himself Dino Martini and sang with Ernie McKay's band, making $50 a week -- less, he said, than he could steal at blackjack.
Three years later he was playing gin mills in New York. Three years after that, he teamed up with a zany comic named Jerry Lewis. Success followed almost overnight.
In time he was worth millions, but Martin never forgot where he started. He once offered a couplet about his good fortune: "Back in Steubenville, Ohio, they're doubting this, I swear/ They're betting six to five that I still get the chair."
That's what was in Dean Martin's voice. At least it's what I hear: the empathy of a guy who used to bundle coils of steel wire and deal poker hands in the back of the Rex Cigar Store. He never grew too full of himself, too ego-swollen to appreciate his audience. He was a singer who adored his job, and you could hear it in every stanza. What I wouldn't give to sing the way he did.
(Jeff Jacoby is a columnist for The Boston Globe).
-- ## --
Follow Jeff Jacoby on Twitter.

"Like" Jeff Jacoby's columns on Facebook.
Want to read more Jeff Jacoby? Sign up for "Arguable," his weekly email newsletter.