BASEL, Switzerland — Madeleine Kunin, the US ambassador to Switzerland, relates the story: An elderly woman, a Holocaust survivor, is being treated in a Swiss hospital. She is attended by a nurse, a younger woman, who spots the bluish-green number tattooed on her arm at Auschwitz. "Oh, how clever of you!" the nurse exclaims. "You put your telephone number on your arm so you won't forget it."
For a nation that spent World War II completely encircled by Germany and its allies, Switzerland managed to preserve a surprising ignorance about the Hitler era. Ignorance in some cases about the Nazis' crimes; but ignorance as well, far wider and deeper, about Switzerland's own financial semi-collaboration with the Third Reich. Only in the last two years have most Swiss finally begun to acknowledge their country's behavior during and just after the war years.
On the whole, of course, Switzerland's people were resolutely anti-Nazi. But much in the Swiss record was not so admirable: The laundering of looted Nazi gold. The export of war materials to the Reich. The deportation of tens of thousands of Jewish refugees into the hands of the SS. The forced-labor camps built to exploit the 25,000 refugees who were admitted. The demand that passports of German Jews be stamped with a "J." The windows slammed in the face of claimants who tried to recover Swiss bank deposits left by their murdered kin. The refusal to honor life insurance policies when surviving relatives could not supply formal death certificates.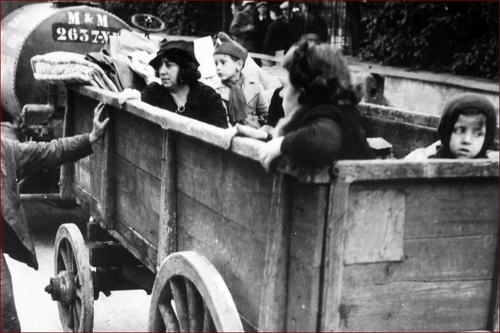 Tens of thousands of Jews attempting to flee the Nazis were turned away when they reached the Swiss border.
Ugly stuff. And it isn't going away. Fifty years after the Nazis' defeat, the Swiss are under severe pressure — from the US State Department, from Jewish groups, from New York and California banking regulators — to make restitution for their wartime profiteering. Commissions of historians and accountants continue to dig into the archives of Swiss banks and government agencies. Switzerland's image is going to get worse before it gets better. Especially because so many Swiss, far from demonstrating contrition and good will, bristle with resentment and bitterness.
During eight days of meetings and conversation in Switzerland, I repeatedly encounter an "ashamed but" line. It is true, Swiss officials and opinion leaders say, that we did things during the war we must be ashamed of — but. Then come the excuses and justifications.
But we had to play ball with the Nazis or we would have been invaded.
But we had to import German raw materials or our industry would have collapsed.
But we had to maintain the convertibility of the Swiss franc.
But we had to be sticklers for our banking secrecy rules.
But we had no way of knowing that some of the gold was coming from the death camps.
But we weren't the only neutral country, so why don't you pick on Portugal or Sweden?
This defensiveness echoes everywhere — I hear it from the Swiss president, from Swiss diplomats, from Swiss businessmen. And at times the defensiveness descends to the verge of something uglier.
"What is an impossibility," snaps one prominent banker, "is that we make a deal under the pressure of some Jewish lawyers." There is a whiff of antisemitism in the air. When I ask the young Swiss professionals I meet if hostility toward Jews is on the increase, nearly all of them say it is.
But there are other voices, too. During one panel discussion on "Switzerland and World War II," Francis Amar of Geneva — a delegate general of the International Committee of the Red Cross — gently scolds the "ashamed but" panelists. "You keep trying to explain," he says, "why we were right to do the wrong things we did."
And Cristoph Schaer, an analyst in the Swiss Foreign Service, makes it clear with great integrity that not all Swiss are indignant about having to face history and themselves.
"The survivors of the Shoah," he says, using the Hebrew term for the destruction of European Jewry, "are nearing the end of their lives. They have a right to ask 'Why?' And we have an obligation to answer them as honestly and respectfully as we can."
The ongoing dispute over a Holocaust funds settlement by Swiss banks and the Swiss government has grown nasty. Negotiations have given way to ultimatums, threats of sanctions, and class-action lawsuits. Switzerland's moral failings during the Hitler years require compensation, but it would be dreadful if the whole issue came down to a question of dollars and cents. The Swiss banks have offered $600 million. The World Jewish Congress and New York's regulators are demanding $1.5 billion. But is that what matters? The amount?
Only bigots can benefit from monetizing the Holocaust. The crimes of the Nazis are not reducible to a bookkeeping entry. Neither are the betrayals of the Swiss. What decency requires of Switzerland is not cash, but an honest accounting and a commitment to the truth. A pot of money should not be the goal. Rewritten history books and rectified school curriculums should.
Is it important that stolen property be returned? It is. But it is far more important that a new generation of Swiss children not grow up believing a falsified myth of Swiss neutrality. Or thinking that Auschwitz tattoos are telephone numbers.
(Jeff Jacoby is a columnist for The Boston Globe).
-- ## --
Follow Jeff Jacoby on Twitter.
Discuss his columns on Facebook.
Want to read more? Sign up for "Arguable," Jeff Jacoby's free weekly email newsletter.