Some boys — sorry, Father Flanagan — are bad. Some are downright evil. By all accounts, Kip Kinkel was one of them. Reports on the grisly shootings at Thurston High School in Springfield, Ore., make it clear that he was one vicious adolescent. He was the kind of punk who took pleasure in flinging rocks down on cars from overpasses and torturing small animals with firecrackers. He was obsessed with bombs and had a furious temper. Though his parents apparently did their best to control and correct their son, their best wasn't good enough. Now they are dead, one Thurston 10th-grader is dead, and 23 other students are wounded.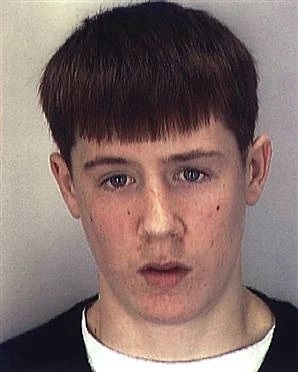 Freshman Kipland Kinkel killed two classmates and wounded 25 others at Thurston High School in Oregon on May 21, 1998. He had murdered his parents the night before.
And Thurston gets added to the grim roll of American schools where students, in 1998 alone, have become murderers:
Parker Middle School, Edinboro, Pa. Westside Middle School, Jonesboro, Ark. Heath High School, West Paducah, Ky. Pearl High School, Pearl, Miss. Bethel Regional High School, Bethel, Alaska.
And it isn't even June.
There have always been brutal, coldblooded kids. But there haven't always been brutal, cold-blooded kids pulling .22-caliber semiautomatics from beneath their coats in the school cafeteria and opening fire. And there hasn't always been the dread, which deepens with each new atrocity, that no community is immune from this teenage mayhem, that the next child slaughtered by a schoolmate could be — yours.
It didn't come out of the blue. School hallways aren't running red with blood for no reason. Grief-stricken mourners who sob and ask "Why?" need our comfort and love. But their question has answers.
From Sunday's New York Times: "But he did not just tell friends in private that his mind was full of violence. Once day in a literature class, when it was his turn to read his dreams from his journal, Kip stook up and told the class that he wanted to kill. But school officials said such talk was not unusual among students, and was often dismissed as just blowing off steam."
Not unusual. Often dismissed. A teenager talks of yearning to murder, and his elders respond with: ho-hum. And then they are horrified when he turns to murder. Is he deranged? Or are they?
Kids — the worst kids — become homeroom hit men when they are bombarded with messages telling them: Do what you like. No one will judge you. No one cares. The public schools they attend, so utterly transformed from the public schools their parents and grandparents attended, shun the enforcement of standards. Modern educational theories are built up around the notions that wrong answers are as good as right answers, that grades are oppressive, that "truth" is a relative concept. In countless schools, students are encouraged to think that they can have what they like and do what they like, because encouraging them to think otherwise would bruise their self-esteem. And nothing, but nothing, is more important than a child's self-esteem.
Least of all self-control. "I want to have all the firepower I can," Kip Kinkel reportedly said, "so I can kill as many people as I can." Once a kid who talked that way in school would have been yanked by the collar and marched before a principal, who would have taught him one of life's great lessons: Shut up. He would have learned to control his mouth, which in turn would have helped him control his thoughts. If he was an unregenerate delinquent, he would have been expelled. He would not have been indulged or ignored in the belief (or the hope) that he was just "blowing off steam."
Steep schoolchildren in the belief that they are entitled to much but responsible for little, and you raise a crop of irresponsible and demanding adolescents. Train teachers and administrators to flee from discipline, to retreat before student obstinacy, to abhor authority — moral and otherwise — and you wind up with middle and high schools that are little more than day care for teenagers.
In parochial and most other private schools, educators still manage to convey to students the axiom that benefits must be earned and that choices beget consequences. Perhaps that is one reason these bloody assaults have not been occurring in their cafeterias and classrooms. In far too many public schools, by contrast, students learn one thing early and well: No matter what you do, there is no price to pay. Don't do the homework and you'll pass anyway. Cut classes and you can still graduate. Spray graffiti on the walls and you won't be kicked out. Curse out a teacher and it will be tolerated.
Old joke: A rowdy kid, a troublemaking truant, is finally yanked out of public school by his parents and enrolled in a Catholic school. Quickly the complaints about him stop. He attends class. He does his homework. He stops mouthing off. At semester's end, his report card shows all As and Bs — to his parents' delight. "So tell us," they finally ask him: "What got you to straighten up and fly right?"
"Well," he says, "on the first day I walked in and there on the wall was a guy nailed to a cross. I figured these nuns were serious."
When American public schools were serious, they weren't the scene of monthly murder sprees. But we have taken rigorous education, clear values, and serious discipline out of the classroom. Something else was bound to fill the void.
(Jeff Jacoby is a columnist for The Boston Globe).
-- ## --
Follow Jeff Jacoby on Twitter.
Discuss his columns on Facebook.
Want to read more? Sign up for "Arguable," Jeff Jacoby's free weekly email newsletter.