Whose abortion speech is protected?
Many supporters of abortion rights used to bristle when they were described as "pro-abortion." They would argue that abortion was like divorce or insulin — a necessary evil, indispensable to those who found themselves in difficult straits, but not something to be celebrated. In 2000, the Democratic Party platform embraced a goal of "mak[ing] abortion less necessary and more rare." The 2004 platform famously declared, "Abortion should be safe, legal, and rare." A common trope was that the term "pro-abortion" was misleading — it was the freedom to choose that abortion-rights advocates favored, not abortion itself. As a candidate for president in 2008, then-Senator Hillary Clinton underscored the "safe, legal, and rare" formulation, adding: "By rare, I mean rare."
There are still many who express that idea. "No one is pro-abortion," insisted Sara Haines, a co-host on ABC's "The View," last summer. On its website, the National Institute for Reproductive Health asserts: "To be pro-choice is not to be pro-abortion. There is no such thing as pro-abortion." On Capitol Hill, the coalition of House members committed to opposing anti-abortion legislation calls itself the Pro-Choice Caucus, not the Pro-Abortion Caucus.
But that no longer seems to be the dominant view. While Clinton was emphasizing "rare" on the 2008 presidential campaign trail, her party's platform that year pointedly eliminated the word. She was no longer using it when she ran again in 2016. Today, open praise for abortion — not just the right to choose, but the actual abortion procedure — has become common in activist circles. "We're not just pro-choice," tweeted the Women's March last fall. "We are proudly, unapologetically pro-abortion." In 2015, when an organization named Shout Your Abortion was launched with the mission of "normalizing abortion," it quickly attracted widespread acclaim in the media.
Gallup regularly asks Americans to describe their views on abortion, but it uses the terms "pro-life" and "pro-choice," so it is hard to know for sure what percentage of the public would self-identify as "pro-abortion." Still, it is clear that many advocates now prefer the unabashed lauding of abortion to merely defending choice.
"Avoiding the label 'pro-abortion' perpetuates the stigma surrounding abortion," writes an activist from Unite for Reproductive & Gender Equality (URGE). "It treats abortion like a dirty word not to be uttered, couched in the idea of choice instead." The Massachusetts chapter of Planned Parenthood instructs its followers on "why we need to go beyond choice language when we're talking about abortion." Use of the term "pro-choice" is "hurtful to people who've had abortions," it argues, because it implies that abortion isn't, in and of itself, a good thing. The group's recommendation: "[R]etire the phrase 'pro-choice, not pro-abortion' for good." Online, T-shirts and other merchandise proclaiming "I love abortion" are readily available for purchase. Within the abortion-rights world, the old view of abortion as a regrettable but crucial option is increasingly shunned. Leana Wen, a physician, wrote in The New York Times that she was ousted from the national presidency of Planned Parenthood in part because she "did not prioritize abortion enough."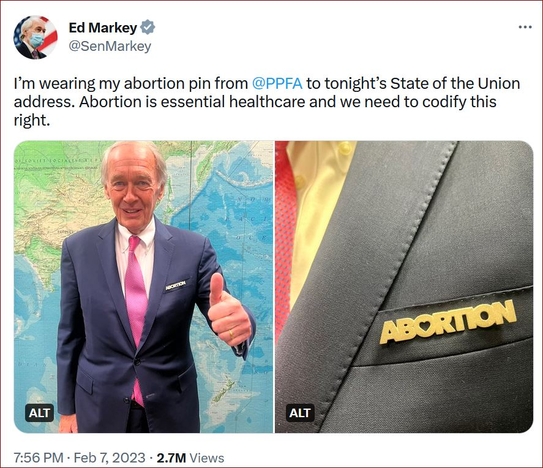 No one tried to prevent Senator Markey from wearing a pro-abortion pin in the US Capitol.
To my mind, extolling abortion in this way is ghoulish — the equivalent of celebrating amputation or chemotherapy as something to "love," rather than as something deeply unpleasant and unfortunate but sometimes tragically unavoidable. I am opposed to most abortions for which there is no medical justification. But I can understand and even respect — not endorse, but respect — the view that the option to legally abort an unwanted pregnancy in its early stages is inseparable from a woman's right to bodily autonomy.
All that said, it would never occur to me to demand that anyone's attitude toward abortion, whether for, against, or somewhere in between, be suppressed.
Which brings me to Senator Ed Markey.
The junior senator from Massachusetts has clearly absorbed the talking point that "safe, legal, and rare" is out and affirmatively pro-abortion is in. Markey attended last week's State of the Union address wearing a pro-abortion pin over the breast pocket of his suit jacket. It consisted of the word "ABORTION" in large gold letters, with a heart symbol inside the first letter "O."
To make sure no one missed it, Markey tweeted two pictures of himself wearing the pin. "I'm wearing my abortion pin from @PPFA [Planned Parenthood Federation of America] to tonight's State of the Union address," he captioned the photos. "Abortion is essential healthcare and we need to codify this right."
His tweet got plenty of attention — it was viewed millions of times, drew thousands of replies, both positive and negative, and was even the subject of a news story or two. All of which comported fully with the basic norms of freedom of expression. Many people had strong reactions to the sight of Markey's pin, but no one suggested he should be barred from wearing it.
Now consider what happened when some students who oppose abortion walked into other public buildings in Washington, D.C.
Following the annual March for Life on Jan. 20, a group of 9 teenagers and three of their parents who had come from Our Lady of the Rosary School in Greenville, S.C., to take part in the march went to visit the Smithsonian's National Air and Space Museum. The American Center for Law and Justice, a conservative public-interest law firm that represents the students, described what came next:
Once in the museum, they were accosted several times and told they would be forced to leave unless they removed their pro-life hats. The group all wore the same blue hat that simply said, "Rosary PRO-LIFE." Other individuals in the museum were wearing hats of all kinds without issue.
According to a lawsuit filed on behalf of the students in federal court, the museum's security personnel told the students that their matching knit caps were political statements and therefore barred. "You need to take off your hats," one security officer allegedly said. "We are a museum that promotes equality, and your hats do not promote equality." He informed the visitors — who could see other individuals freely moving through the exhibits while wearing shirts, masks, and hats bearing social or political messages — that the museum was a "neutral zone" and that the First Amendment "does not apply here." Eventually six of the Rosary school visitors were directed to leave the building.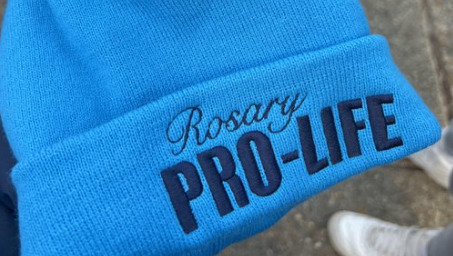 Students from a Christian high school were forced to leave a Smithsonian museum because they were wearing caps that said 'Pro-Life.'
Needless to say, the First Amendment certainly does apply in Smithsonian museums and every other federal facility. No government institution may censor an individual's nonviolent speech or expression. And if the Air and Space Museum's staff targeted the students because of their Christian anti-abortion message, the violation was doubly egregious. The Supreme Court has repeatedly ruled, including in its unanimous 2022 decision in Shurtleff v. Boston, the City Hall Plaza flagpole case, that government may not suppress the speech of private parties for the sole reason that the speech is religious.
After the lawsuit was filed, the museum acknowledged that it was at fault. "A security officer mistakenly told young visitors that their pro-life hats were not permitted in the museum," a spokesman said in a media statement. "Asking visitors to remove hats and clothing is not in keeping with our policy or protocols. We provided immediate retraining to prevent a re-occurrence of this kind of error."
Perhaps the whole thing could be chalked up to a grievous blunder by one or two ill-trained guards — except that the exact same thing happened the same day to another group of young March for Life participants visiting another museum: the National Archives, where the original Declaration of Independence, Constitution of the United States, and Bill of Rights are permanently displayed. There too, according to a second lawsuit filed by the American Center for Law and Justice, the students were told they "had to take off their religious, pro-life apparel or leave the museum."
When one of our clients questioned the order, a National Archives security officer said that the apparel would "incite others" and that she was "disturbing peace." Yet another one of our clients was told that her T-shirt was "offensive" and had to be covered up or removed. Her shirt read simply, "MARCH 4 LIFE 2014: Saint Cecilia's Youth Group, Glen Carbon, IL." Perhaps most disturbing of all were the National Archives security officers who instructed a whole group of Catholic students and chaperones to remove or cover up all their religious and pro-life clothing while standing in the same room as the Constitution of the United States.
Last Friday, again in apparent response to the filing of a complaint in federal court, the National Archives and Records Administration expressed contrition for what had happened. "As the home to the original Constitution and Bill of Rights, which enshrine the rights of free speech and religion, we sincerely apologize for this occurrence," it said in a statement released to the press. "We have reminded all of our security officers at our facilities across the country of the rights of visitors in this regard."
Honest mistakes happen. It would be unfair to make too much of these incidents if they were truly anomalies. But it is troubling that employees at two of the foremost museums in the nation's capital should have to be "reminded" that religious kids displaying messages like "Pro-Life" and "Love Saves Lives" are doing nothing wrong. The students' right to openly wear their opposition to abortion in a public government space is exactly identical to Ed Markey's right to openly wear his embrace of abortion in a public government space. In the wake of the Dobbs decision, Americans may be further than ever from a consensus on what to do about abortion. But when it comes to our common liberty to speak about abortion, there should be no dissent at all. Whatever our convictions, however disparate our opinions, we all have a sacred right to express them. If that much, at least, isn't universally understood, we are in deeper trouble than we think.
* * * * * * * * * * * * * * * * * * * * * * * * * * * * * * * * * * * * * * * * * * * * * * * * * * * *
What I Wrote Then
25 years ago on the op-ed page
From "Charter schools offer 'a ray of hope'," February 19, 1998:
Applying for a charter is easier said than done. It took the parents hundreds of hours of research, calculation, and consultation — all on their own time and at their own expense. In January they submitted a proposal, blunt and blessedly jargon-free, to the state department of education. On Feb. 26, they will learn whether they made the final cut.
As word has spread of the type of school the North Bridge parents are planning, hundreds of families have signaled an interest. No surprise: Charter schools are the fastest-growing educational movement in America. In 1992 there was one such school; today there are more than 800, with an enrollment of more than 200,000 students — and tens of thousands waiting to get in.
* * * * * * * * * * * * * * * * * * * * * * * * * * * * * * * * * * * * * * * * * * * * * * * * * * * *
The Last Line
"Yeah, even the Yankees had colored players now, Mr. Ozzie mumbled to Daddy, as they packed up Nemo's black-cast-iron vat, hoping against hope to boil that corn another day." — Henry Louis Gates Jr., Colored People (1994)
* * * * * * * * * * * * * * * * * * * * * * * * * * * * * * * * * * * * * * * * * * * * * * * * * * * *
(Jeff Jacoby is a columnist for The Boston Globe).
-- ## --
Follow Jeff Jacoby on Twitter.
Discuss Jeff Jacoby's columns on Facebook.
Want to read more Jeff Jacoby? Sign up for "Arguable," his free weekly email newsletter.