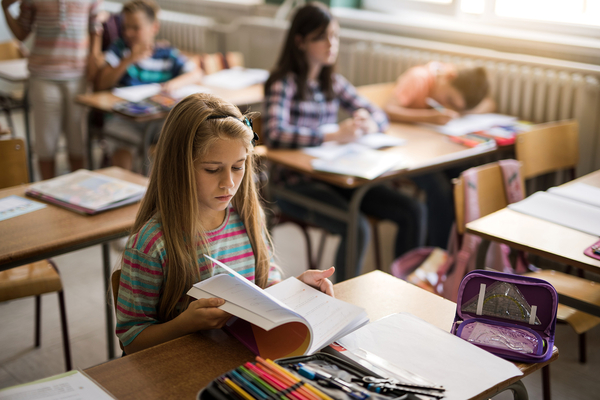 THEY DON'T LOOK like relics from the 19th century. Sitting in Pam and Tony D'Ambrosio's living room on a frigid New England night, the founding parents of the proposed North Bridge Classical Charter School seem altogether normal. Among the group of 17 parents hoping to start a new charter school in the northwest suburbs of Boston in 1999 are soccer moms and medical engineers, a karate instructor and a corporate attorney, a mutual fund manager and a physician, the head of human resources for a pharmaceutical firm and a software whiz. Nearly all these parents have college degrees; several have two or three.
But as any teachers union official or superintendent of schools would no doubt be glad to tell you, these modern, educated, suburban parents are actually backward-looking reactionaries. Their ideas about education are hopelessly archaic. If the Commonwealth of Massachusetts grants them the charter they are seeking, there is no telling what kind of mischief they'll cause.
Just listen to them.
"Classrooms shouldn't be social gatherings," Lee Ann Kay of Concord is saying. "In our school, students will sit in desks, organized in rows, all facing the same way, with the teacher at the head of the room." Needless to say, this flies in the face of modern pedagogical theory, which holds that students should be dispersed into scattered circles, discussing their lessons in small groups while the teacher strolls from one to another like the hostess of a cocktail party. Rows of desks, faces forward? What an antiquated idea.
Frank Feda, a father from nearby Maynard, voices other antiquated notions. "We won't be under the same constraints as regular public schools," he explains, "so we'll be able to make tough choices. We can flunk kids who aren't ready to pass. We can fire a teacher who just isn't performing. Try doing that in a regular school."
Last summer, most of these parents didn't know one another. What brought them together was desperation at the state of public education in their towns. All of them had been deeply involved in their children's schools. They had worked as classroom or library volunteers, run for school committee, participated in parent-teacher organizations.
But the more they saw, the less they liked. The schools lacked discipline but had plenty of sex education. The teachers were more obsessed with "self-esteem" than with academics. Lesson plans were emphatic in their political correctness but didn't stress spelling correctness.
Gradually, desperation jelled into resolve. The parents decided to compete for one of the 12 school charters to be issued in Massachusetts this year. Their goal: to build the kind of school that used to be commonplace in America — one providing a rigorous, traditional, fact-based education grounded in cultural literacy and moral character.
Applying for a charter is easier said than done. It took the parents hundreds of hours of research, calculation, and consultation — all on their own time and at their own expense. In January they submitted a proposal, blunt and blessedly jargon-free, to the state department of education. On Feb. 26, they will learn whether they made the final cut.
As word has spread of the type of school the North Bridge parents are planning, hundreds of families have signaled an interest. No surprise: Charter schools are the fastest-growing educational movement in America. In 1992 there was one such school; today there are more than 800, with an enrollment of more than 200,000 students — and tens of thousands waiting to get in.
In some states, such as Michigan, so many parents have opted to send their children to charter schools that local officials have been reduced to begging parents to reconsider. In Mesa, Ariz., where 20 charter schools have enrolled more than 5,000 students, the school district has been running ads to try to win some of them back.
But too many parents are beyond wooing. For all the hundreds of billions of dollars being poured into "education reform," they have lost hope that the regular public schools can be reformed. They want what the North Bridge parents want: Schools that operate the way schools used to operate. No funky educational theory. No gibberish about "higher-order learning skills." No "whole math" that doesn't use numbers. No reading without phonics.
What the North Bridge parents have in mind for their students is a truly classical education, right down to penmanship, daily assemblies, Latin — and a belief not only in excellence, but in excellence that can be measured. "It worked for our parents," remarks Amy Contrada, who studied violin at Oberlin and now raises two kids in Acton. "Why wouldn't it work for our children?"
The scene in the D'Ambrosios' living room is being mirrored all over the country. It presages the end of public education as we know it and a return to education as it was known. Whether this particular group of reformers gets its charter is almost beside the point. "There are so many other parents who are equally frustrated," Contrada says. "We run into them all the time. We want them to know they're not alone. They might be up against these big, gray school bureaucracies, but they have to know they're not alone.
"This seemed like such a ray of hope. We figured we'd give it a try."
(Jeff Jacoby is a columnist for The Boston Globe).
-- ## --
Follow Jeff Jacoby on Twitter.
Discuss his columns on Facebook.
Want to read more? Sign up for "Arguable," Jeff Jacoby's free weekly email newsletter.