In the 1993 film "Philadelphia," Tom Hanks portrayed Andrew Beckett, a gay attorney who is fired from his law firm after contracting AIDS. For his compelling, compassionate performance, Hanks won the Academy Award for Best Actor the following year.
"Philadelphia" — which was directed by Jonathan Demme and also starred Denzel Washington, Jason Robards, and Antonio Banderas — made history. It was the first big-budget Hollywood film to deal with the AIDS crisis in the United States, and Hanks's performance of a gay man sick with what was then an incurable disease brought his formidable star power — and exceptional acting talent — to a story no major studio had previously been willing to put on the screen. The critic Roger Ebert likened it to "Guess Who's Coming to Dinner," the 1967 picture, also a Hollywood first, about an interracial romance.
Hanks's performance in "Philadelphia" was so memorable because Hanks is a gifted actor who entered into the role of Beckett with wholehearted integrity. "Honor and shame from no condition rise," wrote Alexander Pope. "Act well your part, there all the honor lies." Hanks did just that in "Philadelphia" and it may be that the film could never have achieved the success it did — it earned more than $200 million at the box office, the equivalent of almost $400 million in 2022 — without him. Its impact was not merely financial. "The film was a catalyst for conversations, acceptance, and other film projects that might never have made it out of the closet," wrote Holly Millea in a 2019 Smithsonian Magazine retrospective. "Thanks in part to that kind of AIDS education and awareness, the stigma of the disease is no longer as strong in the United States."
Hanks's exceptional performance had nothing to do with his own sexual orientation. He isn't gay. He also isn't a lawyer, he doesn't live in Philadelphia, and he never had AIDS. He acted all those things. He would be acting all those things if "Philadelphia" were being made today with Hanks in the leading role — just as he acted the part of a low-IQ Southerner who becomes an All-American running back and Medal of Honor recipient in "Forrest Gump," of astronaut Jim Lovell in "Apollo 13," of a young widower with a 7-year-old son in "Sleepless in Seattle," and of a US Army Ranger captain who landed at Omaha Beach on D-Day in "Saving Private Ryan." To none of those acclaimed roles did Hanks bring the experience of someone who had lived them in real life. Did that diminish the believability and acumen of his portrayals? Clearly not. Did it undermine the impact of those films? The audiences certainly didn't think so.
Yet Hanks says that if "Philadelphia" were being made today, an actor who isn't gay would never be cast for the lead. "Could a straight man do what I did in 'Philadelphia' now?" he muses in a lengthy interview with David Marchese for the New York Times Magazine. "No, and rightly so."
The whole point of "Philadelphia" was: Don't be afraid. One of the reasons people weren't afraid of that movie is that I was playing a gay man. We're beyond that now, and I don't think people would accept the inauthenticity of a straight guy playing a gay guy. It's not a crime, it's not boohoo, that someone would say we are going to demand more of a movie in the modern realm of authenticity.
Does Hanks actually believe that? Or is he just saying it to keep the woke mob from his doorstep? The "authenticity" argument — the contention that dramatic roles must go only to actors who check the same demographic box as the people they portray — may line up with politically correct notions about "cultural appropriation," but it flies in the face of what good actors do.
Actors pretend. They embody characters and bring them to life. When Gal Gadot was named two years ago to play Cleopatra in an upcoming film, there were complaints about the casting of a "white" actress (actually, Gadot is of Middle Eastern/North African descent) to play the last of the Egyptian Pharaohs. "Great acting doesn't depend," I wrote at the time,
on whether the race, sexual orientation, gender identity, ethnicity, religion, color, or physical condition of actors matches that of the character they are depicting. It depends on whether the actors can surmount such considerations — whether they can make their portrayals so believable, so compelling, that audiences see not the actor, but the character.

Lin-Manuel Miranda's "Hamilton" cast non-white actors and actresses to portray America's founders in what became a mesmerizing theatrical experience. Liam Neeson, an Irishman, played the German Nazi industrialist Oskar Schindler with riveting humanity and moral insight. Eddie Redmayne, who appears healthy in every way, carried off the role of a severely paralyzed Stephen Hawking in "The Theory of Everything" so brilliantly that Hawking himself said: "At times, I thought he was me." Dev Patel, whose parents are Gujarati Indians, looks nothing like David Copperfield as Charles Dickens imagined him — but in a new movie, he brings the character to life more exuberantly and convincingly than many white actors have.
To attack actors for playing characters unlike themselves is to attack dramatic art itself. But by now identity politics infects great swaths of contemporary culture, from law to academia to business. There was never a chance that the acting profession would be immune. Scarlett Johansson came under fire in 2018 when she agreed to star in "Rub & Tug," a film about a transgender brothel owner, Dante "Tex" Gil. Tilda Swinton was blasted for playing the Ancient One in "Doctor Strange," a role adapted from a character that was Asian in the original Marvel comic. Disney was condemned for picking Jack Whitehall, a straight actor, to play a "campy gay man" in the adventure comedy "Jungle Cruise." Latina magazine rebuked moviemakers for filling Hispanic roles in at least 13 movies with non-Hispanic actors. The able-bodied Bryan Cranston was slammed for taking on the role of a quadriplegic in "The Upside."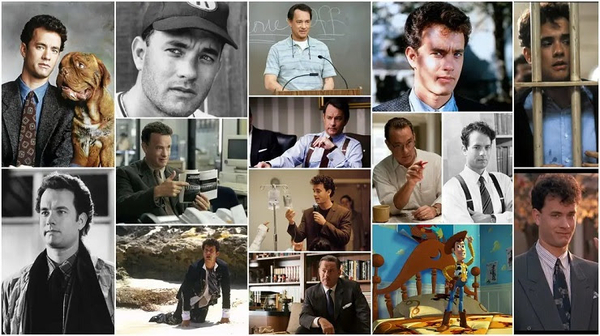 Tom Hanks has portrayed dozens of characters in his long and successful acting career.
As a result of such attacks, movies have been killed before they could be made and actors browbeaten into disqualifying themselves from whole categories of scripts. The backlash against Johansson prompted her to give up the role of Gil, which resulted in the film being scrapped altogether. Darren Criss (who won Emmy and Golden Globe awards for his TV portrayal of a gay assassin, Andrew Cunanan) announced that he would no longer play LGBT characters because he doesn't want to be "another straight boy taking a gay man's role." And now even Hanks pays lip service to "the inauthenticity of a straight guy playing a gay guy."
To insist that only actors who are X be tapped to play characters who are X is to insist that acting can never be more than skin deep. It is to declare that the extraordinary artistry and talent of great actors — their power to inhabit a role and make it real — must be restricted at all times to rigid lanes of race, gender, and whatever other categories the ideological commissars deem inviolable. It is to tell performers to stay in their own narrow lanes, to stick to characters just like themselves, and under no circumstances to transmit experiences and truths that they don't know from their own lives.
But transmitting experiences and truths that they don't know from their own lives is the very purpose of actors' careers. If anyone knows that, Hanks does. What a disappointment that he would avoid saying so.
* * * * * * * * * * * * * * * * * * * * * * * * * * * * * * * * * * * * * * * * * * * * * * * * * * * *
Do Christian lives matter?
When a white supremacist from Australia carried out a deadly slaughter at two New Zealand mosques in 2019, there was outrage and condemnation throughout the country and around the world.
New Zealand's Prime Minister Jacinda Ardern called the massacre, which left 51 people dead and 40 wounded, an "act of extreme and unprecedented violence" on "one of New Zealand's darkest days." A Muslim prayer service the following Friday was broadcast nationally on radio and television and attended by 20,000 people, and a two-minute silence was observed during a national day of reflection.
The reaction from global leaders was swift and strong. UN Secretary General António Guterres urged the world to "stand united against anti-Muslim hatred and all forms of bigotry and terror." The Queen of England, President Donald Trump, and the prime ministers of Canada and India expressed shock and sadness. Pope Francis prayed for "the healing of the injured" and invoked the "blessings of comfort and strength upon the nation" of New Zealand. Flags in Australia were lowered to half-mast, and a Moscow landmark, the Ostankino tower, was darkened in tribute to the victims.
The world's reaction to the slaughter this month of some 50 worshipers at a Catholic church in Nigeria has been very different.
The attackers who opened fire and detonated explosives at St. Francis Catholic Church in the southern city of Owo just as the weekly Mass was beginning on June 5 left their victims lying in pools of blood. "Only fiends from the nether region could have conceived and carried out such a dastardly act," said Nigeria's president Muhammadu Buhari.
Unlike the mosque attacks in New Zealand, the butchery in Owo is part of a pattern. Christians in Nigeria, writes Raymond Ibrahim of the Gatestone Institute, are being "purged in a genocide" committed by Islamist extremists. Since 2009, a jihadist insurgency launched by the terror group Boko Haram has sent a horrifying number of victims to early graves. "Over 60,000 Christians have either been butchered or abducted during raids," notes Ibrahim. "About 20,000 churches and Christian schools have also been torched and destroyed during the same timeframe."
According to Open Doors, a California-based non-governmental organization that assists endangered Christian communities worldwide, one Christian is killed, on average, every two hours in Nigeria. In 2021, the confirmed death toll was 4,650, making Nigeria the world's deadliest nation for Christians for the second consecutive year.
Among those who died in the June 5 massacre in Owo was Veginus Nwani, who was killed together with his 11-year-old daughter, Chidiogo. Another victim was Caroline Agboola, 68, a widow who earned a living by making and selling akara, a popular Nigerian street food. The owner of an electronics shop, Umunna Okafor, 37, tried to shield his son with his own body; the BBC reported that the bullets tore through them both.
Such horror stories have become almost routine in Nigeria. "Terrorist groups, including Boko Haram and ISIS-West Africa, attacked population centers and religious targets, including churches and mosques," reported the US State Department in its most recent annual report on international religious freedom. It continued:
According to NGOs such as [the International Crisis Group], the level of insecurity and violence increased, including in the predominantly Muslim North West, where expanded numbers of criminal groups carried out thousands of killings, kidnappings, and armed robberies. . . . For example, in May, criminals shot and killed eight Christians and burned down a church and several homes in Kaduna State. . . . Muslim herders killed at least 49 persons and abducted 27, most of whom were Christian, in several attacks on communities in religiously mixed southern Kaduna State.
There have also been cases of deadly assaults in which Muslims were the victims, such as an August attack on a bus coming from an Islamic prayer gathering that ended with the killing of 27 travelers . But it is overwhelmingly Christians who have been targeted in religious violence. Among the most brutal perpetrators, reported Nina Shea, the director of the Hudson Institute's Center for Religious Freedom, are ethnic Fulani militias, a jihadist terror operation that has become a key "source of mayhem in Nigeria today." In an article last summer, Shea provided background:
While Boko Haram garnered international headlines with the first mass kidnapping of schoolchildren, the enslavement of Christian girls, and ISIS-like beheadings of "infidels," it is widely recognized that in recent years the Fulani militants have surpassed Boko Haram as the most dangerous threat to Nigeria's Christians. Accounts of Fulani herder attacks and growing extremism have come from an all-party parliamentary group in Great Britain, from the pontifical foundation Aid to the Church in Need, and from the Global Terrorism Database, established by the Department of Homeland Security and housed at the University of Maryland.

The Nigerian-based International Society on Civil Liberties and the Rule of Law (Intersociety) documented in its midyear report that "jihadist Fulani herders" were responsible for 1,909 of the 3,462 Christians killed in the country in the first half of this year. The remainder, Intersociety reports, were killed by ISIS-affiliated and other Islamist terrorists, their security-force collaborators, and the bandits who will kidnap, rape, and kill any Nigerian. Intersociety further finds that Fulani militias now target Christian areas in all six Nigerian regions.
Among the ghastliest attacks on Christians are those in which the victim or victims are accused of "blasphemy." One such victim was Deborah Samuel Yakubu, a student at Shehu Shagari College in the northern Nigerian city of Sokoto. Eyewitnesses reported last month that she was beaten to death and set on fire by Muslim students who accused her of posting offensive statements in a WhatsApp group. According to Christian Solidarity International, a respected human rights group based in Switzerland, her WhatsApp message had merely asked people not to post religious messages. Someone circulated a rumor that she had insulted Muhammad, the founder of Islam, and she was killed the next day.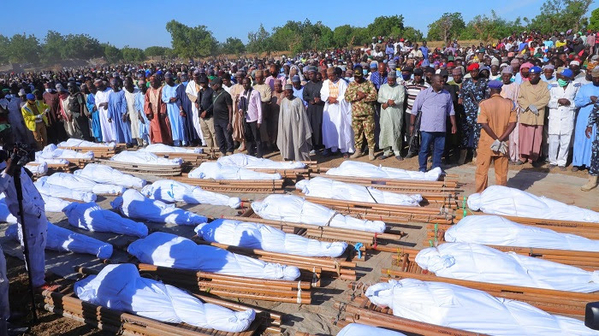 Mourners at a funeral for victims killed by Boko Haram militants in Zaabarmar, Nigeria, on November 29, 2020.
More from CSI:
Deborah's murder comes after a particularly bloody week for Nigerian Christians. On May 11, ISIS' affiliate in Nigeria released a video showing 20 Christians being executed. On May 5, eight Christians, including two children , were murdered by Fulani militants in Plateau state. Hundreds of Christians have been killed in Fulani militia attacks in Plateau and Kaduna states in the last two months.
That was more than a month ago. Now that horror has been eclipsed by the carnage in Owo.
Why has there been no global outrage about what is happening to Nigeria's Christians? Where are the flags at half-mast, the expressions of concern by the American president, the plea from the UN secretary general? Why did the Biden administration remove Nigeria from its list of countries with egregious records of engaging in or tolerating violations of religious freedom? Why did the European Parliament last month vote not to appoint a coordinator to investigate the persecution of Christians in Nigeria and elsewhere?
In raw numbers, Christians are the most persecuted religious group on Earth and have been for years. Evidence is all too abundant — from the steady disappearance of Christian communities in the Middle East to the monstrous repression of Christians in North Korea, from the barbaric penalties imposed on Christians in Pakistan to the public lynching of Christians in India, from the bombing of Catholic churches in the Philippines to the jihadist pogroms against Coptic worshipers in Egypt. Anti-Christian bigotry is a leading cause of bloodshed in our time. It should be getting more attention than it does.
Christians today number almost 2.4 billion. Nearly one of every three people alive on Earth is Christian; so are some of the world's most powerful nations. It may be hard for some to square such demographic dominance with the vulnerability of Christians in many regions and countries. But that vulnerability is real. Far too many Christians are dying for their faith. We should be crying out in their defense.
* * * * * * * * * * * * * * * * * * * * * * * * * * * * * * * * * * * * * * * * * * * * * * * * * * * *
What I Wrote Then
25 years ago on the op-ed page
From "In defense of 'an eye for an eye'," June 24, 1997:
To the world in which the Bible first appeared, such a notion — that justice should be proportionate — must have seemed revolutionary. Ancient lawmakers, less concerned with fairness than order, often decreed death for minor offenders, or even innocents. Under the Code of Hammurabi, if Amon built a storehouse for Marduk, and Marduk's daughter died when the building collapsed, Amon's daughter was to be killed in retaliation. How astonishing this new law must have been to the judges of Babylon and Egypt. A legal system under which only the guilty could be punished, and then only in proportion to their crimes? Outlandish!

"An eye for an eye." Not two eyes for an eye, not an eye and a leg for an eye, not your life for an eye. And not just a slap on the wrist either. Exodus teaches a fundamental lesson about justice and decency: Criminal law must not permit vast disparities between the magnitude of the offense and the magnitude of the punishment. It is barbaric to hang pickpockets — as British law was doing not so long ago. It is equally barbaric to turn murderers loose after six or seven years in prison — as American law does today.
* * * * * * * * * * * * * * * * * * * * * * * * * * * * * * * * * * * * * * * * * * * * * * * * * * * *
The Last Line
"I guess I felt it was my turn now to move, and so went running — leaping, leaping, pounding, and tingling over the pure white lining of the gray Arctic silence." — Saul Bellow, Henderson the Rain King (1959)
* * * * * * * * * * * * * * * * * * * * * * * * * * * * * * * * * * * * * * * * * * * * * * * * * * * *
(Jeff Jacoby is a columnist for The Boston Globe).
-- ## --
Follow Jeff Jacoby on Twitter.
Discuss Jeff Jacoby's columns on Facebook.
Want to read more Jeff Jacoby? Sign up for "Arguable," his free weekly email newsletter.