The return of 'Public Enemy No. 1'
Consumer prices rose 7.9 percent during the 12 months from February 2021 to February 2022, according to the federal government's Bureau of Labor Statistics. Increasingly expensive gasoline, housing, and food contributed the most to the spike, but the price of just about everything is going up. Americans are experiencing the steepest inflation rate in more than 40 years, and there is little reason to believe that the surge in prices won't get worse before it gets better.
If you lived through the 1970s — "that slum of a decade," in Michael Barone's exquisite phrase — you may remember what it was like when inflation really did keep getting worse before it got better. That was the era when prices rose by double-digit percentages, when President Gerald Ford labeled inflation "Public Enemy Number One," and when Washington launched a Whip Inflation Now campaign to restrain prices through frugal shopping and the wearing of lapel buttons. (It didn't work.) In How We Got Here, his vivid history of the Seventies, David Frum notes that in just the three years from 1972 to 1975, "the median price of a new home in the United States jumped by nearly 50 percent." Continues Frum:
Worse than the rise in housing prices was the rise in interest rates. Baby boomers who had grown up in homes financed at 4.5 percent were by 1975 facing mortgage rates that had passed 9 percent. In 1950, seven out of 10 American families could afford the monthly payments on a median-priced new home; by the end of 1975, only about four of 10 families could.

Working Americans were also being squeezed by surging prices of food, clothing, and fuel. The cost of meat, poultry, and fish rose by more than 40 percent between August 1972 and August 1973, so fast that steakhouse menus arrived with stacks of little white handwritten stickers over their printed prices. I remember being taken out to dinner as a boy of 12 and scraping off a little mountain of superimposed surcharges to gaze at the primordial price at the very bottom. I felt like Heinrich Schliemann, digging through the fragments of forgotten centuries to gaze at a lost world, where a ribeye with baked potato at a restaurant with red-leather banquettes cost $5.95. . . .

No eye could penetrate to the bottom of the 1970s economic slump. The dollar seemed to be melting away. It took only 35 of them to buy an ounce of gold in 1970s, and 875 to buy an ounce in 1980.
Price hikes weren't the only way that manufacturers and merchants dealt with the shrinking purchasing power of the dollar. The 1970s saw a wave of product downsizing, or "shrinkflation," as it eventually came to be known. Rather than raise the price for a given quantity of some product, many vendors kept prices unchanged but reduced the quantity of what they were selling.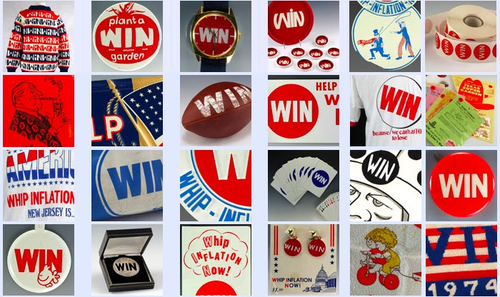 The slogan was catchy, but it didn't bring down prices.
"In late summer of 1974, for example, Woolworth's offered a packet of pencils at its back-to-school sale for 99 cents – same price as the previous year," writes Stephen Mihm, a professor of history at the University of Georgia. "But . . . the packages only contained 24 pencils, six fewer than the previous year." Some examples of shrinkflation from that era were truly egregious. Gumball makers, unable to reduce the overall size of the gumballs sold through mechanical dispensers, managed to downsize them all the same through the expedient of making them with hollow centers. Cans of Brim decaffeinated coffee didn't get any smaller, yet they contained 11.5 percent less coffee after the company devised a way to expand the volume of the contents by "puffing" them with air.
The phenomenon never went away, of course. When, as a law student in Boston, I first began shopping regularly for groceries, yogurt was sold in 8 oz. cups. By the turn of the millennium, when I had become a father, the standard size had dropped to 6 ounces. In grocery stores today, yogurt comes in 5.3 oz containers. Countless other products have shrunk as well, from cartons of ice cream to cake mixes to toilet paper to deodorant. Oh, and newspapers, too.
Still, as inflation over the past 15 months has surged to levels not seen in more than a generation, so has the rate at which manufacturers have resorted to shrinking their products in order not to have to raise prices. To add insult to injury, some of them claim that in giving customers less for their money, they're actually giving them more.
"Gatorade — the sports drink brand of PepsiCo — recently replaced its 32 oz. size with a 28 oz. bottle for the same price. That's the equivalent of a 14 percent price increase," reported Quartz this month. But to hear PepsiCo tell it, this is good news for consumers.
"Basically we redesigned the bottle, it's more aerodynamic and it's easier to grab," a company spokesperson told Quartz. "The redesign generates a new cost and the bottles are a little bit more expensive . . . this is only a matter of design." But do customers prefer the new shape enough to relinquish one-eighth of the quantity they were used to? Quartz posed the question, but "Gatorade did not respond."
Frito-Lay recently reduced its large bag of Doritos from 9.75 ounces to 9.25 ounces. To consumers, that means five fewer chips per bag. To the company, it means an estimated savings of 21 cents per bag. Multiply 21 cents by the tens of millions of bags of Doritos sold each year, and it's apparent that the half-ounce reduction amounts to a transfer of millions of dollars to the company from its customers. Yet Frito-Lay claims to be doing shoppers a favor. "We took just a little bit out of the bag," a spokesperson said blithely, "so we can give you the same price and you can keep enjoying your chips."
To be clear, none of this is illegal. Arguably it's not even unethical. Packages are required by law to display the net weight or quantity of the product being sold, so customers who check labels carefully will always know what they're getting. Still — how many of us focus carefully on the fine print of a product we've been buying for years? When the price doesn't appear to change, how likely are we to realize that we're getting less for our money?
Inflation is inflation, whether it takes the form of a higher price or a smaller product size (or skimpier service). In every case, consumers are getting less for the dollars they spend. But only overt price hikes are reflected in the government's inflation statistics. Which means that those statistics, disturbing as they have been lately, are actually understating the inflation that Americans are experiencing. The true cost of living is rising faster than the official inflation numbers indicate.
Americans too young to remember the 1970s may not grasp how hated inflation can become, or how it can decimate the political welfare of the party in power. Jimmy Carter was turned out of office after one term in part because inflation was wreaking havoc on Americans' lives. "Is it easier for you to go and buy things in the stores than it was four years ago?" Ronald Reagan asked in the closing days of the 1980 presidential campaign. The answer was obvious to everyone — and it proved devastating to the incumbent and his party.
Barring something unexpected, the return of inflation to American life in the 2020s is likely to be similarly devastating to the political prospects of Joe Biden and his party. In a recent CBS/YouGov survey, 58 percent of respondents said that Biden wasn't focusing enough on the economy generally. An even higher share, 65 percent, said that about inflation in particular. Such views lead political analyst William A. Galston, a lifelong Democrat, to call inflation "President Biden's biggest political problem."
He gets no argument on that score from Victor Davis Hanson, a conservative historian at the Hoover Institution, who wrote movingly in a recent essay about the misery that inflation inflicts:
[I]nflation is an equal-opportunity destroyer of dreams. It undermines rich and poor, Democrats and Republicans, conservatives and liberals. It unites all tribes, all ideologies, all politics against those who are perceived to have birthed the monstrous octopus that squeezes everything and everyone it touches.

The conservative passbook holder sees his meager life savings eaten away. The liberal teacher's car payments stretch from six to 10 years.

The prospective Republican home buyer sees his hard-earned potential down payment eaten away each month. The Democratic carpenter feels his new higher wages buy even less. . . .

[I]nflation is ubiquitous, inescapable, omnipotent — and humiliating. It destroys personal dignity. . . . [I]t cannot be avoided for a day. You cannot tune it out. . . . Inflation attacks everyone in 24/7, 360-degree fashion.
Inflation in this country was crushed into submission in the 1980s. For nearly four decades it remained so low that it ceased to have importance as a political phenomenon. Now it has broken loose. The president and his advisers for too long denied that inflation was real, and now seem clueless about how to rein it in. They don't have much time to figure it out. Elections are less than nine months away.
* * * * * * * * * * * * * * * * * * * * * * * * * * * * * * * * * * * * * * * * * * * * * * * * * * * *
Where Thidwick went wrong
During the years my kids were small, the Jacoby household accumulated a lot of Dr. Seuss books, quite a few of which were read again and again and again. My wife's favorite has long been Dr. Seuss's Sleep Book, with its round-the-world report on how a single yawn from "a very small bug/ By the name of Van Vleck" eventually causes "ninety-nine zillion, nine trillion and two" creatures to grow drowsy and fall asleep.
My favorite Dr. Seuss book, hands down, is Thidwick the Big-Hearted Moose. (A close second is Yertle the Turtle, a paean to liberty and civil disobedience.) So when I read that Netflix had signed a deal to create animated shows based on five Dr. Seuss books, Thidwick among them, my first reaction was delight at the thought of all the boys and girls who would be introduced to Theodor Seuss Geisel's masterpiece.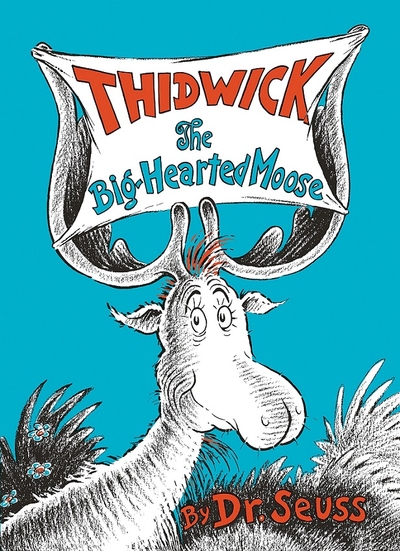 Dr. Seuss's 1948 book is a parable about self-respect, the danger of an entitlement mentality, and the abuse of democracy.
About 20 seconds later, though, it occurred to me to wonder whether Netflix, with its left-leaning corporate culture, would be true to the plot and message of Thidwick — or would recast them to fit a more watered-down agenda. Sure enough, the one-line description of the new project makes it sound like nothing more than a heaping spoonful of kumbaya.
When a grumpy moose leader decides that he wants to be the happiest moose in the pack, he calls upon sweet Thidwick to help him. As this unlikely duo embarks on a comical adventure, Thidwick discovers that the key to happiness is being kind to others.
Not to put too fine a point on it, that has exactly nothing to do with the story written by Dr. Seuss.
First published in 1948, Thidwick the Big-Hearted Moose is a splendid parable about the limits of hospitality, the insatiability of free riders, the importance of self-respect, and the risk that unrestrained entitlements can hobble well-intended and productive members of society under a load they cannot bear.
As the story opens, Thidwick, a friendly and easygoing moose, is grazing along the northern shore of Lake Winna-Bango. When he is hailed by a Bingle Bug, who asks if he can hitch a ride on the moose's antlers, Thidwick cheerfully assents: "There's room there to spare, and I'm happy to share!/ Be my guest and I hope that you're comfortable there!"
Almost at once, however, a Tree-Spider jumps aboard, invited not by Thidwick but by the Bingle Bug, who serenely declares that the moose won't object because "he's the big-hearted kind." Then a "fresh little Zinn-a-zu-Bird" invites himself onto Thidwick's antlers, reasoning that "if there's room there for two, then there's room there for three!" To which the bug replies gaily, "There's plenty of room . . . and it's free!"
The bird not only settles himself on the moose's head without permission, he then begins "yanking hairs out of poor Thidwick's head" — 204 of them, to be precise — in order to build a nest. He doesn't apologize for the pain he causes, still less for appropriating the moose's hairs without permission. He sees no need to, since Thidwick "can always grow more."
Thidwick isn't happy to find himself being abused in this way, but he resolves to be a "good sport" on the grounds that "a host, above all, must be nice to his guest."
Soon Thidwick finds himself supporting a large population of mooches, including more birds (among them a woodpecker that drills holes in his antlers), a family of squirrels, a bobcat, and a turtle, all of whom quickly come to regard his hospitality as an entitlement that may not be curtailed. When the moss on the lake's northern shore runs out, Thidwick faces starvation unless he can swim to the southern shore for food. But his "guests" refuse to countenance such a thing. They demand that the issue be put to a vote, with predictable results:
He stepped in the water. Then, oh! what a fuss!
"STOP!" screamed his guests. "You can't do this to us!
These horns are our home and you've no right to take
Our home to the far distant side of the lake!"

"Be fair!" Thidwick begged, with a lump in his throat.
"We're fair," said the bug.
"We'll decide this by vote.
All those in favor of going, say 'AYE,'
All those in favor of staying, say 'NAY'."

"AYE!" shouted Thidwick,
But when he was done,
"NAY!" they all yelled.
He lost 'leven to one.

"We win!" screamed the guests, "by a very large score!"
And poor, starving Thidwick climbed back on the shore.
Thidwick's free riders aren't finished imposing on his soft-hearted nature. Having asserted their entitlement to a property right in the moose's antlers, they proceed to invite even more creatures to join in taking advantage of him:
They asked in a fox, who jumped in from the trees,
They asked in some mice and they asked in some fleas.
They asked a big bear in and then, if you please,
Came a swarm of three hundred and sixty-two bees!

Poor Thidwick sank down, with a groan, to his knees.
He keeps telling himself that "a host, above all, must be nice to his guests" — but the uninvited squatters aren't his guests, they are his abusers. They are violating Thidwick's personal domain, appropriating his resources, and undermining his security. Worst of all, they claim to be doing so by right: After all, they voted and he lost! The author of Thidwick the Big-Hearted Moose was a passionate opponent of fascism, but he understood that political and economic legitimacy requires more than the bare exercise of voting. Democracy, it has been said, is two wolves and a lamb voting on what to have for lunch. Thidwick conveys that message in terms even young children can understand.
Why is the moose so reluctant to stand up for his right to dispose of what any reasonable observer knows is his alone? Hospitality and generosity are admirable qualities, but Thidwick clings to them even when they reach the point of self-abnegation. That isn't admirable, it's irrational. It is a threat to Thidwick's own self-preservation. Fixated on being a "nice" host, he is on the point of sacrificing himself in order not to inconvenience his unwanted "guests." Here, too, is a message for young children: It is wonderful to be big-hearted, but don't let yourself be intimidated by bullies who would take advantage of your good nature. You don't have to acquiesce when someone wants access to your body, your property, or your labor. Learn to say "No" when your self-respect and safety are at stake.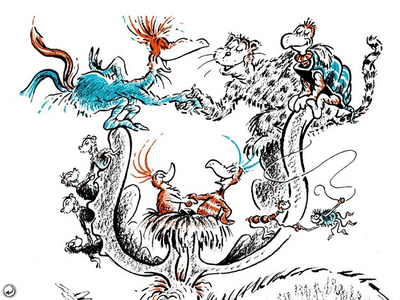 The freeloading squatters in Thidwick's antlers treat their encroachment on his freedom and property as an entitlement.
Thidwick's reluctance to stand up for his own interest — and to oppose the outrageous demands made on him by his freeloading passengers — come perilously close to causing his death. When hunters appear on the scene, the moose is too weighed down to race away on foot and too browbeaten by his tormentors to plunge to safety in the lake. At the last minute, serendipity intervenes:
Today was the day,
Thidwick happened to know . . .
. . . that OLD horns come off so that NEW ones can grow!
He sheds his antlers, escapes both the hunters and his parasitic squatters, and crosses the lake to a safe and happy ending.
"One way to interpret Thidwick," writes Aeon J. Skoble, a professor of philosophy at Bridgewater State University, "is as a cautionary tale to the effect that we can be complicit in our own oppression." This isn't merely a fanciful children's story about a moose who allowed an insufferable, self-righteous, and importunate menagerie to occupy his head and curtail his freedom. It is also an allegory about the dangers of keeping silent when confronted with insufferable, self-righteous, and importunate claims from people and groups whose demands are illegitimate and whose moral authority is spurious.
What a wealth of provocative ideas Dr. Seuss packed into Thidwick! What a pity that Netflix sees in such a remarkable book merely a vehicle for delivering pabulum.
* * * * * * * * * * * * * * * * * * * * * * * * * * * * * * * * * * * * * * * * * * * * * * * * * * * *
What I Wrote Then
25 years ago on the op-ed page
From "A message to my newborn son," March 27, 1997:
You are only 16 days old, and virtually everything about you is still a mystery. Are you smart? Are you strong? Are you lucky? Already my love for you is more intense than I thought possible — and yet I know almost as little about you as you know about me.

I have no idea what color your eyes will be, or when you will speak your first word, or which of your parents you will more closely resemble. I don't even know when you'll next need to be nursed.

But I do know what I want you to be when you grow up.

I want you to be good.
* * * * * * * * * * * * * * * * * * * * * * * * * * * * * * * * * * * * * * * * * * * * * * * * * * * *
The Last Line
"His soul swooned softly as he heard the snow falling faintly through the universe and faintly falling, like the descent of their last end, upon all the living and the dead." — James Joyce, "The Dead," from Dubliners (1914)
* * * * * * * * * * * * * * * * * * * * * * * * * * * * * * * * * * * * * * * * * * * * * * * * * * * *
(Jeff Jacoby is a columnist for The Boston Globe).
-- ## --
Follow Jeff Jacoby on Twitter.
Discuss Jeff Jacoby's columns on Facebook.
Want to read more Jeff Jacoby? Sign up for "Arguable," his free weekly email newsletter.