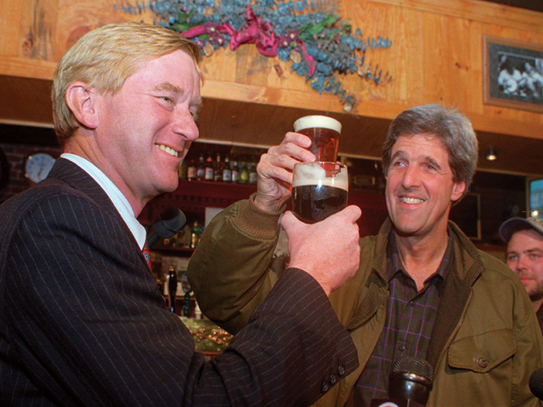 In 1996, Governor Bill Weld unsuccessfully challenged John Kerry in the US Senate race. Always tiring of his current job, Weld is ever campaigning to land a new one.
CLINTON ADMINISTRATION wannabe William Weld says he is going to resign the Massachusetts governorship at 5 p.m. today, but who can be sure? If Weld's recent history attests to anything, it is that he is least to be trusted when he is speaking of his career plans.
He ran for reelection in 1994 because, he said, there was still the danger of a relapse into Dukakisism. He had to stay on as governor lest Massachusetts "revert to the terrible, misguided mistakes of the past." On one point he assured and reassured the public. "I plan," he said at every stop, "to serve out my term if I am fortunate enough to be reelected." Never mind the rumors that he was hungry for national office. If he won a second term, he would serve it out.
Taking him at his word, the voters returned Weld to office in a landslide. But no sooner had his inaugural hangover worn off than he began plotting a run for president. His political guru, Republican strategist John Moffitt, began floating hints that Weld "would match up very well against Bill Clinton." Weld himself observed that "the horses are going to start lining up in the next few months." His advisers set about drafting a campaign plan. By the beginning of 1995, the governor who had passionately pleaded for a second term was immersed in the question of how to win New Hampshire.
Eventually Weld opted out of a White House run — not because of his duties as governor, but because of his family. "A campaign for president would allow me to be home virtually zero nights and zero weekends," he said. As an afterthought he added that it "would also make me an absentee governor."
So was he now ready to buckle down to his gubernatorial duties? He was not. After taking himself out of White House contention, Weld signed on as finance director of California Governor Pete Wilson's presidential campaign. With a vigor he had never displayed in the State House, Weld plunged into the Wilson operation, showing an interest in almost nothing else.
In the first five months of 1995, Weld traveled constantly for Wilson, leaving his office empty one of every four working days. When a tornado ripped through the Berkshires, shattering the town of Great Barrington, Weld was in Los Angeles. When the Legislature held a key hearing on the death penalty — an issue Weld claimed was a top priority — he was campaigning for Wilson in Virginia. His absence became a joke. The Boston Globe began clocking his local appearances in an ongoing "Weld Watch." A radio station, WRKO, launched a "Where's Weld-o?' manhunt, sending two talk-show hosts into the streets to find him.
Eventually, Wilson's quest for the White House fizzled. Once again Weld faced the dreaded prospect of having to actually do his job. And so once again he set his sights on another job. On Nov. 29, 1995, less than 11 months into his second term, he announced that he would seek Democrat John Kerry's US Senate seat. His work in Massachusetts was done, Weld averred. He was needed on the national stage. "We've succeeded in changing the political culture in Massachusetts for the better. Now it's time to change the political culture of Washington, D.C."
In 1994, the voters had given Weld the office he sought so ardently, only to see him lose interest as soon as he got it. In 1996, they were less indulgent. Kerry defeated Weld, 52-45 — and the governor resumed his job search.
He was willing to take any job, it seemed. Even a job with Bill Clinton. So what if he was a Republican? So what if he had gone to Little Rock to campaign against Clinton in 1992? So what if he had proclaimed himself Newt Gingrich's "ideological soulmate?" Just because Weld says something doesn't mean he believes it. As one observer has noted, he is a little loose with his lips. He'll blithely declare flip on Monday only to pronounce flop by Thursday.
Weld yearned to join Clinton's Cabinet. Commerce secretary, attorney general, didn't matter. Anything would do — anything to spare him the tedium of finishing his second term.
When Clinton passed over Weld, the governor trotted out a new gambit. He was thinking, he said, of running for a third term. If the Democrats nominated Representative Joseph Kennedy, Weld crowed, he would "kick Joe K's ass." One might have expected the public to be shocked: Weld was the national cochairman of US Term Limits and had vowed for years to serve no more than two terms. But Weld's about-faces shock no one anymore, for nobody still imagines that his word is his bond.
Now Weld has Mexico on his radar screen. He says he's resigning to devote full attention to winning an ambassadorship. One of his aides explains that Weld "doesn't want to hold the people's business hostage to what's going on . . . with the nomination battle."
But Weld has been holding the people's business hostage to his career ambitions for quite a while. No doubt he would do the same in Mexico City once he grew bored with being an ambassador. For it's never the job that interests Weld; it's the campaign to win the job. And the noisier the campaign, the better: "I love to stir up the pot," he told The New York Times last week.
The question now before the Senate is this: Should the next US ambassador to Mexico be a pot-stirrer who constantly hankers for a better job? It shouldn't be too hard to figure out the answer.
(Jeff Jacoby is a columnist for The Boston Globe).
-- ## --
Follow Jeff Jacoby on Twitter.
Discuss Jeff Jacoby's columns on Facebook.
Want to read more Jeff Jacoby? Sign up for "Arguable," his free weekly email newsletter.