HIS HAIR is white now and the day is long gone when his legs could propel him over a shipyard wall, as they did in Gdansk in August 1980. But Lech Walesa's face is as familiar as ever and his personality just as brash and charismatic. Even now, to experience Walesa in person is to sense the gifts of leadership and daring that enabled a simple electrician to parlay a workers' protest into the communist world's first free trade union, and that union -- Solidarity -- into the engine of Poland's liberation.
I met Walesa this week at a luncheon hosted by the Grand Circle Foundation, the charitable arm of Boston's Grand Circle travel company. Speaking through an interpreter, he reflected on the nature of the force that shut down the Soviet empire, and on the role of the United States in a unipolar world.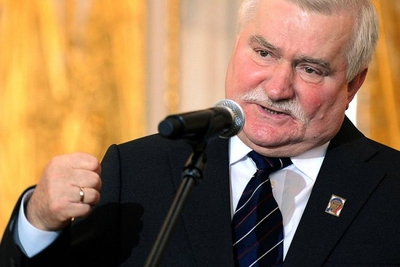 In the 1960s and 1970s, he said, no one believed Moscow's domination of Poland could be challenged -- not with 200,000 Soviet troops permanently stationed on Polish soil, and another million troops elsewhere in Eastern Europe. Nothing short of a nuclear war, Poles imagined, could ever be powerful enough to shatter the Iron Curtain.
It was then, Walesa said, "when we felt completely discouraged and totally helpless," that a Polish cardinal became pope, and began reminding his countrymen that they were not powerless to confront even the Soviet Empire. When John Paul II made his first pilgrimage to Poland in 1979, millions of Poles turned out to see and hear him. "Even the communists and secret police came and learned to cross themselves," laughed Walesa. "Of course they didn't know the proper words, so they simply said, 'one-two-three-four-five."' It was an eye-opening moment for many Poles, who suddenly realized something about those party members making the sign of the cross: "They're not really communists. They're merely radishes -- red on the outside only."
Little more than a decade later, the Berlin Wall was down, the Warsaw Pact was dissolved, and the Soviet Union -- its tanks and troops notwithstanding -- was no more. "So you see," Walesa said, "how much morality, spirit, and faith in God can accomplish."
Looking back more than a quarter-century later, he waxes almost nostalgic for the clarity of the Cold War, when the United States and the USSR confronted each other across a deep moral gulf. "Until not so long ago, there was another superpower -- the Empire of Evil, which could be blamed for much that was wrong in the world." And if the Soviet Union was an evil empire, Walesa said, the United States was "an empire of good" -- a beacon of hope to millions trapped behind the Iron Curtain. But "today, there is no longer an Empire of Evil -- so who gets blamed for everything that goes wrong?"
Walesa cannot seem to decide what he thinks about America's position in a world without the Soviet Union. On one hand, he laments that the United States, though undoubtedly the world's military superpower, is no longer the moral and political leader it once was. He faults America for appointing itself "the policeman to the world" and going to war without the imprimatur of the United Nations. He complains that Washington ignored his idea for a post-Cold War "Marshall Plan," and for not adopting his scheme to transform the UN into a reconfigured world parliament.
On the other hand, he bluntly defends the Bush administration's aggressiveness in confronting international terrorism. "If the superpower had not recognized the dangers after September 11" and reacted as it did, he says, Al Qaeda and its supporters would have grown even bolder. "Today the world would be in total chaos, total revolution -- a total mess."
It is something of a muddled message, and I wonder if it reflects an unresolved internal conflict that tugs Walesa in two directions. Does he see himself first and foremost as Walesa, the champion of Solidarity -- the natural-born leader who grasped instinctively that evil must be fought, that it will not fade away of its own volition, and that those who insist on observing every diplomatic nicety in fact are insisting on doing nothing at all? Or is he Walesa the Polish statesman -- the dignified ex-president who craves the world's good opinion, and who knows that nothing wins points in international circles like chiding the United States?
Either way, his place in history is assured. Without Walesa, Solidarity might never have been born and Poland's communist dictatorship might never have died. He was a simple electrician from Gdansk who had faith and courage when it mattered most. Because he did, millions of Europeans live today in freedom.
(Jeff Jacoby is a columnist for The Boston Globe).
-- ## --
Follow Jeff Jacoby on Twitter.

"Like" Jeff Jacoby's columns on Facebook.
Want to read more Jeff Jacoby? Sign up for "Arguable," his weekly email newsletter.