NO ONE can begrudge the survivors of the terrible Tuskegee syphilis deception the apology that President Clinton tendered them last week. The sickness and suffering that they and hundreds of other black men from Alabama were made to endure was sadistic beyond words; that the sadism was carried out by the US Public Health Service made it all the more atrocious.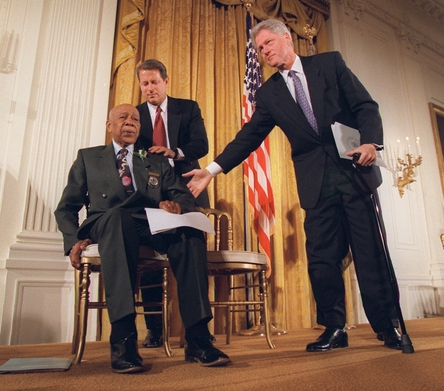 President Clinton offered a formal apology for the the U.S. government's sadistic treatment of syphilis patients at the Tuskegee Institute in Alabama in the 1930s.
"The United States did something that was wrong — profoundly, morally wrong," said Clinton during a White House ceremony. "What the United States government did was shameful, and I am sorry."
Clinton's apology was moving. He spoke with dignity. His eyes teared up. But there is no doubt that this apology meant more to the men who received it than it did to the man who delivered it. After all, Clinton never did the Tuskegee victims any harm. The syphilis study was launched in the 1930s. This was Franklin Roosevelt's grievous sin, not Bill Clinton's. The president's apology was certainly deserved, but it was also easy: He was apologizing for someone else's wrongdoing.
Apologizing for the offenses of former presidents seems to have become a Clinton specialty.
A few days before the Tuskegee ceremony, the Clinton administration released its report on the Swiss government's hoarding of Nazi loot. In penitent language, the report confesses the blunders of Harry Truman, who let the Swiss keep hundreds of millions of dollars in treasure stolen from the Germans' victims. Some of this gold — melted down from wedding rings and fillings raked from the corpses of Jews in the death camps — is stained indelibly with blood-guilt. The Clinton team's belated nostra culpa on behalf of the US government is welcome. But also cost-free. There is no downside to expressing sorrow in 1997 for Truman's folly in 1946.
A year and a half ago, Clinton apologized to the unwitting victims of the Eisenhower-era experiments with radiation — like those at Waltham's Fernald School for the mentally ill, where children were fed doses of radioactive iron with their breakfast cereal so scientists could see what would happen. "The United States of America," the president said at a somber press conference in October 1995, "offers a sincere apology to those of our citizens who were subjected to these experiments."
What's next? An apology, long overdue, to the descendants of the Cherokee Indians forced out of Georgia during the Van Buren administration? A grave "I'm sorry" for the brutal handling of the Bonus Army by Herbert Hoover in 1932? Perhaps Clinton will undertake to apologize for Watergate, since Richard Nixon never got around to doing so.
Clinton's apologies may help clarify the historical record. They may bring a measure of closure to the survivors of old cruelties. But these are not displays of personal contrition; they are public performances. They are meant to show off the president as a moral exemplar without requiring him to actually pay any moral price. Genuine apologies are difficult and painful. They are expressions of shame and self-humiliation, which is why most of us find them so hard and make them so reluctantly. Clinton's staged apologies aren't embarrassing at all. To say that he is sorry for the wretched deeds of earlier administrations is safe precisely because he wasn't responsible for them.
But what about apologizing for the wretched deeds he is responsible for?
What about apologizing for the deaths of more than 70 men, women, and children in Waco, Texas, who were incinerated when the Clinton administration attacked them with tanks and tear gas?
What about apologizing to the seven employees of the White House travel office who were thrown out of their jobs to make room for the First Lady's cronies, and then maliciously accused of corruption to hide the Clintons' real motive?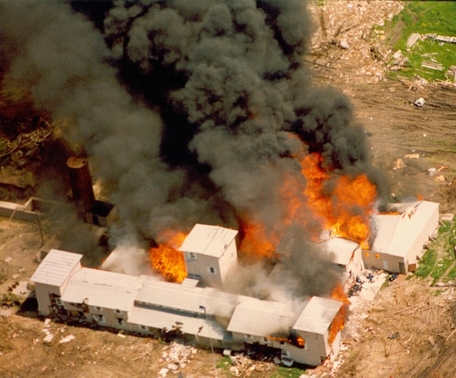 When will President Clinton apologize for the deaths of more than 70 men, women, and children in Waco, Texas, who were incinerated on his administration's orders?
What about apologizing to the desperate Haitian boat people — if any of them are still alive — who relied, to their misfortune, on Clinton's promise that he would never permit refugees fleeing persecution and violence to be forcibly sent back home?
What about apologizing to the families of the 18 US Rangers who were cut down needlessly in a Mogadishu ambush because the Clinton Pentagon twice rejected their plea for armored reinforcements?
It's nice that Bill Clinton feels remorse for the malfeasance of his predecessors. It would be better if he felt remorse for the malfeasance of Bill Clinton.
From a president whose own administration is under investigation by a quartet of special prosecutors, whose aides keep resigning in disgrace, whose longtime confidants get indicted and convicted, whose political goons rifle hundreds of confidential FBI files, who is described by more than half the electorate as not honest or trustworthy, whose personal behavior is malodorous with scandal, whose response when caught red-handed is to shrug, "Mistakes were made" — from such a president, homilies on the immoral acts of administrations past are just a little hard to take.
There are blots on the legacies of Roosevelt, Truman, and Eisenhower. But if Clinton wants to atone for presidential sins, he needn't go back 60 years to find them. He can start by apologizing for his own.
(Jeff Jacoby is a columnist for The Boston Globe).
-- ## --
Follow Jeff Jacoby on Twitter.

"Like" Jeff Jacoby's columns on Facebook.
Want to read more Jeff Jacoby? Sign up for "Arguable," his free weekly email newsletter