IT WAS NEWS that Ron Fitzsimmons decided to tell the truth. But the truth that he decided to tell was not new.
Fitzsimmons, the executive director of the National Coalition of Abortion Providers, figured prominently in the recent debate over partial-birth abortions. Like other prochoice spokesmen, Fitzsimmons insisted that such abortions take place only a few hundred times a year, and only when the mother is gravely ill or the unborn baby terribly deformed. President Clinton echoed those claims when he vetoed the congressional ban on partial-birth abortions last spring. These abortions, the president said, are "potentially lifesaving, certainly health-saving" measures, restricted to "a small but extremely vulnerable group of women and families in this country, just a few hundred a year."
The only thing wrong with that argument is that it was false.
Last week, breaking ranks with his pro-abortion allies, Fitzsimmons confessed the truth. He admitted that thousands – not hundreds – of partial-birth abortions take place each year, with the vast majority performed on healthy mothers and healthy fetuses. He acknowledged having "lied through my teeth" when the ban was being debated, recalling one "Nightline" appearance with particular chagrin. "I just went out there and spouted the party line," he told The Washington Post. "I'm not proud of it."
Anyone who repents a lie and embraces the truth deserves credit for his honesty. And there is a measure of bravery in Fitzsimmons's coming clean, for he is sure to be ostracized by prochoice extremists.
But as Fitzsimmons himself makes clear, he is not having second thoughts about the practice of aborting healthy pregnancies. He worries, rather, that by lying about it, pro-choice leaders do a disservice to those who perform abortions.
"When you're a doctor who does these abortions and the leaders of your movement . . . say these procedures are done in only the most tragic of circumstances," Fitzsimmons told American Medical News, the newspaper of the American Medical Association, "how do you think it makes you feel? You know they're primarily done on healthy women and healthy fetuses, and it makes you feel like a dirty little abortionist with a dirty little secret."
Dirty, yes. But secret? Hardly.
Partial-birth abortion, or, in medical jargon, "intact dilation and extraction," is an especially grisly way to end a pregnancy. The nearly fully formed fetus is pulled, feet first, through the birth canal until all but the head has been delivered. The doctor then forces a sharp instrument into the back of the skull. A catheter is inserted, and the brain suctioned out. That allows the skull to be crushed, so the head can be easily extracted. "It is as close to infanticide," US Sen. Daniel Patrick Moynihan observes, "as anything I have come upon."
No wonder the prochoice camp swore up and down that partial-birth abortion is exceedingly rare, resorted to only when a pregnancy has gone heartbreakingly wrong. Had the truth gotten out, Clinton would never have vetoed the ban.
Ah, but the truth did get out. For those who cared to look, it was in plain view.
Prolife activists told anyone who would listen that partial-birth abortion was widely practiced. They circulated the 1993 testimony of Dr. Martin Haskell, an Ohio physician well known for performing late-in-pregnancy abortions: He said that 80 percent of those abortions were "purely elective." C. Everett Koop, the former surgeon general (and a famed pediatric surgeon), decried "the misinformation campaign conducted by the advocates of partial-birth abortion." Even the AMA's council on legislation, an advisory panel, voted unanimously in support of a ban.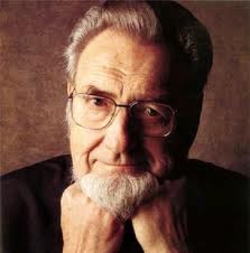 Surgeon General C. Everett Koop, a pediatric surgeon, decries "the misinformation campaign conducted by the advocates of partial-birth abortion."
But in the nation's newsrooms, the facts were ignored. With rare exceptions, the prestige media recycled the abortion lobby's whoppers unchallenged. Because most mainstream journalists are unshakably prochoice, most of them never thought to question the prochoice line on partial-birth abortions.
There were a few exceptions. Unwilling to take the abortion advocates' claims on faith, David Brown of The Washington Post interviewed doctors and checked the medical literature himself. What he found was "that the majority of these abortions are performed on normal fetuses," and that "in most cases where the procedure is used, the physical health of the woman . . . is not in jeopardy."
Meanwhile, Ruth Padawer of the Bergen Record demolished the prochoice lobby's claim that no more than 500 partial-birth abortions take place in the United States each year. In just one clinic in New Jersey, she reported – Metropolitan Medical of Englewood – 1,500 such abortions are performed annually. "We have an occasional amnio abnormality," one physician told her, "but it's a minuscule amount. . . . Most are for elective, not medical reasons: people who didn't realize, or didn't care, how far along they were."
In a free society, almost anything is open to debate – even whether the law should permit a healthy fetus, five or six or seven months along, to have its brains sucked out by an abortionist. But of what use is a debate if one side peddles lies, or if the press won't set the record straight? This week, a bill banning partial-birth abortions will be reintroduced in Congress. It would be nice, this time around, if everyone told the truth.
(Jeff Jacoby is a columnist for The Boston Globe).
-- ## --
Follow Jeff Jacoby on Twitter.

"Like" Jeff Jacoby's columns on Facebook.