Santa's reindeer have been barred from the Christmas Pageant for Peace, Washington's official holiday display. The National Park Service agreed to remove Dasher, Prancer, et al. following complaints from People for the Ethical Treatment of Animals (PETA), an animal-rights group.

-- Associated Press, Dec. 13, 1996
IT'S HARD to believe today, in 2014, but it wasn't until 1996 -- just 18 years ago -- that the rehabilitation of Santa Claus began in earnest. PETA's effortless victory in excluding Santa's reindeer from the national Christmas pageant that year encouraged other progressive organizations to mount challenges of their own. The Ms. Foundation and the National Organization for Women were among the first to follow in PETA's footsteps. Early in 1997, they issued a joint report blasting "the patriarchal hegemony that taints everything connected with Santa Claus." Newspapers and retailers were urged to drop the term "Father Christmas." Illustrators were pressured to break the glass ceiling that had kept Mrs. Claus suppressed for so long. Some Yuletide decorations for the first time portrayed Santa as female, and scenes of Santa's North Pole workshop started depicting female elves in positions of authority.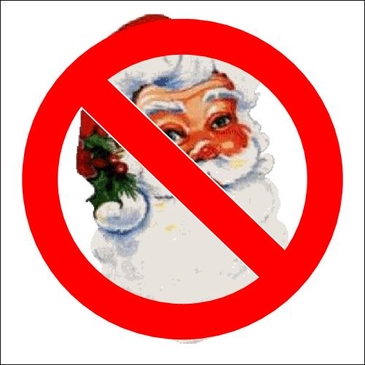 The workshop itself soon came under attack. In a scathing "60 Minutes" expose, Santa's operation was characterized as a sweatshop, with numerous violations of OSHA standards and elves forced to work double shifts. "Elves may be tiny, but they're people, too," fumed former Labor Secretary Robert Reich in a New York Times op-ed column. "Employers like Santa Claus make it clear why we must strengthen the Family and Medical Leave Act."
In June 1999 came Bill McKibben's influential cover story in The Atlantic. "The Predator at the Pole" electrified environmental activists, who launched a global campaign to end Santa's despoliation of the northern Arctic wilderness. At its national convention the following year, the Sierra Club pronounced Santa Claus "Environmental Enemy No. 1." President Al Gore -- who had assumed office after the impeachment of Bill Clinton -- delivered the keynote address, vowing a federal crusade to "put a halt to Santa's ecological crimes now and forever."
Few pundits paid attention when Louis Farrakhan ranted to the 912 attendees at the Sixth Annual Million Man March that Santa Claus was a "relic of white supremacy." But once NAACP President Kweisi Mfume released statistics showing that blacks and Hispanics were 47 percent less likely than whites to live in homes with chimneys, Santa's racism became apparent. In November 2001, the National Education Association adopted a resolution condemning Santa Claus as "Eurocentric and closed-minded" and disapproving his "obsession with rigid value judgments like 'naughty' and 'nice.'"
Before long, all references to Santa were excised from public school curriculums. Today, of course, children venerate a far more inclusive and multicultural figure: Frosty the Person of Snow.
Meanwhile, municipal officials in Madison, Wis., and Oakland, Calif., had sued Santa Claus in the first of what would become a wave of noise-pollution lawsuits. The increasingly unpopular holiday icon was charged with violating sound-abatement ordinances during his Christmas Eve toy deliveries. Santa denied the charges, but the evidence given by homeowners was overwhelmingly against him. As one witness, Clement Moore, put it: "Out on the lawn there arose such a clatter, I sprang from my bed to see what was the matter."
By muzzling his reindeer and muffling his sleigh, Santa was able to continue his nocturnal Dec. 24 rounds for a few more seasons. But he was welcomed in fewer and fewer places. Domestic-violence activists accused him of being a stalker. In several communities, restraining orders were issued.
"Maybe Santa hasn't hurt anybody yet," said one leading women's advocate, Stacy Kabat, in a CNN interview with Larry King. "But he's obviously a menace. He snoops around homes at night, he keeps dossiers on people's behavior, he warns that they 'better watch out' because he's 'coming to town.' The guy is dangerous. He needs therapy."
By 2005, "BEWARE" posters with Santa's photograph were a common sight in US malls every December. The posters warned that Santa Claus was a suspected pedophile who lurked in shopping areas, hoping to coax children to sit in his lap.
Needless to say, the Santa shown in the poster had changed markedly since 1996. For one thing, his suits were no longer trimmed with fur. After demonstrators led by model Christy Turlington hurled red paint at him during an appearance at Radio City Music Hall, Santa switched to an all-synthetics wardrobe.
Nor was Santa seen anymore with a pipe in his mouth, emitting second-hand smoke as in days of old; the Food and Drug Administration had seen to that. He was no longer fat, either. When the Center for Science in the Public Interest issued a blistering report on Santa's eating habits, it marked the end of his Christmas Eve snacks. The milk and cookies disappeared.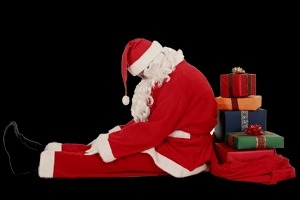 But the biggest change of all was in Santa's expression. In olden times, he had a jolly laugh; his eyes were always twinkling. Today, Santa is enlightened, sensitive, and politically correct. But for some strange reason, he never smiles.
(Jeff Jacoby is a columnist for The Boston Globe).
-- ## --
Follow Jeff Jacoby on Twitter.