NORTH OF THE BORDER, Canadians have at long last found something to rally 'round. Something that makes them swell with patriotic pride and cheer themselves hoarse. Something that taps into the very essence of their national identity.
A beer commercial.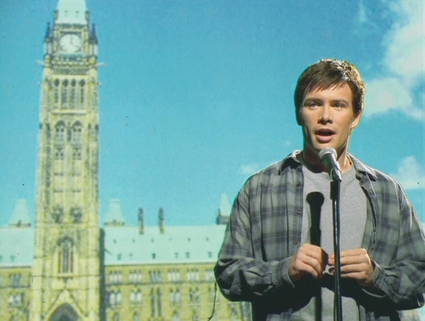 Jeff Douglas stars as "Joe" in the Molson beer "I Am Canadian" rant.
No joke. Canadians have gone foot-stampingly, flag-wavingly crazy over a TV spot for Molson beer. As Colin Nickerson reported in The Boston Globe, the ad "has become an overnight sensation: taped and shown in bars, filling megascreens at hockey games, performed live in movie theatres."
Molson has been deluged with calls and letters from Canadians praising the commercial; so many have requested dubs that the company has exhausted its supply of blank videocassettes. "It's awesome," says the manager of a Vancouver restaurant quoted by Nickerson. "Everyone yells and screams when it comes on TV. People say the words along with it. They get pretty hyped."
So what is this ad that gets Canadians so excited? An anti-American rant, of course.
It opens with a seemingly diffident young man speaking into a microphone. "Hey," he begins gently, correcting some American misconceptions about Canadians, "I am not a lumberjack or a fur trader. I don't live in an igloo or eat blubber or own a dog sled." On a giant screen behind him, images illustrate his words.
"I have a prime minister, not a president," he says, his voice growing louder and more intense. "I speak English and French, not American. And I pronounce it 'about,' not 'a boot.'
"I believe in peacekeeping, not policing; diversity, not assimilation; and that the beaver is a truly proud and noble animal. A 'tuque' is a hat. A 'chesterfield' is a couch." By now he's shouting. "And it's pronounced 'zed' -- not 'zee,' 'zed!'
"Canada is the second-largest land mass, the first nation of hockey, and the best part of North America," he roars. "My name is Joe AND I AM CANADIAN!" Cut to a glass filling up with beer.
Pity the poor Canadians. What would they do for self-esteem if they didn't have us to feel superior to? Lately, nothing in their big empty country seems to be going right. A persistent brain drain draws thousands of Canadian professionals to the United States. Quebec is forever threatening to secede. A slew of scandals has disgraced the armed forces. Patients in need of high-quality health care flee the country's nationalized medical system. Canada has more unemployment and higher taxes than America. And its dollar is now worth just 67 US cents.
Things haven't quite worked out the way Canadians once thought they would. "The 19th century was the century of the United States," Prime Minister Wilfrid Laurier declared in 1896. "The 20th century will be the century of Canada." Better luck next century.
Actually, there will never be a Canadian century. Canada is like Belgium or Ecuador -- a nice enough place, but not very important. Even if it is "the second-largest land mass" or "the first nation of hockey."
But one thing Canadians do have: They aren't Americans. That is the core of Canadianness, and has been for 225 years. When American colonists fought Great Britain in the War of Independence, many of them imagined that Canadians would want to join them in freedom. The Articles of Confederation, the first governing charter of the United States, extended the invitation explicitly: "Canada . . . shall be admitted into, and entitled to all the advantages of, the Union."
But it wasn't to be. Canada became a launching ground for British attacks and a haven for Tory loyalists, 40,000 of whom fled northward. There, says David Frum, a fellow at the Manhattan Institute and a columnist for Canada's National Post, "they tried to create the society America would have been if Britain had won the war."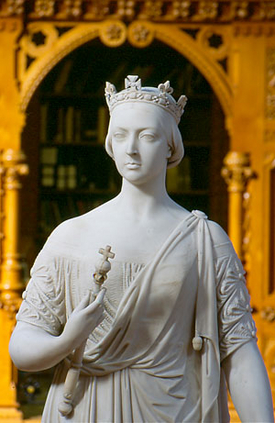 The statue of Queen Victoria in the Canadian Parliament
Whatever Americans were, Canadians decided they were not. If Americans saw themselves as a new nation rooted in the soil of the New World, Canadians insisted they were loyal subjects of the crown. If Americans had broken free of British control, Canadians took pride in being a part of the British Empire. For 150 years, Ottawa sent no ambassador to Washington: Canadians were represented in the United States by the ambassador of Great Britain. To this day, says Frum, "there are more statues of Queen Victoria in Montreal than in any other city."
Then came the end of the British empire, and with it the collapse of the Canadian ethos. What did it mean to be the British North Americans once the British sun had set? Canadians were left with nothing but their old insistence on not being like Americans. And the more apparent it became that they were, in fact, just like Americans -- they talked like Americans, dressed like Americans, saturated themselves with American culture, and overwhelmingly chose to live near the American border -- the more frantically they searched for ways to prove their distinctiveness.
Enter Molson. Its TV spot, no doubt intended as a parody, turned out to be the perfect distillation of Canadian identity. Sure, it says, the only unique features we can lay claim to are minuscule -- "zed" instead of "zee," the proud and noble beaver -- but so what? The point is, we aren't Americans. That's all that matters. That's all that has ever mattered. We aren't Americans! And if you can't hear us, we'll yell a little louder. "My name is Joe, AND I AM CANADIAN!"
(Jeff Jacoby is a columnist for The Boston Globe. His website is www.JeffJacoby.com).
-- ## --
Follow Jeff Jacoby on Twitter.

"Like" Jeff Jacoby's columns on Facebook.