"I can guarantee you one thing: There will be six more years of torment for Ted Kennedy and all those other liberals."
-- North Carolina Republican Jesse Helms, claiming victory in his fifth US Senate race
REJOICE, conservatives. You won.
Bill Clinton may, like Richard Nixon in 1972, be heading back to a White House he has disgraced, but his reelection on Tuesday was a meager and uninspiring affair.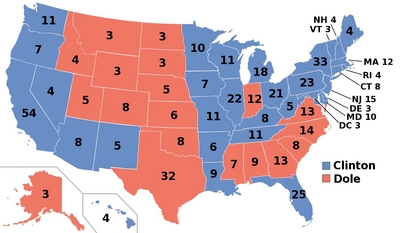 Clinton carried fewer states than he did in 1992, and once again failed to win 50% of the votes.
He carried fewer states this time around than he did in 1992, and more than half the voters cast ballots for someone else. On election night, Clinton aides George Stephanopoulos and Leon Panetta were valiantly spinning reporters about a mythical "mandate," but they don't plan to stick around and enjoy it. As soon as they decently can, both are leaving the White House.
Who can blame them? For liberals, 'twas not a famous victory. Clinton won reelection only after transforming himself, on issue after issue, into a Republican. No Michael Dukakis he, proudly flying the liberal flag and proclaiming himself "a card-carrying member of the ACLU." To the contrary.
Clinton bent over backward to embrace -- Republicans would say steal -- one conservative position after another. He began his second drive to the White House by declaring, "The era of big government is over" -- and ended it by invoking Ronald Reagan. Along the way, he declared himself a convert to balanced budgets and tax cuts, came out for school uniforms and against same-sex marriage, bragged of putting more police on the street and denounced judges who are soft on crime. From ending the federal welfare entitlement to authorizing medical savings accounts, he signed two-thirds of the Contract with America into law. Not since Harry Truman was prosecuting Communists under the Smith Act has a Democratic president positioned himself so far to the right.
And while Clinton may have won, Americans weren't fooled by his dissembling demagoguery. Across the country, exit polls found 6 out of 10 voters saying that the president is not "honest and trustworthy"; by a large plurality, they felt "scared" or "concerned" at the prospect of another Clinton administration. There will be no second honeymoon for our slippery and shameless president, not with the public and certainly not with Congress.
And speaking of Congress -- what a triumph for the right! The Democrats and their allies threw everything they had at the 104th Congress only to wind up on the short end of the 105th. The Republicans withstood the AFL-CIO's $35 million outpouring of sleaze and poison. They withstood tens of thousands of venomous ads flaying Newt Gingrich and hanging him around their necks. They withstood the contemptible "Medi-scare" campaign and Clinton's constant demand that they be punished for "shutting down" the federal government.
If anyone, anywhere, still had some lingering doubts that American politics have become unmistakably conservative, Tuesday's elections settled the matter. For the first time since the 1920s, voters have reelected a Republican Congress. For the first time ever, they did so while electing a Democratic president.
But the victory goes deeper.
In 1994, Republicans deliberately set out to nationalize the congressional races, using the Contract with America as their vehicle and the Clintons as their foil -- and succeeded brilliantly. The Democrats tried to do the same thing this year (using Medicare as their vehicle and Gingrich as their foil) and failed almost totally. Eighty percent of the 1994 Republican freshmen were reelected. And while the new Senate will be a little more Republican, it will be -- with the election of Jeff Sessions in Alabama, Tim Hutchinson in Arkansas (!), and Sam Brownback in Kansas -- a lot more right-wing.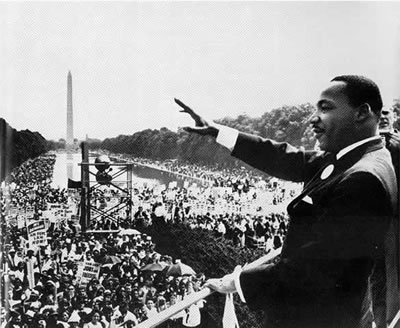 The success of California's Proposition 209 brings nearer Dr. King's vision of an America that rises up and lives out the true meaning of its creed: "All men are created equal."
Meanwhile, the most resplendent conservative win of 1996 had nothing to do with candidates and everything to do with principle.
In the nation's most multiracial, multiethnic state, the California Civil Rights Initiative -- Proposition 209 -- cruised to victory. Ignoring an anti-209 campaign that was stunning in its ugliness and ferocity, Californians voted to end race-based affirmative action, one of the great wrong turns of American social policy. Where California has led, other states will follow. The day is coming to an end when government prefers some of its citizens over others because of skin color or gender. And at last the day that Dr. King dreamed of is in sight -- when this nation rises up and lives out the true meaning of its creed: "We hold these truths to be self-evident; that all men are created equal."
The defeat of Bob Dole may be dispiriting to his supporters, but it doesn't dull the shine of this election. For all his admirable qualities, Dole rarely clung to principle. He spent his long and worthy career cutting deals and splitting differences; like George Bush, he disdained "the vision thing." But the ascendancy of conservatism in modern American life is all about principle and vision. It is no surprise that Dole and other run-to-the-middle Republicans lost. It is also no big deal.
(Jeff Jacoby is a columnist for The Boston Globe).
-- ## --
Follow Jeff Jacoby on Twitter.

"Like" Jeff Jacoby's columns on Facebook