JOHN SILBER hates his party's 15-percent rules. He just can't decide whether he hates them because they keep too many people out, or because they let too many people in.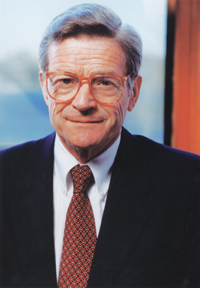 Boston University president and 1990 Democratic gubernatorial candidate John R. Silber
As a candidate for governor in 1990, Silber was confronted with the Massachusetts Democratic Party's 15-percent rule, erected as a bar to fringe candidates: To appear on the party's primary ballot in the fall, candidates have to win 15 percent of the delegates at the nominating convention.
Silber feared he couldn't meet that 15-percent threshold, so he declared war on it. He blasted the rule as "an illegitimate intrusion on the democratic process, created by insiders to reduce competition."
And that wasn't all.
"This," he thundered, "is exactly the technique that the white supremacists used in the South to reduce participation in the Democratic process." As long as a candidate could collect the thousands of signatures required for a place on the ballot, Silber argued, it shouldn't matter if he got zero percent of the delegates.
(In the end, Silber did clear the 15-percent hurdle -- thanks to a lot of help from one William M. Bulger -- and went on to win the Democratic primary.)
Fast-forward two years: It's the spring of 1992, and John Silber is still carrying on about 15-percent rules. Only instead of condemning them as barriers to competition, he's now convinced they're not anticompetitive enough.
In a column published nationally this week, Silber singles out for scorn the Democratic Party rule that presidential candidates must win at least 15 percent of the vote in any given primary in order to be allotted delegates to the convention. But his objection is no longer that 15 percent is too much. It's that 15 percent is too little.
"By guaranteeing delegates to candidates with only 15 percent of the vote, the 1992 rules delay the winnowing of weak candidates," complains Silber. "We have created a nominating system that lets marginal candidates serve as spoilers and gives inordinate influence to splinter groups ...."
So what should the threshold be -- 20 percent? 25? 50? No: Silber wants a 100-percent rule -- winner-take-all, just like the Republican system. (A system, by the way, that has managed rather efficiently to croak the ambitions of at least one "white supremacist ... in the South" -- David Duke.)
From 15-is-too-much to 15-is-too-little: Don't let anybody tell you John Silber never changes his mind. Or is it simply that exclusionary rules don't bother him as long as it's not his ox that's being gored?
(Jeff Jacoby is the Boston Herald's chief editorial writer.)